Vapers Digest 20th November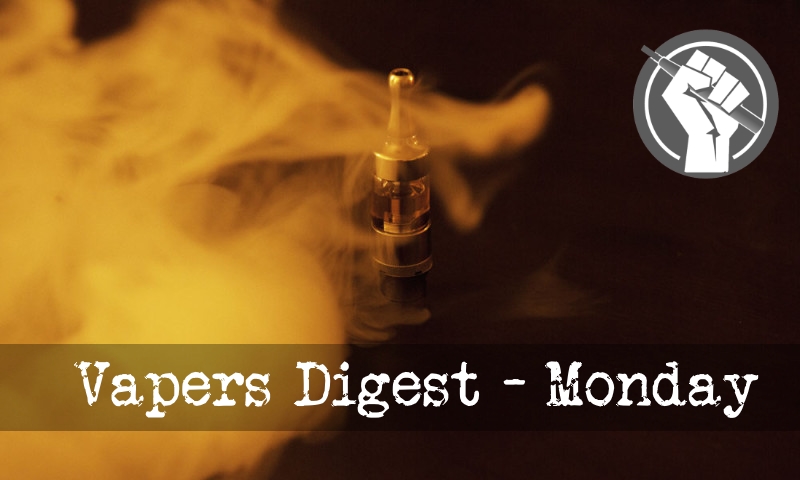 Monday's News at a glance:
Sarah Jakes keynote speech at the E-Cig Summit 2017 – E-Cig Summit Round Up – Vaping Causes 'Popcorn Lung'? – Most Vape User Are Former Smokers Who Quit – Landmark Long-Term Study – Latest vape-related studies – Vaping helps reverse smoking harm – Vaping In The News November 18th, 2017 – Bay Area flavored tobacco bans  – Asia's First Harm Reduction Meet in Indonesia – Trade minister severely restricts imports – Vape advocates organize protest in Cobourg – Nicotine Science and Policy Daily Digest
Sarah Jakes, New Nicotine Alliance
Four years ago, almost to the day, I was sat at the back of this room, vaping discreetly as requested, and trying as hard as I could to be invisible. I'd only been vaping for about 6 months but I was already an active participant in a massive consumer movement against EU regulations, which originally were medicinal in every way except in name.

Just a month before that first summit vapers had succeeded in overturning the impending regulation and they did it simply with their stories. Thousands of people wrote to their representatives in the EU parliament and told them about their switch from smoking to vaping, and the improvements that had made to their health and their lives.
James Dunworth, Ashtray Blog
For the last five years the E-Cig Summit has been bringing together vapers, researchers, industry (both independent and big tobacco and pharma), public health and government.

The summit has been key in cutting through misinformation and contributing towards a huge change in attitudes towards e-cigs. I think it probably also one of the reasons the UK has the most pro-ecig government and public health communities in the world.
---

---
Snopes – Updated 12 November 2017
The 2015 research from Harvard omitted comparison to a far larger and more established control group of smokers when asserting concerns about diacetyl, popcorn lung, and e-cigarettes. Prior research into tobacco cigarettes (which contain measurably higher levels of diacetyl and are more commonly used than e-cigarettes) determined that smoking is not a risk factor for popcorn lung, so the lower concentrations of diacetyl in e-cigarette juices are not likely a risk factor in popcorn lung.
Steve Birr, Daily Vaper
Research from the American Heart Association reveals that electronic cigarettes are the most popular method among smokers for quitting cigarettes.

The data, recently presented at the American Heart Association's Scientific Sessions 2017 conference, shows that vapers tend to be either current smokers attempting to ditch combustible tobacco or former smokers maintaining their abstinence from cigarettes.
---
---
By Never-Smokers Finds No Negative Health Impacts
Gregory Conley – AVA
In a first of its kind long-term study published in the journal Nature, researchers have found no negative health impacts from the daily use of electronic cigarettes by young adult never-smokers.

Researchers from the University of Catania, led by Dr. Riccardo Polosa, tracked nine electronic cigarette users with no history of smoking, as well as twelve lifetime non-smokers and non-vapers, over the course of three and a half years…
Mawsley, Planet of the Vapes
Four studies connected to electronic cigarette uses stand out this week: The first looks at E-cigarette use in patients with COPD. The next claims it has discovered vape-related embryo defects in the laboratory. The third analyses vaping among individuals with a self-reported eating disorder. The last, by Konstantinos Farsalinos, fails to reproduce the ridiculous aldehyde findings of other studies.
---

---
Massey University Auckland
Smokers with asthma or chronic obstructive respiratory disease have the most to gain from switching to vaping, says international asthma specialist Professor Riccardo Polosa, who is speaking at Massey University next week.

Professor Polosa, from the University of Catania in Italy, is visiting Massey's Auckland and Wellington campuses, where he will present on his research trialling e-cigarettes with smokers who have chronic respiratory illnesses. He has also conducted a trial on people with schizophrenia switching from smoking tobacco to vaping.
Kevin Crowley, Vaping Links
Sarah Jakes, Ecig Summit Keynote speech ~ Public Health's Useful Idiot ~ Health impact of E-cigarettes ~ This is Why Tobacco Control Should not be Trusted ~ MN Groups Abuse Government Process In Attempt To Raise Vaping And Smoking Age ~ Quit Methods ~ Content analysis of homeless smokers' perspectives on established and alternative smoking interventions. ~ California Smokers' Helpline
Carrie Wade, R Street
Proposals to ban flavored tobacco products – and, by extension, vaping liquids – have been spreading across the Bay Area like a cigarette-ignited wildfire. San Francisco, Oakland, Contra Costa County, Novato and San Leandro have recently passed or proposed some version of the individual flavor ban. The specific ordinances vary, but lawmakers in all of these jurisdictions have been giving short shrift to arguments about tobacco "harm reduction."

Mumbai, Maharashtra, India Recently, FDLI organised a Tobacco Products Regulation and Policy conference in Washington DC, USA and Nilesh Jain, the founder of India's leading vaping brand was invited as the only Indian speaker at the event. Following this, he also represented India at the Asia's first harm reduction meet in Jakarta, Indonesia.
Coconuts Jakarta
Although hard numbers are difficult to find, the huge number of vape shops that have popped up across the country over the last few years would seem to indicate that a significant percentage of smokers in Indonesia (which has some of the highest smoking rates in the world) are switching to electronic cigarettes.
NEW DELHI: The Union health ministry is planning to issue an advisory to all states on the health risks of electronic smoking, even as it is in a quandary over which legal provisions it should be banned under.
Can Pennsylvania's "sinners" sustain the state's increasing levels of spending? It's a fair question, given state officials' penchant for raising taxes on alcohol, tobacco, e-cigarettes and gambling to meet budget obligations.
Dominik Wisniewski
Area vape stores owners and their supporters held a demonstration in Cobourg on Nov. 17 to voice their concerns about the impact new legislation will have on their industry.

Standing with a sign that read "The constitution is on our side" outside of Northumberland-Quinte West MPP Lou Rinaldi's Cobourg office on Nov. 17, Maria Papaioannoy-Duic said the protest was organized on behalf of Vapor Advocates of Ontario (VAO).
---
A look back at how things have moved on or otherwise….
Paul Barnes, Facts Do Matter
What a year it has been, the opening words of the E-Cigarette Summit 2016 Chair, Professor Ann McNeill. Could almost call that a throwback to the Summit of last year, but then the debate surrounding e-cigarettes hasn't waned but intensified. This year, the Summit came hot on the heels of the FCTC Conference Of Parties (Seventh Session), which did get coverage (as did Brexit and Trump albeit briefly).
Andrew Allison, Freedom to Vape
I am not about to give you a blow-by-blow account. That would take too long. Instead, I want to highlight some of things that were said, and give you my response to them. Let's begin with Ram Moorthy, deputy chair of the BMA board of science.

Ram described the BMA, much to my amusement, as a professional body. It is not a professional body – it is a trade union. Ram talked us through how the BMA reaches its decisions that then turn into BMA policy….
Ashtray Blog
Back in 2013, e-cigs faced a huge threat: Medical regulation. If medical regulation had gone ahead in Europe, vaping as we know it would have been changed for ever.

Tanks would have disappeared off the shelves, e-liquid would only be available on the black market and the only devices you could buy in shops would be out-of-date cigalikes.

Part of the reason the drive to medicalise e-cigs failed was because of the debate that took place in the first E-Cig Summit.
---
Visit Nicotine Science & Policy for more News from around the World

---