Vapers Digest 17th October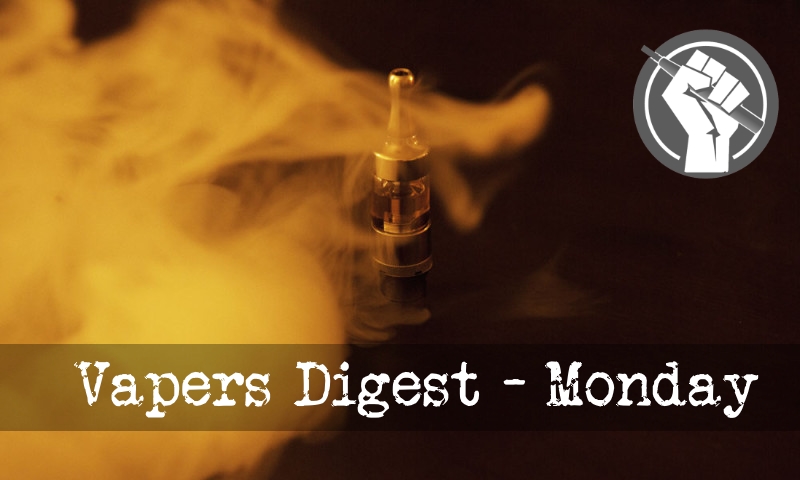 Monday's News at a glance:
Thérèse Coffey urged to promote alternatives as concerns grow over tobacco control plan – Asia Harm Reduction Forum 2022 – DHSC Cancel Culture – The 2022 Tobacco Transformation Index – New Poll Says Vapers Can Be a Force in Midterm Elections – AVM Files Senate Ethics Complaint Against Durbin – PWS – People Who Smoke – Candidates, Join National "We Vape, We Vote" Bus Tour – CO-08 Candidate Locks Door On Constituents – King misses the chance to engage – Vendors sue government agencies for exaggerating risk of vaping – Research, tech advancements in tobacco and nicotine products
As concerns grow over tobacco control plan – Kiran Paul
The New Nicotine Alliance (NNA), which represents consumers of low-risk alternatives to cigarettes such as vaping products, nicotine pouches, smokeless and heated tobacco products, has on Friday written to Heath and Social Care Secretary Thérèse Coffey, asking her to promote non-combustible products to reduce smoking.

The intervention comes in the wake of reports this week that the new Coffey is delaying publication of the new tobacco control plan, along with rumours that the government is not minded to take forward recommendations contained in the summer's independent tobacco review led by Dr Javed Khan.
28 October 2022 | MANILA | The Manila Hotel
We gather global leaders in their respective fields to bridge the gaps between advocates all around the world. Sharing their knowledge and continuing their advocacy of unified global healing through Harm Reduction awareness at the 5th installation of the Asia Harm Reduction Forum 2022 starting 28 October, 2022, from 9:00 to 17:00 (GMT +8).

Join us in the #AsiaHarmReductionForum2022 and be a part of the change you seek in the world.

Registration is FREE: https://bit.ly/3eBb7Ql
---

---
Two from Dave Cross, Planet of the Vapes:
The Tobacco Control Plan was supposed to have been drafted on the back of a fact-finding exercise and the publication of the well-received Khan Report. Constantly shifting sands (and ministers) at The Department of Health and Social Care (DHSC) have added delay after delay. Now, with Thérèse Coffey in office, it looks as though the entire process has been cancelled and the government is washing its hands of being responsible for reducing tobacco related illness and death.

Thérèse Coffey was appointed Secretary of State for Health and Social Care on 6 September 2022. In just over a month, she has told unhappy nurses they can leave the understaffed profession, been slated for saying she plans to let people buy antibiotics over the counter and launched a bizarre attack on the use of the Oxford comma in official NHS documents. Now it is reported that Coffey plans on throwing the Tobacco Control Plan onto "the ideological bonfire".
The Foundation for a Smoke-Free World has published its 2022 Tobacco Transformation Index which monitors the transformation of tobacco companies. This tracking demonstrates change in approaches that stand to benefit public health and informs the public about the activities of the industry that influences the achievement of a smoke-free world.

The Foundation for a Smoke-Free World says: "The Tobacco Transformation Index aims to accelerate the reduction of harm caused by tobacco use through a bi-annual ranking of the world's 15 largest tobacco companies on their relative progress, or lack thereof, toward harm reduction.
---
"Youth vaping" is used as an argument against tobacco harm reduction. But young people have a stake in adult vaping: their parents' health; caring burdens and grief; household finances; role modelling effects of adults; exposure to secondhand smoke; and their own adult options. https://t.co/jWSfsyh2tP

— Clive Bates (@Clive_Bates) October 17, 2022
---
Two from Jim McDonald Vaping 360:
A new HarrisX poll shows that vapers could be a potent force in the 2022 midterm elections, which are now less than a month away. That could be bad news for Democrats in Congress, most of whom follow their party's guidance and have supported taxes and flavor restrictions on nicotine vaping products.

The poll estimates that 29 percent of all registered voters vaped in the past 30 days. That is a significant part of the voting population that should be listened to by lawmakers and candidates. Of those, 51 percent vape daily and 54 percent no longer use combustible tobacco products like cigarettes and cigars.
A vaping industry group has asked the Senate Ethics Committee to investigate Illinois Senator Dick Durbin for violating Senate rules by attempting to improperly influence Food and Drug Administration scientific decisions about vaping products.

On Oct. 14, the American Vapor Manufacturers Association (AVM) delivered a letter to the chair and vice chair of the Senate Select Committee on Ethics, alleging that Durbin has pressured the FDA to ban all vaping products, even though he is aware the agency has a statutory mandate to individually review premarket tobacco applications (PMTAs) submitted for each product.

And nicotine products provide harm reduction options to smokers
While an intense ideological battle continues globally led by well-funded anti-smoking NGOs, some national governments, as well as the World Health Organization (WHO), a steadily increasing amount of research, is proceeding on new harm reduction technologies for smokers. Ultimately, they have the potential to save many lives – and support public health more effectively- than coercive measures aimed at direct prohibition of smoking, which clearly remains a utopian objective. At the beginning of September, a Spanish NGO launched a petition to ban nicotine consumption in Europe for all those born after a certain year. Considering how Prohibition in the US went, we can imagine how damaging a Nicotine ban in the EU would be.
Dr. John Oyston
The word "smoker" is a disparaging term, like "addict" or "alcoholic" and we should stop using it. It is no longer acceptable to talk of "the disabled".as if they are one homogenous group of, perhaps, rather sub-human beings. Instead, we use the term "People With Disabilities" or "PWD". This is called "person-first" usage, and it identifies the humanity of the person before describing their condition.

It is easy to dismiss this idea as being an example of "woke" culture, the domain of the "social justice warrior", but in fact words are important. The use of a label such as "smoker", "addict" or "illegal" divides people up into "us" and "them". It is a slippery slope toward calling certain groups or tribes "vermin" or "cockroaches", labels that have been used to justify genocides.
---

---
Two from Tim Andrews, Americans For Tax Reform:
Join National "We Vape, We Vote" Bus Tour
Organizers of the national "We Vape We Vote" bus tour praised Senator Ron Johnson (R-Wis.), State Assembly District 91 candidate Josh Stanley, and State Senate District 31 Candidate Dave Estenson for joining the tour in Eau Claire Saturday.

"Giving adults the freedom to quit smoking isn't a right or left issue – it's a right and wrong issue," said Tim Andrews, Director of Consumer Issues at Americans for Tax Reform. "The medical evidence is not in doubt – vaping has the potential to save millions of American lives.
On Constituents, Refuses To Accept Testimony
State Rep. Yadira Caraveo, a candidate for the US House, locked the door and refused to receive testimony from local Colorado residents imploring her to retract her support for policies that would drive tens of thousands of her constituents back to smoking deadly combustible cigarettes. Rep. Caraveo was the lead sponsor of legislation to ban reduced risk tobacco alternatives in the state of Colorado.

"Rather than listening to her constituents, Rep. Caraveo instead chose to lock her doors on them," said Tim Andrews, Director of Consumer Issues at Americans for Tax Reform, which is currently co-sponsoring a national "We Vape, We Vote" bus tour.

With harm reduction advocates at GTNF
Washington DC was buzzing with hopeful advocates, regulators, officials and industry investors to discuss all things nicotine last week at The Global Tobacco & Nicotine Forum (GTNF).

The main focus for many attendees was the presentation scheduled for Brian A. King, the director of the US FDA's Center for Tobacco Products. Most advocates in attendance relished the thought of being able to ask King some important questions that they have been waiting for answers to since he took this position in July.

King started off by mentioning that he takes his job very seriously when it comes to ending tobacco related harm and deaths. He went on to say that as a regulator they look at the "net public health benefit vs. risk."
For exaggerating risk of vaping
The Korea Electronic Cigarette Association (KECA), a group of about 4,000 e-cigarettes vendors, said it has filed a lawsuit against the Ministry of Health and Welfare (MOHW) and the Korea Disease Control and Prevention Agency (KDCA), demanding the government correct misguided information about e-cigarettes.

The KECA believes that the government health agencies damaged the reputation of small e-cigarette business owners and caused financial problems by distributing a press release recommending Koreans stop using liquid e-cigarettes on Oct. 23, 2019.
---
A look back at how things have moved on or otherwise…
7th – 8th December 2021
We are excited to be making plans for the UK E-Cigarette Summit which will take place virtually on 7-8 December 2021 and hope that the Virtual Summit will provide a welcoming focal point to grapple with the challenging questions posed by e-cigarettes and new novel nicotine products.

For decades, the known harms from smoking and combustible products has aligned public health and tobacco control communities to a common goal. However, the emergence of e-cigarettes and novel nicotine products has created clear divisions within the both the scientific and policy communities. At the same time governments have a pressing demand to interpret conflicting evidence in to appropriate legal and regulatory frameworks.
'It feels like we're going backwards' – Snusforumet
Despite ample evidence that snus and new nicotine products can save lives by helping people quit smoking, harm reduction advocates and industry experts fear that European policymakers are less informed about nicotine regulation today than they were a decade ago.

Part of the problem, says Swedish MP Joar Forssell of the Liberal Party, is that tobacco control "policy entrepreneurs" are unable to accept that people are making healthier choices.

In Sweden, where smoking rates are already among the lowest in Europe, tobacco control groups have instead focused on demonising all forms of nicotine. He characterised the shift as an act of self-preservation by groups that must justify their existence in order to continue receiving taxpayer funding.
---
Visit Nicotine Science & Policy for more News from around the World

---