Vapers Digest 17th February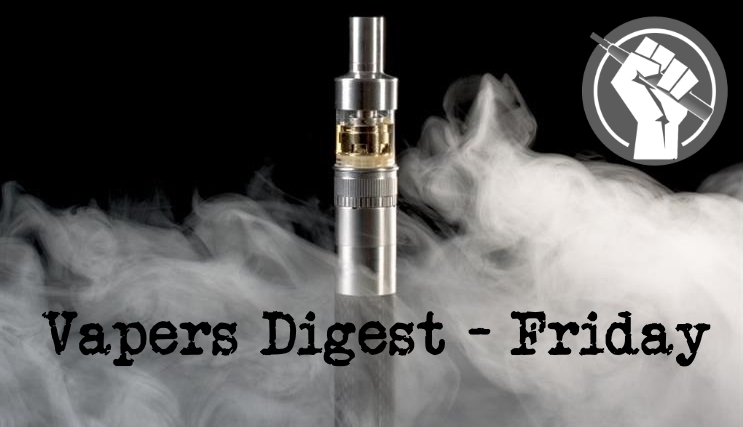 Friday's News at a glance:
Exposing Defective Research – Remember man, you are but dust… – The Demise of Juul Is the Latest Self-Inflicted Failure – HIFA launches a deep-dive discussion on Tobacco – CTSI Calls For Tougher Regs – Supermarkets Remove Illegal Disposables – GFN23 Announced – E-Cigarette Summit UK Announced – Parliament – 7 Things Policy Makers and Journalists Need to Know – Bloomberg the man who loves to ban – The FDA is losing the public's trust – Nicotine Science and Policy Daily Digest
But Denied Credit for the Effort: Case 1 – Brad Rodu
I have catalogued in this blog numerous instances of deficient research that has been published by respected medical journals.  In some cases, journal editors have published our concerns and authors' corrections (here).

It is extremely difficult to get critical letters published.  Editors don't accept letters that simply complain about debatable issues.  Critics must raise concerns that are irrefutable and likely to affect the study's results and/or conclusions.  Journal editors are ultimately responsible for failing to detect erroneous research, as they choose the articles and the peer reviewers.  When objecting to an article, the critic carries the burden of proof, often in the face of staunch, even coordinated opposition by all the other parties.
thatgotmethinkingblog
As Ash Wednesday approaches we are bound to get the annual deluge of quit-smoking features in the media. Recent years have seen this shift to focus on vaping versus smoking. Understandable as that's a 'burning issue' in the minds of sub-editors who can't resist a bad pun or dad joke.

It's more disturbing to see interviews with well-known politicians who are completely uninformed on the issue. Of course not being informed ever held a politician back from expounding with great certainty on any subject and Monday on Newstalk we had an example of this 'showing your ignorance' from Regina Doherty, who claimed "We know vaping is as dangerous as smoking, the outcomes are the same" The lack of pushback from the presenter was more disturbing, was he as ignorant as she or just not willing to contradict her?
---

---
Self-Inflicted Failure by Public Health – Martin Cullip
The Wall Street Journal has reported that Juul Labs, the e-cigarette manufacturer which became a scapegoat for youth vaping in the United States, is in discussion with major tobacco companies to engineer a sale of the company or perhaps another solution to rescue it from oblivion.

This development is just the latest in a long line of potentially revolutionary products designed to reduce combustible tobacco use being snuffed out by so-called anti-smoking groups.

Appearing on the market in 2015, the inventors of the JUUL vaping device (Adam Bowen and James Monsees) spoke eagerly about how their product could make smoking obsolete and no doubt expected to be lauded by the public health establishment. Unfortunately, that could not have been further from the truth.
---
[DE] Disposables, Regulierungswut und Desinformation https://t.co/iHiQQhWb1T via @DampfFreiheit

— European Tobacco Harm Reduction Advocates (@europethra) February 16, 2023
A #vaping 🧵
The discourse on vaping in Australia has become increasingly unhinged so I thought I would share some reflections on the journey to arrive where we are.

Firstly, some background. I've been involved in activism in the drug policy space for roughly ten years. 1/

— Ash Blackwell 🌸 (@AshBinAus) February 16, 2023
---
27 February – 3 April 2023
Imagine a world where every child, every citizen, every health worker and every policymaker truly understood the devastating health, economic, social and environmental impact of tobacco. A world where every person had access to the information they need to protect their own health and the health of others.

Tobacco is the theme of our first thematic discussion on substance use disorders, starting 27 February (the 18th anniversary of the WHO Framework Convention on Tobacco Control) and running for 5 weeks. The World Health Organization notes that tobacco kills up to half of its users – more than 8 million deaths each year. More than 7 million of those deaths are the result of direct tobacco use while around 1.2 million are the result of non-smokers being exposed to second-hand smoke.

Five from Dave Cross, Planet of the Vapes:
The Chartered Trading Standards Institute (CTSI) has issued a call for the United Kingdom to adopt tougher regulations governing the sale of electronic cigarettes and related vaping products. The body believes that retailers should be forced to remove products from the view and reach of young people, given they are banned from making purchases anyway.

"At present, the law forbids retailers from selling vapes to people under the age of 18, but there are no restrictions on the placement or display of vapes and vaping products within retail premises," says the Chartered Trading Standards Institute.

"It is recommended that retailers keep vapes out of the reach of children, but currently there is no legal requirement for them to do so."
Supermarket chains have removed illegal Elf Bar disposable vaping products from shelves across the country. Tesco, Morrisons, and Sainsbury's were found to be stocking illegal Elf Bar 600s in London, Sheffield and Derby. The action prompted further negative coverage of vaping in the national media and poured fuel on the fire of current anti-disposable ecig sentiment.

Seven months ago, Planet of the Vapes News reported how Elf Bar claimed it had "intercepted over a million fake vape products" destined for British supermarket shelves. In declaring its zero tolerance for such products, the company said it had worked with Chinese authorities to shut down twenty mainland factories.
The Global Forum for Nicotine conference team has announced plans for #GFN23, taking place in Warsaw from Wednesday 21 to Saturday 24 June. As well as revealing the keynote speakers and who will be delivering the Michael Russell Oration, the team has also confirmed that the GFN Fives will again play a key role – something vapers themselves can contribute to.

Sarah Cooney will be the first keynote speaker of #GFN23. Sarah holds a BSc in genetics and an MSc in plant genetics and worked in various editorial and publishing roles at leading peer-reviewed journals including Nature, Elsevier and BioMedCentral. She also founded British American Tobacco's science engagement and communication program to share the science behind reduced-risk nicotine products.
The E-Cigarette Summit UK has been announced to take place on November 16, 2023 – both online and in person at the Royal College of Physicians, London. The notice comes at the same time as all video footage from last year's 10th anniversary event has been made available for all to view online.

The on/offline hybrid attendance option that became popular during Covid-19 will remain an option going forward.

"We will continue to offer all registered delegates access to the Summit App which allows delegates to watch via live stream, view and download the speaker slides and access the speaker videos on-demand for 3 months post event. "
Further questions about vaping and tobacco harm reduction have been posed to the Government in the House of Commons. Mark Pritchard thinks more research needs to be done on the health ramifications of using e-liquid, Mark Pawsey wants more discussions to prevent the sale of non-compliant vape products, and Rachael Maskell thinks the Government should do more to discourage ecig use.

Mark Pritchard, the Conservative MP for The Wrekin, asked the Secretary of State for Health and Social Care if his Department will be commissioning further research into the health impacts of e-liquids containing propylene glycol and vegetable glycerin in vaping products.
---

---
Need to Know – Charles A. Gardner
With hyperlinks to the evidence:

The death toll from smoking is staggering – Harm reduction can reduce that death toll – Safer nicotine alternatives help smokers quit – Teen nicotine vaping is undesirable, but not a "crisis" – Proposed policy "cures" are worse than the "disease" – Inconsistent definitions and exaggerated teen "use" should not drive policy – Full context of adult products that teens should not use

Allison Boughner
Last week the World Vapers' Alliance warned us about billionaire Michael Bloomberg's commitment to further his misinformation campaign on vaping. Per the announcement from Bloomberg's organization last week the aim is to focus on traditional anti-smoking policies, such as extending warning labels and smoke-free zones and support of various anti-vaping policies, such as flavor bans.

But why does Michael Bloomberg believe that he knows best and should have the authority to force this kind of decision making for adult smokers and vapers?
What will they do to fix it? – Allison Boughner
Health professionals tend to have a good amount of trust in the FDA and assume that if something is FDA approved, it must have passed a strict regimen of rules and tests to become approved.

Lately, however, despite the view of health professionals, the general public is less impressed with the FDA's decision making. Many consumers in the e-cigarette space are making their concerns known to retail associates in vape shops. Consumers are concerned mostly due to the handling of the PMTA process, causing them to be downright terrified that their harm reduction of choice will be taken from them, while cigarettes remain safely on the shelves of any gas station, convenience store, and even some grocery stores.
---
A look back at how things have moved on or otherwise….
CoEHER
In the field of harm reduction, there are a lot of women who stand for the smokers' right to choose safer alternatives to quit smoking. Some of them are leading experts in fields such as research, communication and law.
SnusForumNet
Sweden's controversial new tobacco tax proposal would further punish already over-taxed snus users while failing to address the fact that Sweden has the Nordics' cheapest cigarettes. The Swedish government recently proposed a new tax on tobacco and alcohol.
ETHRA was encouraged to receive an invitation from the European Commission's DG SANTE to a virtual meeting entitled "New tobacco and nicotine products in tobacco control policies," which took place on Thursday 10 February. The meeting's objectives were not clear, but it offered consumer organisations an opportunity to express their views on safer nicotine products.
---
Visit Nicotine Science & Policy for more News from around the World

---