Vapers Digest 16th Jan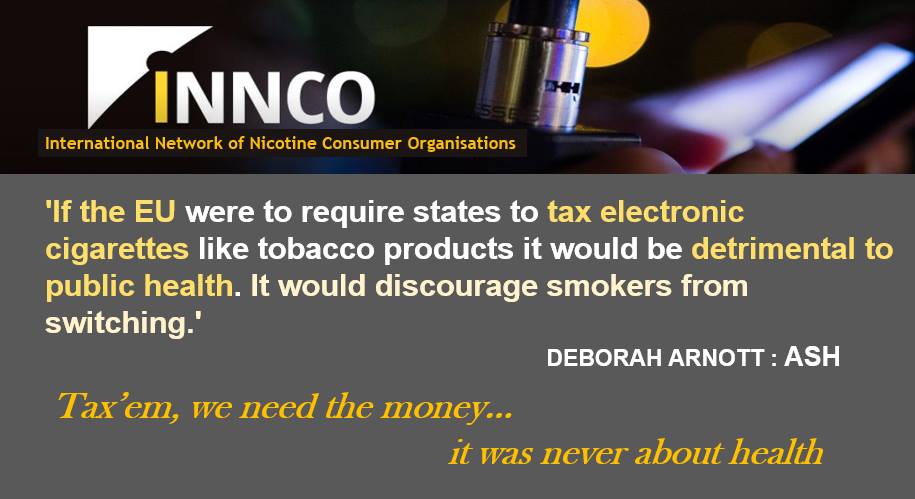 Monday's News at a glance:
That's Your Problem, Not Ours – Frustration in Tobacco Control – America: Settling for less to reduce smoking – Big Pharma Undermining NHS Quit Service Advice – EU Tax policy – harmful to health – Public consultation on excise duties -Good news for vape shops – The collapse of the vaping business – We'll do our best to have vaping recognized – Are e-cigarettes a miracle or a menace? – GOP leaders pledge vape law overhaul – Why e-cigarettes are better than smoking – Smoke Signals – Cigarette ban backfires behind bars – Nicotine Science and Policy Daily Digest – Monday, 16 January 2017
Dick Puddlecote
There has always been a suspicion that the real reason that the tobacco control industry tends to dislike vaping is simply because it looks, to the uneducated, like smoking.

They can never say that, of course, because it's akin to claiming that water should be treated as a controlled substance because it looks like vodka. As a result, we have seen some quite desperate contrived arguments as to why e-cigs should be distrusted
Bolton Smokers Club
Smoking bans in pubs were never aimed at smokers. They were aimed at bar staff. Nor were they intended to 'protect' bar staff. They were aimed AT bar staff.'No smoking' in pubs directly reduced the opportunity to smoke for bar staff. Thus, for a few hours (most pub jobs are part-time), the opportunity to smoke was removed. Thus, tens, if not hundreds, of thousands of people would be deprived of the opportunity to smoke.
Kevin Crowley, Vaping Links
If you're an American looking to reduce smoking, stop settling for less. Quickly step away from the paid advertisements from the pharmaceutical companies to fund the rigorous and glorified "fight" against tobacco by your friendly neighborhood cessation counselors.

Stop settling for less. Stop dialing quit lines, delete your "free" app. Stop paying attention  to a well organized bunch of morons……
Mawsley, Planet of the Vapes
The Proprietary Association of Great Britain (PAGB) is the UK trade association that represents the manufacturers of branded over-the-counter medicines, self care medical devices and food supplements. As one of the mouths for the pharmaceutical industry, it is attempting to push its nicotine replacement therapies at the expense of more successful vape products.
---

---
New Nicotine Alliance
The EU Commission is currently consulting on a revision to the Tobacco Excise Directive, which could see reduced risk products such as e-cigarettes being included. Our associate Clive Bates has written an in depth briefing together with NNA which details why this is a very bad idea. The full briefing can be read here. The consultation can be found here.
Applied to manufactured tobacco – European Commission
Council Directive 2011/64/EU sets out EU rules on the structure and rates of excise duty applied to manufactured tobacco. In particular, it defines and classifies various manufactured tobacco products according to their characteristics and lays down the relevant minimum rates of excise duty for the different types of products. The purpose of the Directive is to ensure the proper functioning of the internal market and a high level of health protection.
Jim McDonald, Vaping 360
The FDA will allow vape shops to change coils, assemble kits, and refill tanks on site for customers without being designated tobacco products manufacturers under the deeming regulations.

The federal agency has just issued guidance on the rule, for the first time spelling out in plain English what activities are allowed in retail stores. Since the deeming regulations were published, business owners have tried repeatedly to get such clarifications.
---
---
Jérôme Harlay, Vaping Post
The 2008 amendment of the law on tobacco products although not published in the Official Bulletin, strongly regulates advertisement and bans smoking in public places. However, smoking bans are poorly enforced by the law. In addition, the price of combustible cigarettes remains very low compared to other countries where a gradual increase is applied each year, in agreement with the WHO's recommendations, to discourage smokers.
In an even bigger way in 2017 – Samrat Chowdhery
2016 was a defining year for vaping in India, for both good and bad reasons. The unfortunate part was the flurry of bans and regulations by state governments, which created fear in the vaping community and hesitation among vendors about investing and expanding in an uncertain business climate.
Battery Safety and General Chat
Jacques Le Houezec
The year 2016 has been the year of the transposition of the EU TPD in which vaping products have been wrongfully assimilated to tobacco products, an aberration since those products are a mean to quit smoking. Vaping products are neither tobacco nor medicine products and must remain consumer products.
Is Australia making a big mistake in not legalising the use of electronic cigarettes containing nicotine?Yes, according to the evidence presented in a BBC Science documentary – Miracle or Menace on Foxtel's BBC Knowledge channel on Wednesday 12 January.

Their use is highly controversial in this country, unlike in the United Kingdom where they are legally embraced as an invaluable aid for those wanting to give up cigarette smoking.
---

---
Republican legislative leaders say they want to unwind stiff regulations they imposed on Indiana's vaping industry, which created a stranglehold on the burgeoning market for one company and prompted an FBI investigation.

The law, which is subject to a legal challenge, was passed in 2015 ostensibly to ensure that the nicotine-laced liquid consumed through vaping met safety standards.
Robert Schwartz, University of Toronto
As a tobacco control scientist, I see one advantage of electronic cigarettes: they're much less hazardous than smoking. But they're not harmless, so I would strongly discourage non-smokers from taking up the habit.

Smoking is still a major problem. One in six Canadians still smokes cigarettes, and every day more than 100 Canadians die because they used tobacco — half a century after its deadliness became well known.
A four-part investigative report that began last Monday night shows a reporter for Hamodia newspaper receiving NIS 4,000 to arrange meetings between a fictitious importer of electronic cigarettes and high-level officials in the Health Ministry, including Health Minister Ya'acov Litzman. It just so happens that Hamodia is owned and controlled by members of the Ger Hassidic movement and that Litzman is a Ger hassid with ties to the paper's staff and management.
Lily Waddell, Daily Star
The switch comes amid the Government's bid to improve the health of the prisoners by making Britain's jails smoke-free. Rebellious cons are snubbing minister's call for them to make do with E-cigs and nicotine patches.

Now the number of lags getting high on New Psychoactive Substances (NPS) has doubled, the Independent Monitoring Board revealed.
---
A look back at how things have moved on or otherwise…
Dick Puddlecote
On Wednesday, Clive Bates alerted us to the imminent publication of a piss poor review of e-cig studies by Mad Stan the wobble-bottomed aircraft engineer. Entitled Who will be duped by error-strewn 'meta-analysis' of e-cigarette studies? (since updated), Bates mused in the article as to which medical journal would be naively credulous enough to publish such a load of scientifically-illiterate garbage which had been floating around for a while, thereby strongly suggesting it had been rejected elsewhere….
The Real World According to an Aeronautical Engineer
Paul Barnes – Facts Do Matter
By now you've probably heard of, or seen the latest attempt from Stanton A. Glantz to discredit e-cigarettes as a viable method for cessation. He, and co-author Sara Kalkhoran performed a systematic review and meta-analysis of research published for a set period of time to try to identify if e-cigarettes are indeed a viable tool for cessation. So what did our illustrious aeronautical engineer come up with?
At least he left aerospace engineering – Carl V. Phillips
Stanton Glantz is at it again, publishing utter drivel. Sorry, that should be taxpayer-funded utter drivel. The journal version is here and his previous version on his blog here. I decided to rewrite the abstract, imagining that Glantz had stayed in the field he apparently trained in, aerospace/mechanical engineering….
---
Visit Nicotine Science & Policy for more News from around the World

---