Vapers Digest 15th May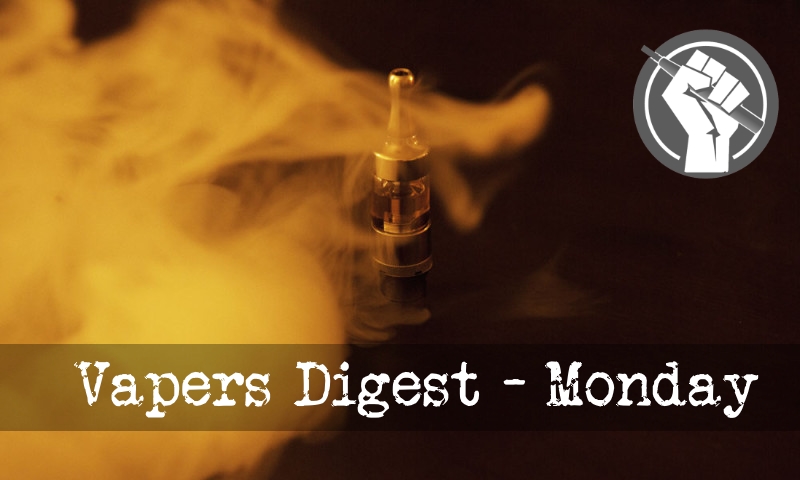 Monday's News at a glance:
Totally Wicked launches industry leading recycling scheme – Follow the Swedish model to cut smoking rates – Experts Call For Harm Reduction – Hungary's Denial Poses Risks – Wider availability of vapes will reduce cigarette sales – Australia's New Vape Crackdown Incentivizes Smoking – U.S. Courts Wake Up To "Unlawful" FDA Regulation – Vaping can effectively help adults stop smoking – At what point does anecdotal evidence become statistically significant data – Biden's Scientific Integrity Memorandum – Nicotine Science and Policy Daily Digest
Abigail Beaney – Lancashire Telegraph
Blackburn-based Totally Wicked has partnered with Veolia, a sustainability solutions provider and one of only a handful of Approved Authorised Treatment Facilities that can recycle vape products effectively.

This collaboration ensures that used vapes will be disposed of safely and efficiently, promoting sustainability and reducing waste in the vaping industry.

With the rapid rise in popularity in vaping as an alternative to smoking – or as an ill-thought-out fashion statement – the chunky, colourful plastic single-use products have quickly become a common sight littered on roadsides and in bushes and hedgerows.
Antonia Di Lorenzo – ECigIntellegence
The best way to reduce smoking rates is by encouraging smokers to make informed choices and switch to new, reduced-risk categories while protecting non-smokers and young people – that's the view of European Parliament member (MEP) Aldo Patriciello.

And according to the Italian, who sits in the European People's Party (EPP) group, the best model for countries to follow is that of Sweden.

"Thanks to this mixed approach of developing e-cigarettes, heated tobacco and nicotine pouches, Sweden has reached 6% smoking incidence – the lowest in Europe and among the best in the world. The approach to these products must be pragmatic, and based on scientific data," he said.
---

---
Two from Dave Cross, Planet of the Vapes:
Leading Asia-Pacific, Middle East and African public health experts and tobacco harm reduction associations are urging Governments to embrace the concept of harm reduction to reduce the devastating health burden of cigarette smoking in the region, says the Coalition of Asia Pacific Tobacco Harm Advocates (CAPHRA).

An inaugural seminar on Thursday 27th of April, hosted by Australian Tobacco Harm Reduction Association (ATHRA), CAPHRA, Harm Reduction Alliance of the Philippines, Malaysian Society for Harm Reduction (MSHR) and Pakistan Alliance for Nicotine and Tobacco Harm Reduction (PAHTHR), called for an urgent response by Asia-Pacific countries to "quit like Sweden"…
---
---
Hungary's ruling party Fidesz doubles down on its anti-tobacco harm reduction stance and denies scientific evidence about the potential benefits of vaping for public health. State Secretary of the Ministry of Interior, Benec Rétvári, reaffirms that Hungary will continue to treat vaping the same as smoking and won't overturn the vaping flavour ban.

Michael Landl, Director of the World Vapers' Alliance, said: "It is shocking that the Hungarian government still peddles worn-out and debunked myths about vaping. Rétvári systematically ignores scientific evidence proving the benefits of vaping, not to mention the first-hand experience of millions of vapers.

Will reduce cigarette sales – Colin Mendelsohn
SELLING VAPES LEGALLY to adult smokers from convenience stores reduces the sale of deadly cigarettes according to new research from Canada.

The Canadian study examined the sale of cigarettes after the introduction of Juul to the market in 2018, using data from 600 convenience stores. Juul is a popular pod vape which has a high success rate as a quitting aid. One study found that 38% of Juul users had quit smoking after 6 months.

The Canadian study found that cigarette sales from the convenience stores fell by 1.65% per month over the first few months. Over 6 months, the decline in cigarette sales was around 10% overall. This would be expected to increase further over time. The authors concluded
Incentivizes Smoking – Ben Adlin May
Australia's government is intensifying its tight restrictions on nicotine vapes, announcing a ban on the sale of all nonprescription vaping devices, e-liquids, cartridges and related products. While vapes were technically already prescription-only products in the country, they're still available in some stores. The initiative is intended to crack down on the country's supply in light of what officials have called a youth vaping "epidemic."

Critics say that limiting access to vapes will incentivize use of cigarettes, which will see a slight tax increase but remain on store shelves. Smoking currently kills more than 20,000 Australians per year.
---

---
U.S. Courts Wake Up To "Unlawful" FDA Regulation | RegWatch
Could the U.S. vaping industry be on the verge of a breakthrough in its legal battle with the FDA? The prospects are tantalizing. A recent ruling by the Fifth Circuit Court slammed the FDA over its shifting guidance and moving goalposts.

Creating what the court says is a likely unlawful de facto ban on flavored nicotine vaping products. The decision is an eye-popper.

Joining us today to talk through developments in the Fifth Circuit and to outline a potential path to the Supreme Court, is attorney and well-known vaping advocate Greg Troutman.

Effectively help adults stop smoking
THERE is enough evidence that support the use of electronic cigarettes as an aid for smoking cessation in adults, says Kenneth E. Warner, PhD, professor emeritus of Department of Health Management and Policy, School of Public Health, University of Michigan.

Electronic cigarettes or e-cigarettes are hand-held, battery-operated devices that heat a liquid containing propylene glycol and/or glycerin, flavoring compounds, and typically nicotine to produce an aerosol that users inhale, or vape.

"E-cigarettes are not the magic bullet that will end the devastation wrought by cigarette smoking, but they can contribute to that lofty public health goal," says Warner.
Become statistically significant data …
If you look around at the THR community, you will see a lot of the same—accidental quitters.

Vapers LOVE to share their quit story because we are still shocked that we actually successfully quit smoking.

Most of you know my story, but I will go into more detail here to show why my frustration is causing me to write this post.

At 30, I had a blood clot. Per WebMD.com "You can get deep-vein clots at any age, but it usually affects people who are older than 40".
Scientific Integrity Memorandum – Steve Pociask
As the president of a leading consumer group whose mission is to safeguard the public interest, I am alarmed by the growing number of Americans losing faith in the public health institutions Congress designed to keep them safe.

According to 2021 polling from the Robert Wood Johnson Foundation and Harvard T.H. Chan School of Public Health, nearly half the country does not trust the Center for Disease Control and Prevention a "great deal."
---
A look back at how things have moved on or otherwise…
Kim Eckart, University of Washington, Medical Xpress
Adult smokers who shift to using to e-cigarettes may have more chances to improve health and well-being, according to new research from the University of Washington.

The study monitored changes in health and social functioning among smokers at two stages in adulthood, age 30 and again at 39. Approximately one-third of smokers shifted to vaping some or all the time by age 39. This group reported better physical health, exercised more and had more active social engagement, the study found.
Society for the Study of Addiction, Medical Xpress
A new study published today in the scientific journal Addiction has found that approximately 8.6% of adolescents reported using e-cigarettes (vaping) in the past 30 days, but only 1.7% engaged in frequent vaping. This suggests most adolescents who vape are experimenting but not making it a habit.
---
Visit Nicotine Science & Policy for more News from around the World

---