Vapers Digest 13th March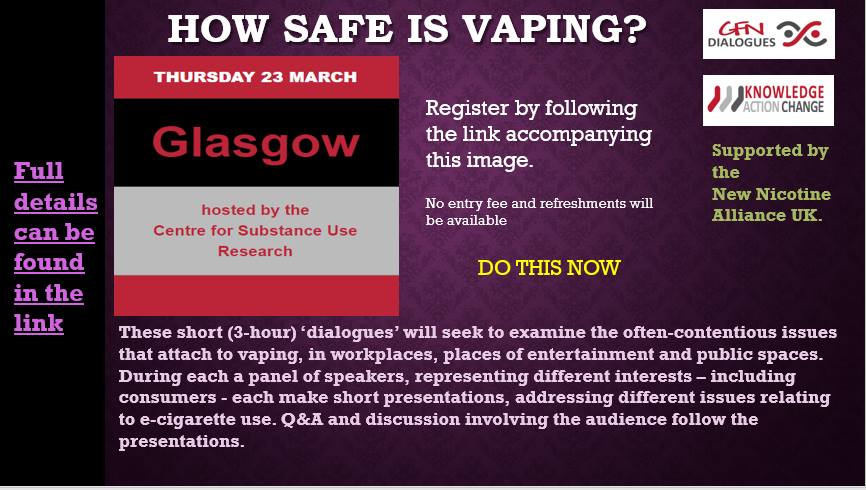 Monday's News at a glance:
Oi! EU! Tax On Vaping? NO! – Marketing controversy strikes industry – Defend the Right to Vape Rally – Surgeon General Continues to Lie – Can BAT Beat Philip Morris – E-cigarettes a gateway to smoking? – FDA regulations on e-cigarettes harmful to jobs, public health – Groups take FDA vaping rules fight to Trump – Park Board bans use of e-cigs, chewing tobacco in parks – Suicide Or Vaping? – You Decide – Teen smoking is down – Tobacco Harm Reduction Update – Nicotine In the News – 13 March 2017
Dick Puddlecote
You may remember that last month was the closing date for an EU consultation on the taxation of manufactured tobacco products. The EU being the meddling EU, this naturally included their initial fumbling towards abusing e-cigs by taxing those too … despite the devices and the liquid not containing any "manufactured tobacco" whatsoever.

The first results of the consultation have now been made available here, and there are some interesting discussion points.
Fergus Mason, Vaping Post
Respected vaping advocate Dr Farsalinos has criticised many liquid manufacturers for irresponsible marketing this week; meanwhile legislators in New Mexico – and possibly Scotland – are trying to push through harsher restrictions on the vaping industry. To top it all off the authors of 2015's worst formaldehyde study have applied the same bad science to a new paper on benzene.
Australian Vapers and Friends!
We need to rally to give one more big push to get nicotine for vaping legalised! We need funding for big banners, signs and resources to make this the biggest pro vape rally in Australia ever!

The rally will be held from 8 am to 11 am on March 24th in an important location in Melbourne, the day after the final decision of the TGA. We fully expect they will keep nicotine for vaping illegal.
---

---
About Tobacco in E-Cigarettes – The Rest of the Story
In an article published earlier this month in JAMA Pediatrics, the Surgeon General claimed that electronic cigarettes: "are now the most commonly used form of tobacco among youth in the United States, surpassing cigarettes, chewing tobacco, cigars, and hookah." The article repeatedly refers to e-cigarettes as a form of tobacco. In fact, the article contains four statements indicating that e-cigarettes are a "form of tobacco" or that vaping is a "form of tobacco use."
Rich Duprey, Motley Fool
The cigarette giant has grand plans to quadruple the number of markets in which it sells electronic cigarettes by 2018, but competition is fierce and some analysts believe it needs to offer something better than what its rival already has on the market. Moreover, because Philip Morris is present in nearly as many markets as BAT aspires to target, it suggests that in two years time it will be even further ahead.
---
US: 110+ vape shops close in PA alone & FDA rules could wipe the industry nationally. Let's hope this passes https://t.co/w2RXRhXpe1

— Gillian Eva Golden (@gillianegolden) March 13, 2017
---
Not likely, according to new published research
Are e-cigarettes a gateway product that lead more people, especially teens, to smoke regular cigarettes?

No, according to public health researchers from the University at Buffalo and the University of Michigan writing in the journal Drug and Alcohol Dependence.

"The national trends in vaping and cigarette smoking do not support the argument that vaping is leading to smoking," said Lynn Kozlowski, the paper's lead author and a professor of community health and health behavior in UB's School of Public Health and Health Professions.
Harmful to jobs, public health – Brian Fojtik
The Orange County Register recently reported that the number of stores selling e-cigarettes in Los Angeles County rose a whopping 34 percent from 2013 to 2016. The numbers also grew by 21 percent in Orange County, 15 percent in San Bernardino County and 9 percent in Riverside County.
Monday – Twins of Evil…
Kathy Hoekstra – WatchDog.org
Groups looking to undo controversial new e-cigarette regulations say the federal government is running out of legitimate reasons to defend them.

And with lives in the balance, they want to strike while the science is hot.
Below are listed the various categories of fees for attending the conference. Please read the information carefully, including the terms and conditions for participation, and then choose the appropriate category when you register.
---

---
With increased likelihood of smoking – Medical News Today
New peer-reviewed research published in Drugs Education Prevention and Policy shows that e-cigarettes are not increasing the likelihood of tobacco consumption and may in fact be contributing to negative perceptions about smoking among young people.

The study, based on semi-structured interviews with 50 vapers between the ages of 16 and 26 – including 28 current smokers, 19 former smokers and 3 never smokers – found the majority of young people think e-cigarettes are a substantially less harmful alternative to combustible tobacco and don't believe that vaping is increasing their likelihood of smoking.
The Minneapolis Park and Recreation Board's new policy prohibits the use of all tobacco products on park property and in buildings owned and operated by the board. Passing the measure puts the board among more than two-dozen metro-area park systems that have become tobacco free.
With severe mental illness to switch to electronic cigarettes?
Ratika Sharma, Coral E Gartner, David J Castle, Colin P Mendelsohn
Although smoking rates in Australia have declined significantly in recent years, the very high smoking prevalence in patients with severe mental illness (SMI) has remained unchanged (Cooper et al., 2012). In all, 70% of patients with schizophrenia and 61% of patients with bipolar disorder smoke, compared to 16% of those without mental illness (Cooper et al., 2012).
You can call this a kind of rant if you like. Because quite frankly I am sick and tired of all the negativity around vaping especially from political bodies such as the EU and the FDA.

Especially as the full implementation of the TPD will impact on the UK in the very near future – we shall be doing a piece soon covering this very soon.
---

---
Joseph Spector , Albany Bureau Chief
The survey released Monday showed the high school student smoking rate in 2016 was the lowest on record at 4.3 percent, down from 27 percent in 2000.

But the use of e-cigarettes skyrocketed: Nearly 21 percent of students said they used e-cigarettes last year compared to 11 percent who said they did so in 2015, the survey said
Bill Godshall – March 9th, 2017
THR Surveillance and Research, THR Education, Business, GOP Healthcare Reform Legislation, FDA Deeming Regulation / Ban, FDA Smokeless Tobacco Lies, More FDA CTP, Trump Administration, Litigation, Taxation, Indiana E-liquid Monopoly Law, Flavoring Bans, Flavored E-liquid, Advertising Restrictions, Minimum Age, Vaping Bans, Access to Vaping, Vapor Prohibition – Taiwan, Canada, Australia, New Zealand, Israel, Junk Science – Propaganda – Lies.
---
A look back at how things have moved on or otherwise…
Brainy Furball
I have been an e cigarette user – a vaper – for over three years. I was totally flabbergasted at the ease at which I stopped smoking. So much so, I was horrified when I discovered that so many advocates against smoking were rejecting e-cigarettes and the concept of harm reduction out of hand. The shock was soon replaced by anger…
Vaping Point
Since I have had my Facebook account blocked, my stats have dropped on my blog. This doesn't really disturb me, as I don't do this blog for stats – though seeing that people are reading it, is comforting. Originally this blog was a way to share my delight in vaping.

I have delighted in vaping. It's been my favourite thing. A pearl. A treasure. A fun hobby. In the beginning I bubbled over with joy about it…..
Dave Cross – Stealth Vape
Coils shorting and popping or cells being pushed outside of their limits – we are used to reading a litany of incidents occurring when vapers go sub. The media have made a meal out of the issues we are painfully too aware of but Stealthvape has become aware of a brand new danger this week. Informing you all is the only responsible thing to do and we hope that by doing so you will continue to have enjoyable and safe vaping experiences….
---
Visit Nicotine Science & Policy for more News from around the World

---