In the News March 11th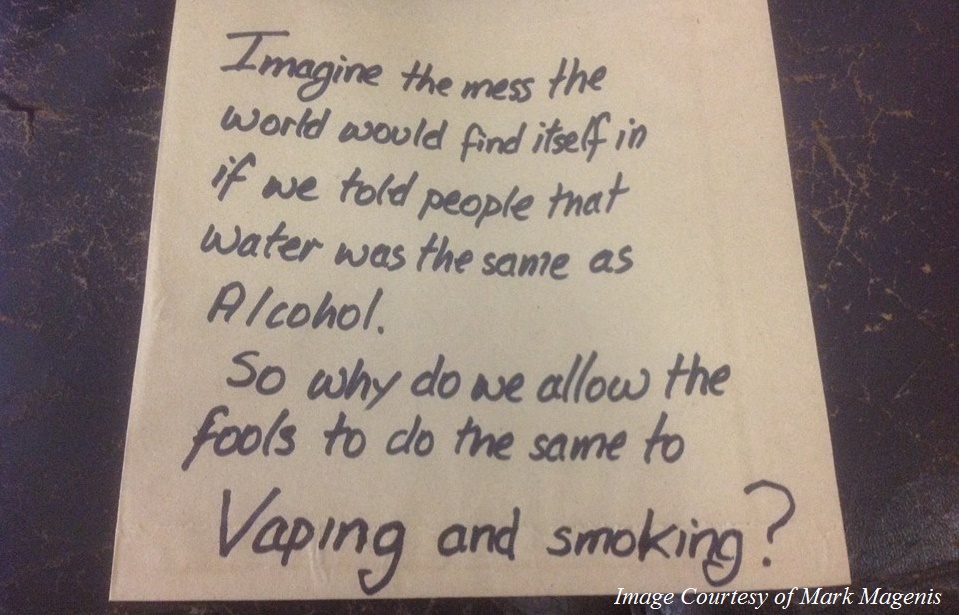 Fridays News at a glance:
Sacrificial Lambs – Round and round we go – When is smoking socially unacceptable? – Mixed reaction to proposed e-cigarette ban – The Ecig less dangerous than smoking – Metals: Do we have to be wary with ecigs aerosols? –  Electronic Cigarette Age Restrictions May Drive Teens to Traditional Cigarettes – CVS to Spend $50 Million on Antismoking Program – New SubOhm Vaper Danger – Nicotine Science and Policy Daily Digest – Friday, 11 March 2016
Brainy Furball
I have been an e cigarette user – a vaper – for over three years. I was totally flabbergasted at the ease at which I stopped smoking. So much so, I was horrified when I discovered that so many advocates against smoking were rejecting e-cigarettes and the concept of harm reduction out of hand. The shock was soon replaced by anger…
Vaping Point
Since I have had my Facebook account blocked, my stats have dropped on my blog. This doesn't really disturb me, as I don't do this blog for stats – though seeing that people are reading it, is comforting. Originally this blog was a way to share my delight in vaping.

I have delighted in vaping. It's been my favourite thing. A pearl. A treasure. A fun hobby. In the beginning I bubbled over with joy about it…..
---
All Scottish Vapers please write your thoughts on article 20 in less than 100 words & send them to Mike Mckenzie MSP. It will help.

— Andy Morrison (@GMFCfantasy) March 11, 2016
---
Simon Clark – Taking Liberties
In case you missed it, yesterday was No Smoking Day. At risk of sounding like a stuck record, NSD ain't what it used to be.

When I first joined Forest we spent weeks preparing for it, sending out media packs to journalists and broadcasters. (In those days everything had to be photocopied, stuffed in envelopes and posted – that's how long ago it was!)
---

---
Ian Craig – South Wales Argus
THE failure of an attempt to throw out a proposed ban on using e-cigarettes in hospitals, schools, places food is served and other public places in Wales has been met with a mixed reaction.

The bid by the Welsh Liberal Democrats to remove the proposal from the Welsh Government's Public Health (Wales) Bill failed to win the support of AMs on Tuesday, despite some claiming it will unfairly penalise smokers who use e-cigarettes as part of an attempt to kick the habit….
Nathalie Dunand – PGVG
Le Parisien, a French newspaper, allocates 4 pages to an entire dossier on the e-cigarette (pages 52 to 55) that should reassure worried vapers after the alarmist campaigns of these last weeks…
---
Tobacco Control is like a sinking ship,where all the stewards are busy keeping"life-belts"out of reach(in case they're not safe enough)😲

— Jarrod Wants Out (@tregarthen67) March 11, 2016
---
Jérôme Harlay – PGVG
A research team investigated e-cigarette aerosols for the presence of metals (tin, copper, zinc, silver, nickel, and chromium). Their publication links the assembling quality to the quality of the aerosol and demonstrates that cheap materials/procedures heavily weight on the quality of the products in use.
May Drive Teens to Traditional Cigarettes – Weill Cornell Medicine
Imposing age restrictions on the purchasing of electronic nicotine devices may unintentionally increase teenage cigarette use, according to a recent study by Weill Cornell Medicine investigators.

The findings, published March 10 in Preventive Medicine, suggest that policymakers should be cautious in establishing the same legal purchasing age for electronic devices— which include e-cigarettes, vape pens and hookah pens — as the one set for regular cigarettes.


On Antismoking Program Aimed at Youths – Tripp Mickle – Wall Street Journal
CVS Health Corp. plans to spend $50 million over the next five years on a youth antismoking campaign as it aims to position itself as a serious competitor in the health-care industry.

It is unusual for a corporation to attack an industry as CVS plans to do by warning youth of the harms of smoking.
---
---
Dave Cross – Stealth Vape
Coils shorting and popping or cells being pushed outside of their limits – we are used to reading a litany of incidents occurring when vapers go sub. The media have made a meal out of the issues we are painfully too aware of but Stealthvape has become aware of a brand new danger this week. Informing you all is the only responsible thing to do and we hope that by doing so you will continue to have enjoyable and safe vaping experiences….