In the News March 10th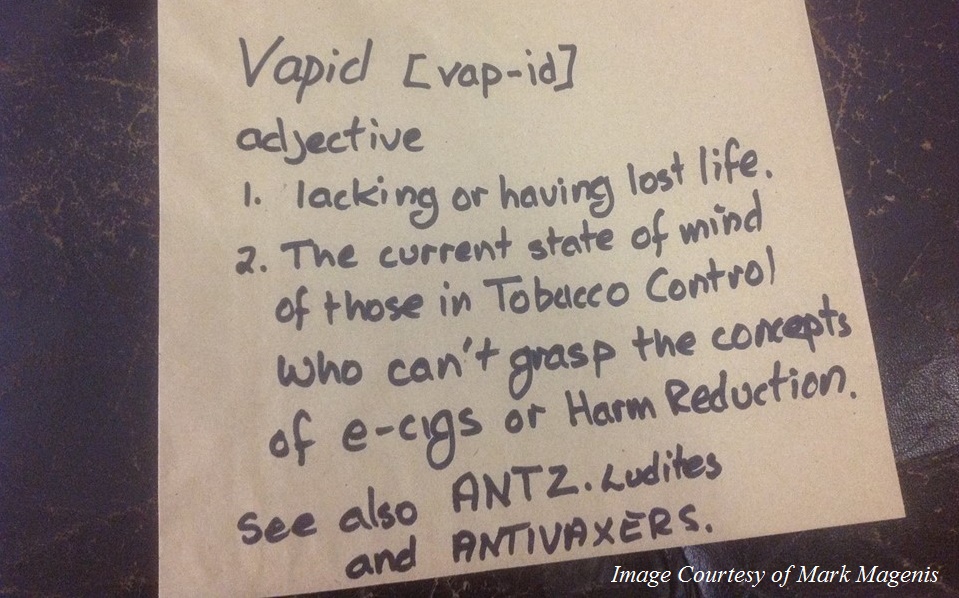 Thursdays News at a glance:
A Day In The Strife Of Wales – When horror pictures top-trump evidence: a lose-lose situation – Applying the Precautionary Principle – Bristol mobilizes to convert smokers to vaping – Big Pharma Scrambles As E-Cigs Become Most Popular Way To Quit – Vapour Trails TV – Survey Shows Doctors Are Split On E-Cig Benefits – Selling e-cigarettes remains illegal – FDA Reveals First Wave of E-Cig, Tobacco Study – California's Tobacco Tax Initiative Can't Justify A Tax On Vaping – California's War on Vape – E-cigarette industry leaders meet with Brown administration – Nicotine Science and Policy Daily Digest – Thursday, 10 March 2016
Dick Puddlecote
There were three interesting articles yesterday about e-cigs in Wales which give a great insight into the disconnect between the public, on one hand, and the repulsive parasites who plague us on the other.

"….If there is a hell, that's exactly where Welsh AMs and ASH Wales are headed, vile, socially-destructive, lying, self-enriching, fascist cretins that they are…."
A lose-lose situation – Louise Ross
Louise Ross, head of the Leicester Stop Smoking Services, took part in a debate on e-cigarette in front of an audience of respiratory nurses.  It didn't go well.

In this guest blog, Louise describes her experience debating e-cigarettes and tobacco harm reduction with a consultant in respiratory medicine apparently prepared to say anything to rubbish e-cigarettes….
---
The stubborn blinkered idiocy of some Drs is staggering! A resp consultant spreading such negligent lies is heinous. https://t.co/WWQdui63EU

— Dr Christian Jessen (@DoctorChristian) March 10, 2016
---
Paul Barnes – Facts Do Matter
We all know the arguments. Applying restrictions to avoid "potential harms". Well we've seen how ludicrous that is in Wales recently where vaping is to be banned (yes Duckford, it is a ban. You might not think it is you daft old duffer, but it is) everywhere where smoking is currently banned. Ban in workplaces to protect the health of non-smokers & colleagues, ban in public places to, erm protect the health of workers and non-smokers. Ban in playgrounds, erm for the Cheeldren™.
---

---
Ghyslain Armand – PGVG
The Municipal Council of Bristol, UK, recommends using the vaporizer as an alternative to tobacco and will meet smokers in the street, this week, with the intention of converting them to this alternative to tobacco.

For the National Stop Smoking Day, municipal teams will visit four electronic cigarette shops located in the city center to offer carbon monoxide test and show how levels in the body differ between smokers and vapers.
---

---
As E-Cigs Become Most Popular Way To Quit – Guy Bentley
E-cigarettes have overtaken nicotine patches and gum as the most popular method to quit smoking, according to a study from University College London (UCL).

UCL academics found one million people in England used e-cigarettes to kick tobacco in 2015. The total number of smokers in England who tried to quit was 2.6 million — meaning 40 percent of all those who tried to give up smoking turned to vaping.
---
Marewa Glover joins Keith and Dave to talk Ecigs, New Zealand and, mostly, Ecigs. There may be Gin…
---
Guy Bentley – Daily Caller
Physicians are split on the benefits of using e-cigarettes as a tool for reducing smoking-related harms, according to a study from the Saint Louis University School of Medicine.

Researchers sent an anonymous online questionnaire to faculty, residents and fellows in the university's departments of internal medicine and surgery — receiving responses from 51 percent…


After appeal dismissed at Perth's Supreme Court – Aleisha Orr
It is still illegal to sell e-cigarettes in Western Australia after a conviction in a landmark case on the matter was upheld in WA's Supreme Court on Thursday morning.

Judge Michael Buss heard the appeal brought forward by Vincent van Heerden, who was was first acquitted of selling e-cigarettes, then convicted after an appeal by the Health Department but this latest appeal has now failed….
Melissa Vonder Haar – CSPNet
Last week's Society for Research on Nicotine and Tobacco Conference included numerous tobacco and nicotine-related presentations, most notably select data from the first wave of the U.S. Food and Drug Administration (FDA) and National Institute of Health's Population Assessment of Tobacco and Health (PATH) study….
Can't Justify A Tax On Vaping – Shawn C. Avery – Daily Drip
Save Lives California is currently collecting signatures for a voter initiative they hope to get on the November 2016 ballot, which would add a $2.00 tax per pack on cigarettes in the state and also place "an equivalent tax on products containing nicotine derived from tobacco, including e-cigarettes", though they don't have any idea what that means yet, and they intend to just figure out the details later:
Chris Roberts – SF Weekly
It is the age of the vape. On our streets and in (some) of our buildings, bros and girls of all ages are pulling on propylene-glycol-powered tubes, and in Washington, clouds of vapor are replacing the proverbial smoke-filled room. Last month, U.S. Rep. Duncan Hunter (R-San Diego), a 39-year-old ex-military man, vaped on the floor of the House during a debate over banning e-cigarettes on planes….
Meet with Brown administration to oppose new regulations
On the eve of a possible final vote to regulate electronic cigarettes, leaders of the vaping industry met privately Wednesday with an aide to Gov. Jerry Brown to lobby for a veto if the measure reaches his desk.

The Senate may vote Thursday on a bill that prohibits use of electronic cigarettes in restaurants, theaters and other public places where smoking is banned.