In the News November 25th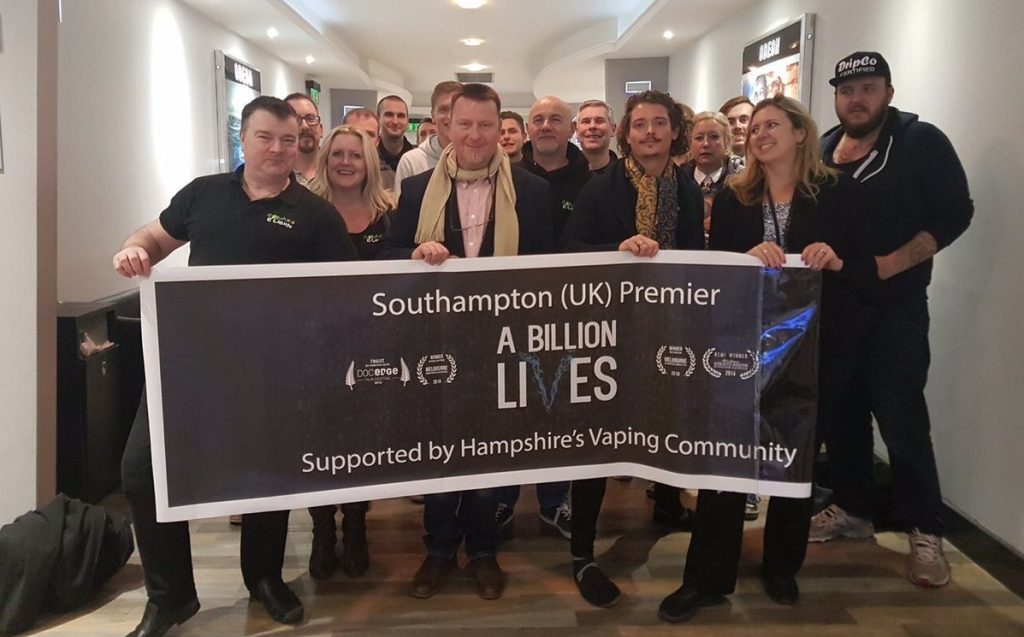 Fridays News at a glance:
Toxic Research – Health and Safety – The UK Royal College of GPs inform professionals on Ecigs – Vaping ignorance on full show – E-Cigarette Summit resentations – NHS 'testing cannabis-based pain relief product' – The case against (and for) public health – Oxford: Young entrepreneur of the year award – Nicotine Science and Policy Daily Digest – Friday, 25 November 2016
Mawsley, Planet of the Vapes
The Desert Research Institute (DRI) is the environmental research arm of the Nevada System of Higher Education. DRI conducts cutting-edge applied research in air, land and life, and water quality across Nevada, the United States and on every continent. Latest research claims to demonstrate "e-cigarettes liquids contain dangerous levels of hazardous chemicals known to cause cancer in humans."

Never one for moderation, The Sun proclaims the research proves "E-cigs can kill". They continue, "Just ONE puff of flavoured e-cigarette vapour 'contains dangerous levels of cancer-causing chemicals'."
Underdogs Bite Upwards
Both of these are relative terms. I am in relatively good health, but won't be running any marathons or partaking of athletic activities of any kind in the foreseeable future. Mostly that's because I don't want to – the idea of lifting heavy things that don't need to be moved or running when nobody is chasing me is just silly. I don't need to be any stronger or faster than I am now, unless there is an incident involving a falling piano in my future.
---

---
Inform professionals on Ecigs – Jérôme Harlay
The Royal College of General Practitioners, the official channel for General Practice of Medicine in the UK, give their informed recommendations to health professionals regarding smoking cessation and the use of e-cigarette.

With this summary, RCGP comes along with Public Health England's statement on the relative risk of e-cigarette and combustible tobacco after a survey, this year, showed that only 17% of British GPs backed the idea of prescribing e-cigarettes, while 14% said they weren't sure.
Andrew Allison, Freedom to Vape
In our recent report on the vaping policies of UK councils, Hartlepool Borough Council responded by saying that it "requires staff and customers to use tobacco and/or e-cigarettes off site away from entrances to buildings". I therefore wasn't surprised to read this headline in the Hartlepool Mail: "Vapers cautioned over use of electronic cigarettes".
---
Coming to a Cinema near You –  Reserve your tickets Now!
---
The 'MediPen' is used to relieve pain in people suffering from a range of conditions including depression, cancer and arthritis.

The vaporiser contains the active ingredient cannabidoil, an oil extracted from the cannabis plant, and the manufacturer claims it is "completely non-psychoactive and does not induce any mind-altering effects".
2016 E-Cigarette Summit Presentations Now available online
Richard Horton
When you walk into the atrium of WHO in Geneva, and if you look carefully, you will discover the head of Andrija Stampar. His face is strong, dignified, and wise. He commands your respect. His presence is rightly prominent. Stampar was the first President of the World Health Assembly in 1948. He dedicated the final decade of his life to WHO, and to what we now call global health. His contribution was inestimable.
Leads to young entrepreneur of the year award – Stuart Rust
A 21-YEAR-OLD who runs a successful vaping business has been named young entrepreneur of the year in an Oxfordshire competition.

Dan Greenall, of Yarnton, picked up the Haines Watts Young Entrepreneur of the Year Award for establishing and developing his own company, Oxford Vapours Ltd.
---

---
Vapers in Power
There is only one council in the entire country with a decent attitude towards vaping.

Thanks to the work of Freedom to Vape we now know that the vast majority of councils lump vaping in with smoking, against the advice of both Public Health England and the Health and Safety Executive.
Hertfordshire's Tobacco Harm Reduction Guidance
It is proposed that Hertfordshire County Council promotes responsibly the use of e-cigarettes to help smokers to quit or reduce smoking, whilst acknowledging that e-cigarettes are not entirely without risk, and monitors ongoing impact and evidence. This line is entirely consistent with national guidance and was included within Hertfordshire's Tobacco Harm Reduction Guidance which was approved by Panel in February 2015.
---
A look back at how things have moved on or otherwise…
Dave Dorn – The Sun Also Rises
Attending the Fresh NE ecig event was, I have to admit, something I was looking forward to. I had thought that, in the current climate, the audience, made up of practitioners from all ten SSS organisations in the North East, all of which are supposed to be ecig friendly, would be receptive, eager to learn and willing to listen.

I'm still unsure whether that was indeed the case. Prior to going in, the results of the survey the organisers did to gauge the feeling about ecigs were shared with me, and it turned out that we were looking at an audience that was roughly 50/50 pro and con ecigs, to put it in general terms….
Mawsley – Planet of the Vapes
JAMA Pediatrics is a medical journal giving all the appearances of being fully funded by pharmaceutical companies given its continual crusade against electronic cigarettes. We have covered a number of contrived pieces of research they've published. The latest appears to be equally dubious….
To Change FDA Rule That Could Wipeout E-Cigarette Industry – Guy Bentley
One of the most powerful advocacy groups in the country is urging Congress to support changes to regulations that, if enacted, will all but wipe out the e-cigarette industry in America.

In a letter to members of Congress, Americans for Tax Reform president Grover Norquist appeals to lawmakers to change the date when the Food and Drug Administration (FDA) will compel all e-cigarette and premium cigar products that came out after Feb. 15, 2007 to undergo the costly Pre-Market Tobacco Applications (PMTA) process…
---
Visit Nicotine Science & Policy for more News from around the World

---