In the News May 5th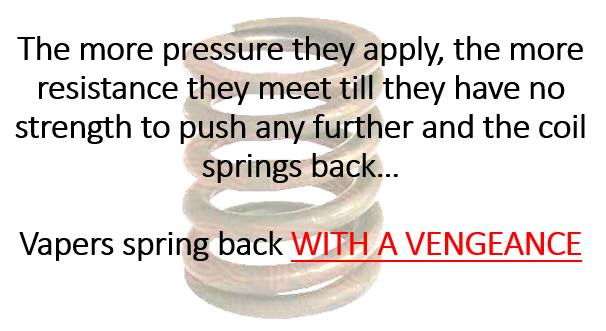 Thursdays News at a glance:
CALL TO ACTION! – Ask your MP to support Early Day Motion 1441 – Health? Yeah, Right – MHRA's guidance on TPD compliance – FDA E-Cigarette Deeming Regulations are a Disaster for Public Health – Release and Next Steps – Rise of the adults in vaping – NNA would like to congratulate the tobacco industry – SFATA Denounce Signing of Bill – FDA Announces Rule To Ban 99% Of E-Cigarettes – Brown Signs Five Anti-Tobacco Bills – EUTPD Chokes off the UK's e-cigarette and vaping market – A probe into the Ecig market – Nicotine Science and Policy Daily Digest – Thursday, 5 May 2016
Ask your MP to support Early Day Motion 1441 – John Summers – GlosVaper
This is pretty simple. This week the Royal College of Physicians  supported vaping and the European Court of Justice made a mockery of the Totally Wicked UK legal challenge and itself.

We all urgently need to ask our MPs to support this Early Day Motion 1441  raised by Anne Main MP. It asks for the government to reject the e-cigarette parts of the TPD and remove them from The Tobacco and Related Products Regulations 2016….
Dick Puddlecote
Yesterday saw the release of CJEU judgments on the EU's Tobacco Products Directive (TPD) which should prove to anyone that the EU and its agencies are far from scrupulous and could even be deemed to be deliberately corrupt.

As Snowdon points out in the Spectator, the TPD is fatally flawed under the very terms that the EU claims it was set up for…
---
---
Are a Disaster for Public Health – The Rest of the Story
Ninety minutes ago, the FDA released its long-awaited electronic cigarette deeming regulations. Sadly, the "deeming regulations" would better be called "The Cigarette Smoking Promotion Regulations of 2016." They regulate tobacco-free and smoke-free electronic cigarettes much more stringently than real tobacco cigarettes….
Release and Next Steps – CASAA
Today, May 5th, 2016, the Food and Drug Administration (FDA) has announced the final rule on docket FDA-2014-N-0189 / RIN 0910-AG38 (otherwise known as the Deeming Rule). It is important for our members to understand what happens next.

The FDA has placed the rule in the Federal Register "Public Inspection File" pending publication in the Federal Register. This is everyone's first chance to see the new rule. It will be officially published earliest on Tuesday, May 10th.
MIT Brickman
Between Governor Jerry Brown signing the controversial tobacco bills into law in California – which opens vaping up to unsustainable regulation, criticism, and taxation in the most vape-active state in the country – and the FDA injecting a slow-acting but definitely fatal poison directly into the jugular of the nation's vaping industry, it seem that we may have lost the battle to ensure longer lives and better health for millions of cigarette smokers.
In a move which many thought too glorious to contemplate, the tobacco industry was finally handed the US e-cigarette industry on a plate by the FDA when the long awaited deeming regulations were announced today. They will have to wait two years though, to reap the rewards.
---

---
Guy Bentley – Daily Caller
The Food and Drug Administration (FDA) published long-awaited rules Thursday that could ban 99 percent of e-cigarette products and wreck industry innovation for years to come.

Passed in 2009, the Tobacco Control Act says all e-cigarette products released after February 15, 2007, (predicate date) will have to go through the Pre-Market Tobacco Applications process (PMTA). FDA officials claim they cannot change the predicate date….
More Reports:
California took a step backwards today by reclassifying vapor products as tobacco. Stigmatizing vapor products, which contain no tobacco and treating them the same as combustible tobacco while actively seeking to economically penalize smokers attempting to switch is counterproductive to public health.
Most of the bills will take effect on June 9th, 90 days after the Legislature adjourned the special session in which the tobacco bills were passed. However, the bill that increases several tobacco industry fees and some of the provisions of the bill that regulates e-cigarettes will take effect on Jan. 1, 2017.
Jérôme Harlay – Vaping Post
The Medicines and Healthcare products Regulatory Agency (MHRA), designated as the competent authority for implementing the provisions under Article 20, published a guidance to inform producers, retailers and consumers on general and the UK's specific features.
---

---
Chokes off the UK's e-cigarette and vaping market – Francesca Washtell – City AM
"It's inappropriate for these products to be regulated as 'tobacco related products' when in reality they are a consumer product. The directive will have a significant impact on our sector, banning nearly all advertising and hampering free trade across the EU. At the very least this will force some vapers back to smoking and cause a number of smaller businesses to close."
Over Brussels electronic cigarette ruling – Lancashire Telegraph
EAST Lancashire electronic cigarette and e-liquid manufacturer Totally Wicked has failed in its challenge to Brussels' latest Tobacco Products Directive.

The European Union ruling, which takes effect on May 20, makes its merchandise a 'tobacco related product', despite not containing tobacco.

E-Cigs put less stress on hearts than conventional cigarettes – Emma Grimshaw – Bristol Post
SMOKING an e-cigarette puts less stress on our hearts than conventional cigarettes, according to scientists in Bristol.

The pioneering research published by Bristol University today shows a substantial difference between the smoke from electric-cigarette aerosol has on hearts compared to traditional tobacco cigarettes.
Julien Sellier – Vaping Post
Published a few days ago by the financial auditing firm Ernst & Young for Nicoventures, British American Tobacco's subsidiary and manufacturer of the Vype, a report on market trends analyzes vapor market and vaper's behaviors in seven countries.