In the News May 27th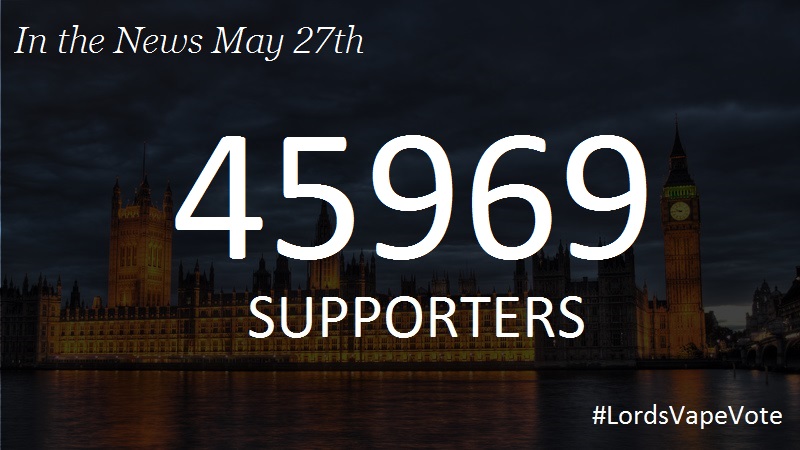 Fridays News at a glance:
Yours, Disgusted Of Hatton Garden – Beyond the Quit: what happens when e-cigs go wrong? – Early day motion 115 – Grannies who Vape – E-cigarettes: regulations for consumer products – The Horror of the Unaccountable – Statistics on Smoking, England – 2016 – Conservative MEPs re-ignite e-cigarette debate – Big fuss among vaping professionals – 'Cannavaping' could see e-cigarettes used to deliver medicinal cannabis – E-Cigarettes and managing memory loss – Nicotine Science and Policy Daily Digest – Friday, 27 May 2016
Dick Puddlecote
From the ASH emails, I thought you'd enjoy this piece of dribbling rust-hearted pecksniffery on a Friday.

Cast your mind back to 2012, and just think of all the things that might have angered the public back then. Flooding in the west country leaving people homeless; the phone tapping scandal and the Leveson inquiry; the UK economy dropping back into recession and national debt rising to over £1 trillion for the first time.

But what was Deborah Arnott of ASH disgusted by…?
What happens when e-cigs go wrong? – Louise Ross – The Counterfactual
Guest post by Louise Ross, Service Manager at Leicester City Stop Smoking Service – the pioneering e-cig friendly service for smokers who want to quit.  Louise explains how her service is teaming up with a vape bar and vaper to give practical help to smokers as they master vaping as an alternative to smoking. This is real public health to me
---
21:30hrs 27th May
---
EU regulations and protocols are 'unnecessary' – Fraser Cropper – Totally Wicked
E-Cigarettes and the Tobacco Products Directive
That this House affirms the enormous potential benefits to public health of e-cigarettes, or vaping, as an aid to smoking cessation; acknowledges the current best estimate, accepted by Public Health England and the Royal College of Physicians, that e-cigarettes are around 95 per cent less harmful than smoking tobacco…
Grey Haze Blog
Who said your actions should be defined by your age? Yes, vaping grannies really is a thing – and it's a marvellous, beautiful and brilliantly empowering thing. Grannies and Grandpas who vape is a seemingly humorous image right? But these bad ass advanced folk are storming the internet with their refreshing, age defying attitudes.
---

---
Update from theMHRA 27th May
Preliminary guidance on how to get an e-cigarette on the market in the UK, including the notification scheme and reporting problems with e-cigarettes.
Bolton Smokers Club
Last night, I suggested to readers that they should listen to Grandad's link to a radio broadcast which involved Dr Clancy pronouncing upon how bad ecigs were. His sole reason was that tobacco companies have been buying up ecig companies, and, since tobacco companies are bad, then ecigs must be bad. Everything else that he said was incidental….
Publication date: May 27, 2016
This statistical report presents a range of information on smoking which is drawn together from a variety of sources. The report aims to present a broad picture of health issues relating to smoking in England and covers topics such as smoking prevalence, habits, behaviours and attitudes among adults and school children, smoking-related ill health and mortality and smoking-related costs.
Julie Girling and Vicky Ford have today written to EU Research, Science and Innovation Commissioner Carlos Moedas asking him to examine the latest evidence on the health effects of vaping and whether it can help long term smokers give up traditional cigarettes…
Julien Sellier – Vaping Post
Since last week, the first day TPD has come into force for the 28 Member States, deficiencies are observed at the level of European instances and of every Member State that betray an obvious lack of preparation. Vaping professionals, in the haze and uncertainty, resign and either wait or cope with this grotesque situation…
---

---
Could see e-cigarettes used to deliver medicinal cannabis – Ian Sample – The Guardian
Electronic cigarettes can be a safe and effective way to deliver cannabis for medicinal purposes, according to researchers in Switzerland.

Scientists at the University of Lausanne created cannabis-laden oils for e-cigarettes and found that vaping the infusions could deliver useful levels of the active ingredients found in cannabis…
Marewa Glover: If a person smokes, then switching to vaping nicotine is estimated to be at least 95% safer (Public Health England report). It's a very useful question to ask about the potential benefits of vaping nicotine for people managing memory loss…

To the FDA's Deeming Regulations of E-Cigarettes – Nicotine Surveys
You may be aware that the FDA recently released its e-cigarette deeming regulations, in which the FDA announced its intention to regulate all electronic cigarettes and liquids as tobacco products. These regulations will very likely mean that the vast majority of e-cigarettes, e-liquids and other vaping accessories that are on the market today will not be legally available to buy after August 10th 2018
FDA's e-cigarette regulations will kill critters
According to People for the Ethical Treatment of Animals, or PETA, the FDA is encouraging e-cigarette manufacturers to meet with its Center for Tobacco Products to discuss what, if any, animal testing the agency considers "appropriate" or whether non-animal tests may be acceptable.