In the News March 8th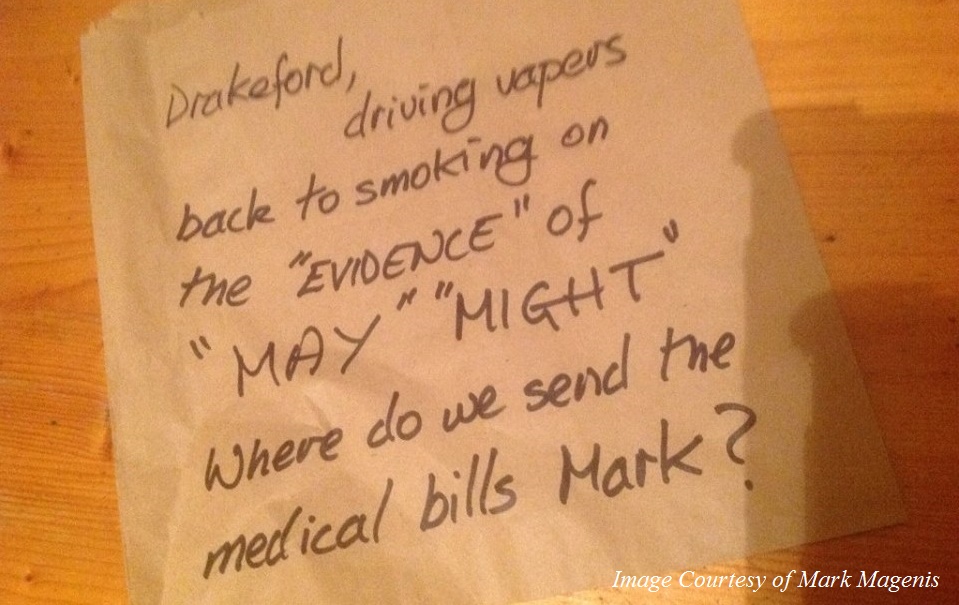 Tuesdays News at a glance:
Partial ban on use in public places wins AMs support – Vaping in Wales – Time To Change Tactics ? Part 2 – Are vapers in denial about tobacco control? – EU finance ministers call for higher taxes on e-cigarettes – Organizations & Politicians LIE About E-cigs – Calls For French Ecig Clampdown – Can Vapers move Public opinion? – Drakeford's Lies – The Likely Truth Behind That Viral 'Exploding E-Cigarette' Video – Formaldehyde Fears – But You're Still Addicted – Can Nicotine Be Good for You? – Does nicotine confer any positive benefits? – Update: Ecigs.Our right not to smoke Tobacco – Nicotine Science and Policy Daily Digest – Tuesday, 8 March 2016
Wins AMs support – BBC News
The Welsh government has won support from some Plaid Cymru AMs for the measure after ministers watered down the ban to places where children are likely to be present.
There are worries the devices may re-normalise smoking, but critics say there is not enough evidence for the ban. A Liberal Democrat bid to scrap the e-cigarette ban failed on Tuesday…
Time To Change Tactics ? Part 2 – Midnight Musings (Originally Posted 10th Feb '16)
In my last blog, I suggested that another way of changing the minds of the Labour AMs would be to target their seats in the forthcoming Welsh Assembly Elections to see whether party loyalty means more to them than their jobs. To that end, I endeavoured to gather the information required to see where Labour are most vulnerable….
Simon Clark – Taking Liberties
Yesterday Deborah Arnott let slip that ASH want to extend the ban on smoking in cars carrying children to all private vehicles.

As someone commented on my post, it didn't take them long, did it?

Today Arnott confirmed that the endgame is not smoke free but vape and nicotine free too.
Reuters
Electronic cigarettes may need to be taxed at higher rates, European Union finance ministers agreed on Tuesday, as "vaping" increases in popularity.

E-cigarettes in most EU states are exempt from excise duties, which are levied on traditional tobacco products in addition to sales tax. That means they are usually cheaper…
About E-cigs. It's a business decision – Kevin Crowley – Vaping Links
In the never-ending onslaught of misleadings articles about vaping, this one,  by Maggie Fox  (Senior health writer @NBCNewshealthScience/Health/Tech)  was titled: "E-Cigarettes should be a last resort, heart doctors say". There is clearly a discrepancy or three in this one. There are no mentions of any heart doctors in the article , instead the title guides the reader straight into the American Heart Association….
---

---
Mawsley – Planet of the Vapes
Currently, French vapers cannot use their devices in places like schools where children are present, on all public transport or in workplaces. France is renown for its café culture and vaping can take place in bars, clubs and restaurants – but this could be about to change if the body tasked with providing guidance to the French health minister has its way. ..
Steam Powered Human
A recent discussion posed a question regarding the likelihood that the current movement among vapers to influence politics could actually have the intended effect. This straightforward question has a rather layered answer.

The first layer, generating enthusiasm, is the intent behind motivating people with the notion that they can make a difference….
Guy Bentley – Daily Caller
Media outlets have reported incidents when vapers have suffered from explosions, runing lurid headlines about "exploding e-cigarettes" and displaying devastating burn injuries alledgedly caused by the devices. Recently a CCTV video went viral…
Used To Smear E-Cigarettes Have Now Been Thoroughly Discredited – Guy Bentley – Daily Caller
One of the biggest health risks popularly associated in the public mind with e-cigarettes is the toxic chemical formaldehyde.

Formaldehyde is a carcinogen and has been detected in some e-cigarettes set to certain voltages. Politicians and public health activists have leveraged the fear of formaldehyde exposure to push for greater regulation and taxation of e-cigarettes…


Glimpses Through The Mist
Vapers are often told, "Sure, you quit smoking, but you're still addicted." What does that even mean?

I consume around 12 mg to 18 mg of nicotine per day as a vaper. Vapers may consume anywhere from 0 mg to 200 mg per day. If I don't use my vapor device for a while, I sometimes feel a bit anxious and maybe feel a little crabby. Nicotine is not a carcinogen, but some studies say nicotine could raise the risk of cardiovascular disease..
Anna Fels – New York Times
THERE was something odd about my new patient. She was elegantly dressed and self-possessed, and yet she was slowly, rhythmically chewing gum, something I rarely see in my psychiatry sessions. Was she trying to cover up anxiety about this first encounter, I wondered, or was she perhaps hoping to project a kind of cool, laid-back style?
Robert West
I said in answer to a question at the SRNT conference today that nicotine's primary action on the brain is to lead users to need nicotine. I said that it has no positive benefits. I overstated the case and promised to do my best to summarise what I think the evidence is telling us. This is a blog, not a peer reviewed academic article, so I may have got things wrong, but this is my take on the evidence….
Update from Vince
The big day has finally arrived. My lawyers contacted me today to advise that the Court of Appeals has made a ruling and will deliver it orally at the Supreme Court this Thursday 10 of March at 9:30 am.
If anyone wishes to be there for the ruling it is an open court and you are of course very welcome.