In the News February 18th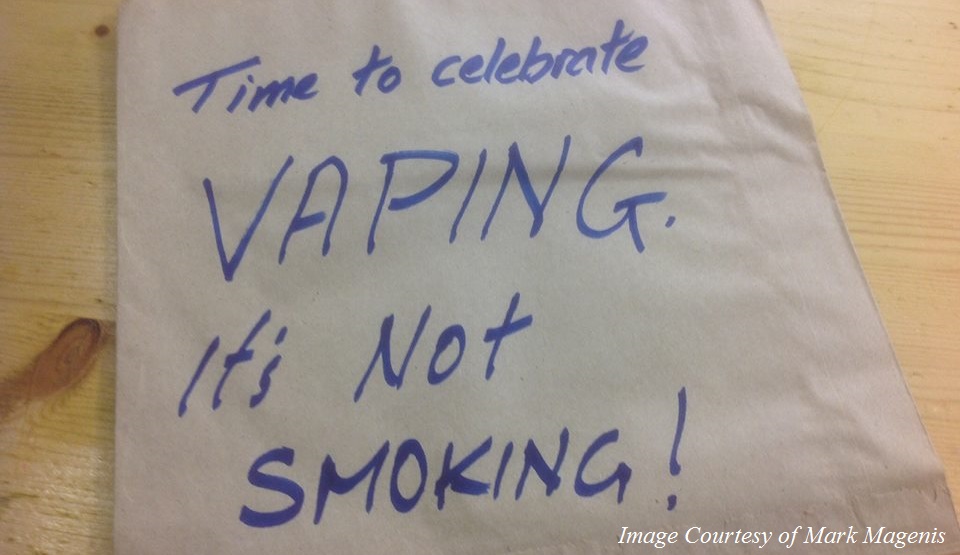 Thursdays News at a glance:
Oh, America – Smoking and vaping in Britain? Show me the data! – Hazel Cheeseman and Peter Hajek – David Sweanor – profile page – The Pleasure Principle – Statistics or Perception? – The 'dual' in The Crown – Vapour Trails TV – Public health program evaluation: we found X, so should do more of what we are doing – Stop already with the ludicrous witch hunt over vaping – Proper appraisal – Anti-vaping arguments help Swedish vapers win a battle – Complimentary Webinar: Regulation of E-Vapor Products Under the New Tobacco Products Directive in European Union – Nicotine Science and Policy Daily Digest – Thursday, 18 February 2016
Christopher Snowdon – Velvet Glove Iron Fist
I don't write as much about the USA as I used to. Frankly, it's just too depressing. America's retarded approach to e-cigarettes and its increasingly fascist smoking bans are not based on any form of logic so there is no argument with which to engage. Since the people who are bullying their way towards prohibition are not appealing to science, reason or principles, there is nothing to say. It is now a power struggle, pure and simple, and the fanatics have the power.
Show me the data! – Clive Bates – The Counterfactual
The UK official statistics bureau, the Office of National Statistics, has published new official smoking and vaping stats for 2014, with the bonus of an e-cigarette survey for 2015. The geographical base is Great Britain (GB) – the difference between Great Britain and the United Kingdom is Northern Ireland. The age range is ≥16. Pretty good news…
"This is what honest discussion of e-cigarettes sounds like…." Clive Bates

Clive Bates – The Counterfactual
I am a lawyer and public health advocate, and have worked reasonably successfully at reducing global cigarette smoking since 1983. My work on tobacco/nicotine has included a wide range of measures within the four broad categories of interventions used to reduce any cause of death, injury or disease – reducing uptake of a dangerous course of action, facilitating cessation by those engaging in it, protecting third parties from harm and reducing risks for those who continue to engage in the activity….
Sarah Jakes – New Nicotine Alliance
Vaping as a recreational alternative to smoking – an holistic approach to tobacco harm reduction and smoking cessation (and pleasure).

The UK is now a world leader in recognising the health benefits for smokers of switching to vaping on both an individual and population level. As a result the UK Government is taking a relatively liberal approach to implementation of the EU Tobacco Products Directive (the 'TPD') and seeks to impose only the bare minimum requirements therein. Despite this the new regulations will still be extremely damaging to public health, but the situation is better than it might have been….
---

---
Paul Barnes – Facts Do Matter
Today the Office of National Statistics released a report from the Opinions and Lifestyle Survey on adult smoking habits in Great Britain for 2014.

I'm not going to go over that report as Clive has already done so here, but what has come out of this report is a seemingly high number of dual-users – i.e. those that choose to smoke AND vape.
Action on Choice
There has been much talk in recent weeks of how effective e-cigs have been in helping people to quit smoking. Cigarettes can be a hard habit to break and, in the past, the options for smokers wanting to quit have been limited and ineffective: nicotine replacement therapies like inhalators, patches and gum, drugs with unpleasant side-effects like Champix, or just good old-fashioned willpower.
---
Dave and Keith chat with David Sweanor, discussing the topics of the day and more

---
We found X, so should do more of what we are doing – Carl V. Phillips
Some amusement making the rounds in UK social media is this report by the leading anti-tobacco QUANGO/sock puppet, ASH. It can be easily summarized with: "declines in smoking have stalled, therefore we need more money to do more." Few observers have failed to notice that ASH is basically admitting that what they have been doing does not seem to be having much effect, and offering that as the reason they should be empowered to keep doing more of the same.
With the ludicrous witch hunt over vaping – Shane Smith – Red Dirt Report
I don't smoke. I don't vape. I'm no fan of inhaling anything other than air, except for maybe the occasional helium huff.

Nevertheless, I know people who smoke, who vape, and who have made the switch to vaping. I also see the plight of the millions of smokers who are unable to severe their ties to combustible tobacco.


Jérôme Harlay – PGVG
The Supreme Administrative Court of Sweden overturned on February 17, 2016 the earlier judicial decisions that prohibited the sale by a vape shop of vaping products and ruled that e-cigarettes may not be considered as medicines. Such decision legalizes, at least temporarily, the sale and online of nicotine e-cigarettes in the country…
Regulation of E-Vapor Products Under the New Tobacco Products Directive in European Union
Join Keller and Heckman attorneys Azim Chowdhury and Marcus Navin-Jones for a complimentary one hour webinar on Monday, February 29, from noon to 1 p.m. EST. as they discuss the regulation of e-vapor products under the new Tobacco Products Directive in the European Union. This webinar is intended for producers, suppliers and users of e-cigarette, e-liquid and vapor products in the European Union. Some topics this webinar will address….
Marina Murphy – Vapor Voice
E-cigarettes are expected to be big news this year. India will host the seventh Conference of the Parties (COP) of the Framework Convention on Tobacco Control, which is the World Health Organization's (WHO) international treaty on tobacco control.