In the News April 4th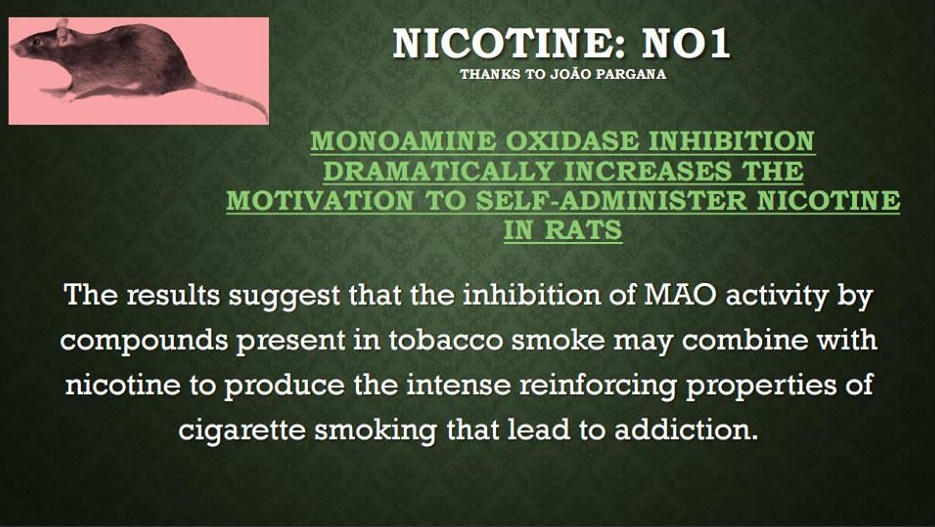 Mondays News at a glance:
Just Leave Us Alone! Just Get Off Our Backs! – The Vaper Wars – Pick And Mix – Mayo Clinic progresses from blatantly wrong to deeply misleading – Wake Up – E-Cigs. A Help or A Harm – Elephant in the Room – Withholding differential risk information – A Billion Lives: A world premiere – Don't treat vaping like tobacco – Quitting cigarettes almost killed me – Economic innumeracy in public health – FDA Smokeless Tobacco Campaign – Assessing the place of nicotine vaporisers – Nicotine Science and Policy Daily Digest – Monday, 4 April 2015
Just Get Off Our Backs! – Dick Puddlecote
Forget Ant & Dec or Back in the Room or whatever passes for Saturday evening TV these days, watch the 8 minutes or so of this instead.

Clive Bates was interviewed by online Canadian news outlet Regulator Watch recently, and went into a top rant. Here are a couple of great quotes.

"There's no reason at the moment to believe there is any harm associated with vaping"

Well exactly. You have to seriously query the motives of anyone who states or hints otherwise, whichever side they are on.
Head Rambles
My attitude is that I don't give a flying fuck whether vaping is any safer than smoking. If I choose to either or neither is my own business and I can make that decision myself. Maybe a push bike is safer on the roads than a two-litre motorcycle but if I happen to prefer motorcycling then the pedal cyclists can fuck off….
More from Dick Puddlecote
When you go to vote in an election, do you ever agree with every single proposal in the manifesto of the party you stick your X against? No, of course not.

Likewise, do you 100% agree with every position taken on every subject by all of your friends? I'd suggest this would be quite impossible, in fact if you insisted on such a high bar of agreement I would guess you would probably have very few friends, if any at all….!
From blatantly wrong to deeply misleading – Clive Bates – The Counterfactual
Some trusted health institutions seem unable to cope with the reality of a huge variation in risk between different tobacco products – notably combustible versus non-combustible. If you were paying attention, you may have noticed a subtle change in the Mayo Clinic's approach to smokeless tobacco last week.
---

---
Phil Busardo – Taste Your Juice
We're not fighting for your right to have childish fucking labels (Blue Waffle, Fu:)k Jerry's. – BTW – "Proudly made in the USA" on this brand made me SICK and embarrassed) We're not fighting for your copyright infringement, lack of creativity bullshit (Quickie E-Juice) . We're not fighting for your right to embarrass this industry, We're not fighting for those who say "fuck you" to all of the advocates who fight for this industry and our right to vape….
In December, the AMA issued a Position Statement on Tobacco Smoking and E-Cigarettes in which it called for nationally consistent controls on the marketing and advertising of e-cigarettes, including a ban on sales to children. The AMA has raised concerns that e-cigarettes are appealing to young people, undermining tobacco control efforts, and says there is no evidence to support their use as an aid to quitting smoking.
---
Clive Bates Talks Nicotine, Harm Reduction & Public Health (Reg Watch)
---
L.T. Kozlowski – David Sweanor
This analysis focuses on the example of smokeless tobacco and cigarettes in the United States. It arises out of revisiting a report on information on major health websites in 2003 (Kozlowski & O'Connor, 2003) which found considerable misinformation or disinformation on relative risks on these sites. Improvements have been identified…
---
---
At the Doc Edge Film Festival – Julien Sellier – PGVG
The documentary A Billion Lives, produced by the American Aaron Biebert will be released as a world premiere on May 11, 2016 at the Edge Doc Film Festival of Wellington, New Zealand. The film tells the revolution of the e-cigarette and the lobbying of the tobacco industry that causes millions of deaths, each year.
---

---
Rob Port
"The measure will treat the liquid nicotine drug (smoked via electronic cigarettes) and those who sell it exactly the same as all other tobacco products." – That's what Dr. Eric Johnson of Grand Forks wrote in a recent letter to the editor….
I began smoking full-time in third grade. Why? Mainly because I was cool. Well that, and because I grew up watching my parents, grandparents, neighbors, and every celebrity lighting up. My grandparents bought cartons of Camels by the case and stored them in their garage; providing plenty of opportunities for mini-me to abscond with packs (or even an occasional carton), stuffed under my favorite Happy Days t-shirt….
---
The 'Great' Vape Hoax of 2016, Decadent Vapours Tour, and more!
---
With an emphasis on tobacco harm reduction – Carl V. Phillips – Anti-THR Lies
I recently had the opportunity to give a talk at what was basically the wake for the end of the quarter-century run of the wonderful Robert Wood Johnson Foundation Scholars in Health Policy Research program at the University of Michigan.


Is Incompatible with Science-Based Regulation – Brad Rodu – Tobacco Truth
Congress gave the FDA regulatory oversight of the tobacco industry in 2009. In 2013, Mitch Zeller, director of the FDA Center for Tobacco Products (CTP), observed, "There are some very powerful tools that Congress has given FDA to use wisely and supported by evidence. That's where I think, the greatest opportunity lies:
In tobacco control – BMJ
The substantial interest among smokers in e-cigarettes and other nicotine vaporisers has taken the tobacco control field by surprise and produced strongly polarised responses. Proponents see these products as a disruptive technology that promises to accelerate the end of tobacco smoking by increasing quitting and providing a safer longer term alternative to the combustible cigarette.