In the News April 20th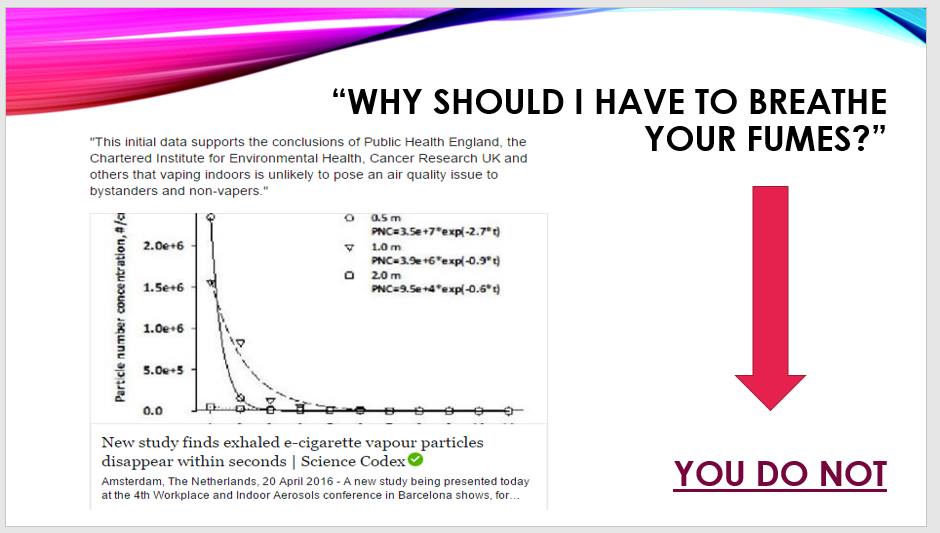 Wednesdays News at a glance:
The Fix Is In For E-Cigs In Oz – Smoking licences rear their ugly head again – Notts County Council to ban smoking and vaping – Key health websites blindfold consumers on tobacco product risks – Is is safe to cut a nicotine patch in half? – House Committee Votes To Save E-cigarettes – E-cigs, vaporizers, smokeless tobacco products may gain grandfather exemption from FDA rules – Anti-smoking doctor calls for vaping to help hopeful quitters – Exhaled e-cigarette vapour particles disappear within seconds – Scientists put forward ecigs as a harm reduction perspective – Don't regulate e-cigs as tobacco products – Nicotine Science and Policy Daily Digest – Wednesday, 20 April 2016
Dick Puddlecote
I've consistently said that e-cigs show up tobacco control industry corruption brilliantly, and here is another fine example.

If you've ever doubted that fact, just get a load of this from Australia!

Last year the federal health department, on behalf of the Intergovernmental Committee on Drugs – senior bureaucrats advising federal, state and territory ministers on drug issues – commissioned a policy review on the regulation, sale and marketing of e-cigarettes with or without nicotine, and the practice of "vaping". …
Rear their ugly head again – Christopher Snowdon – Velvet Glove Iron Fist
More health fascism from the Emerald Isle…

Health authorities in developed countries, where the most headway against smoking has been made, now talk about playing the "endgame" with tobacco, that is, reducing the percentage of smokers in the overall population, currently about 20 per cent, to 1 or 2 per cent….
To ban smoking and vaping during working hours – Simon Clark – Taking Liberties
I'm writing this in my car outside the BBC Cambridge studios. I was on BBC Radio Nottingham this morning. I also recorded an interview for Capital FM (East Midlands) and in a few minutes I'm doing the same for East Midlands Today (BBC1).

Forest has been asked to respond to the news that Nottinghamshire County Council wants to introduce measures that will result in a ban on smoking by members of staff during office hours.

It will also be a disciplinary offence to smoke in uniform.
Blindfold consumers on tobacco product risks – David J. Hill – Medical Xpress
Millions of people visit the websites of the Mayo Clinic, American Cancer Society and the Centers for Disease Control and Prevention, among others, seeking authoritative health information. But are they receiving it…?
To cut a nicotine patch in half? – Chris Price – Quora
It's safe, because even if you stuck 10 of them on your skin, it would still be safe. The effect is like drinking too much coffee and soon wears off (if you remove the patches, of course). So, using half a patch is quite safe. It may not work, though….
---

---
Yesterday, the House Appropriations Committee passed an amendment to its Fiscal Year 2017 Agriculture Appropriations Bill that would change the predicate date of the Food & Drug Administration's (FDA) proposed tobacco regulations. Representative Tom Cole (R-OK) introduced the amendment, which passed by a vote of 31-19.
May gain grandfather exemption from FDA rules – Richard Craver – Winston-Salem Journal
Innovative electronic cigarettes, vaporizers and smokeless tobacco products introduced since 2007 likely will not face retroactive U.S. Food and Drug Administration regulatory standards.
---
---
To help hopeful quitters – Riccardo Polosa in the Harbour Times
In his recent visit to Hong Kong, the smoking cessation expert stressed that vaping, given proper monitoring and regulation, can be a "gateway away from the harmful effects of smoking", citing a widely endorsed report by Public Health England which concluded that e-cigarette is 95% less harmful than combustible cigarettes in terms of harmful constituents produced.
Disappear within seconds – Science Codex
Amsterdam, The Netherlands, 20 April 2016 – A new study being presented today at the 4th Workplace and Indoor Aerosols conference in Barcelona shows, for the first time, that exhaled e-cigarette particles are liquid droplets that evaporate within seconds.
---

---
As a harm reduction perspective – Jérôme Harlay – Vaping Post
Including smoking reduction, safety and regulation aspects, the New Zealander Chris Bullen, head of the National Institute for Health Innovation (NIHI) and Professor at the University of Auckland, and two international co-authors attempted an extensive review of current literature on e-cigarette to counsel clinicians and to highlight the potential of such devices in tobacco control….

The Detroit News
E-cigarettes suffer from one main problem: their name. They have little in common with actual cigarettes, but the government is trying to regulate them as a tobacco product, and essentially destroy a burgeoning industry that can save lives otherwise lost to smoking….