In the News 9th December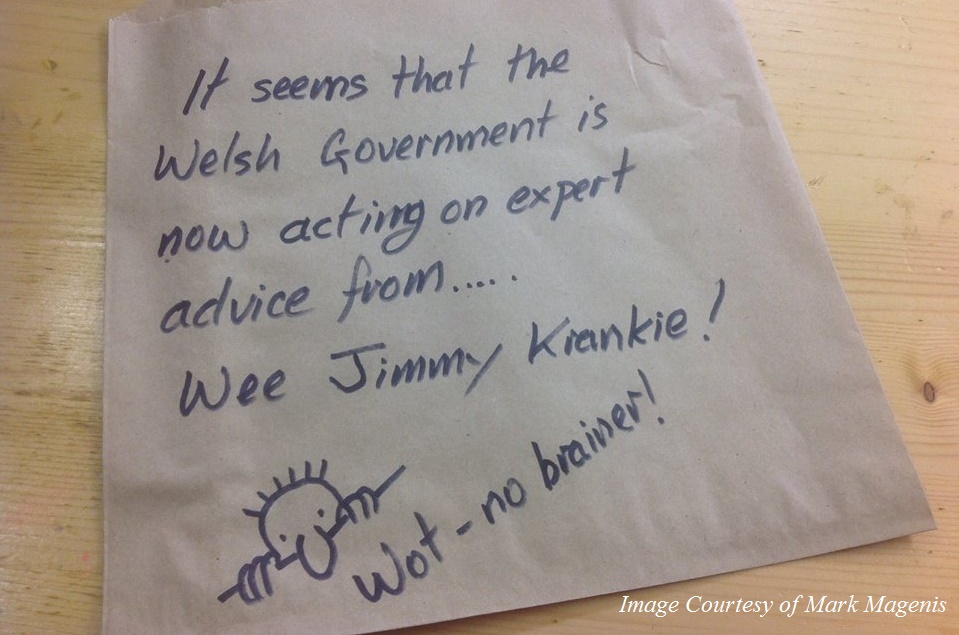 Wednesdays News at a glance:
That Thing When – Overwhelmed Underdog: Thoughts from the All Party Parliamentary Group on E-cigs – Welsh windbag Drakeford hits a new low – Drakeford sees e-cig health risks everywhere – His 13 year old spirit guide told him – General principles debated, nothing new to learn – Vaping MPs Ignore Parliament Bans – Talking About Leicester – Leading the Way on Ecigs – Deeming Update: The Fight Continues – Changing Grandfather Date Does Not Mean FDA Cannot Review E-Cigarette Products; Instead, It Will Force Agency to Regulate E-Cigarettes Properly – Vaping under fire – Don't Stifle Vaping -How The Media Totally Exaggerated Study On Risk Of 'Popcorn Lung' From E-Cigarette – Nicotine Science and Policy – Daily Digest – Wed, 9 December 2015
Just Another Ordinary Morning
…you can't think what to write today and out of nowhere some imbecile just drops it in your lap.

Take a massive bow, Drew Salisbury, semi-literate staff writer at Death and Taxes. Where he seems to murder the English language just as inevitably as those things after which this "mag" is named…..
Thoughts from the All Party Parliamentary Group on E-cigs – Vapers in Power
It wasn't my intention to blog about my day in London on Monday the 7th of December. I had however intended to provide a quick update via a continuing thread on a vaping Facebook group that provoked many thoughts on the impact of the TPD last weekend.

I'd been invited to attend a couple of events. First was a presentation by Ian Jones PhD, Corporate, Scientific & Regulatory Affairs Vice President, Emerging Markets- JTI….
Fergus Mason – E-Cig Plaza
Wales is famous for its dragons, and as we all know dragons breathe flames from their mouths. The Welsh health minister has an interesting variation on that. In his case the flames are coming from his pants, because he's a liar and they're on fire.

This afternoon the Welsh Government's new health bill had its first reading in the Senned, and along with many other vapers I was watching it with interest. This is the bill that plans to ban vaping in any place in Wales where you're not allowed to smoke – and that doesn't just mean pubs….
His 13 year old spirit guide told him – Dave Upton
It was with a heavy heart that I tuned in to the Welsh plenary debate on the General Principles of the Public Health (Wales) Bill. I expected the minister (Drakeford) to spout the usual nonsenses about gateways, children & the precautionary principle. I expected to hear about e-cig health risks from him. He didn't disappoint in respect of these but surpassed himself in other areas…
Nothing new to learn – Facts Do Matter
For those of you not overly familiar with the full contents of the "Public Health (Wales) Bill", it details a variety of measures related to community public toilets, intimate piercings, tattoos, special procedures and of course e-cigarettes. Now why do you suppose e-cigarettes have been slipped into such an innocuous looking Bill? After all, the provision of public toilets, regulating intimate piercings, tattoos and special procedures is of "vital importance" to the health of the general public aren't they?
Mawsley – Planet of the Vapes
Throughout the year, John Bercow (MP and Speaker of the House of Commons) has worked towards making the Parliament buildings a vape-free environment. Finally, despite requests to be allowed to vape in their offices or to have a designated vaping room, he pushed through a total ban. Vape areas were set up outside, the only places where the use of an electronic cigarette was permissible. Vaping MPs have treated the move with disdain. …
Leading the Way on Ecigs – Louise Ross
Last Tuesday, I was tired and wanted to go home at the end of the working day and watch Emmerdale. However, I'd just read Lorien Jollye's blog, where she describes how she juggles a demanding home life with an even more demanding role as an unpaid advocate for better health through switching from smoking  to vaping.

She was going down to the House of Commons to speak at an All Party Parliamentary Group about ecigs, and she had invited me….
The Irish Times
Smoking in cars carrying children is set to be banned in Northern Ireland.

Stormont Minister for Health Simon Hamilton has tabled an amendment to proposed legislation on smoking regulations that will make it illegal to light up when transporting a child.
The Fight Continues – Melissa Vonder Haar – CSPNet
Though the public comment period for the U.S. Food and Drug Administration's (FDA) proposed "deeming" regulations ended some 16 months ago, manufacturers, retailers and anti-tobacco groups alike are actively weighing in.

According to The Hill, since the White House Office of Management and Budget (OMB) received the FDA's final deeming regulations in October, 21 meetings have been held to discuss the matter, with at least another dozen scheduled for December…
[soundcloud url="https://api.soundcloud.com/tracks/236581183″ params="auto_play=false&hide_related=false&show_comments=true&show_user=true&show_reposts=false&visual=true" width="100%" height="450″ iframe="true" /]
Does Not Mean FDA Cannot Review E-Cigarette Products; Instead, It Will Force Agency to Regulate E-Cigarettes Properly – The Rest of the Story
Groups that are against tobacco-free cigarettes, and which want to make sure that all cigarettes continue to contain tobacco, continue to mislead the public into thinking that changing the grandfather date in the FDA deeming regulations will prevent the FDA from reviewing electronic cigarette products…
Duncan Hunter – The Hill
Yes, I vape.  On occasion, I might even smoke a real cigarette. Through my military career, including three combat tours, I even experienced chewing tobacco.

Now that I vape, does it mean I am one step closer to dying than say, someone who might drink too much, eat too much red meat or live an all-around unhealthy lifestyle? No way. ..
Lucas Koprowski – The Courier
"If this goes through, I'm gone. I have a lease ready to go in Lake County. I said this last time I spoke in front of you, and I'm prepared," said Ben Reyes, owner of Colossal Vape in Des Plaines, Illinois, when addressing the Cook County Board of Commissioners about the proposed, and recently passed, tax increase on e-cigarette e-liquid. "My half-million dollars that I did in revenue this year, it's going to Lake County next year. I'm going to open up in DuPage too. Everywhere I can where I'm not going to have the reach of your grip. It's insane."
On Risk Of 'Popcorn Lung' From E-Cigarettes – Guy Bentley – Daily Caller
A Harvard study claiming most e-cigarette brands expose users to harmful chemicals omits critical information and exaggerates the risks of flavored e-cigarettes, according to tobacco control experts.

The study, published in the journal Environmental Health Perspectives, analyzes a host of e-liquid flavors to discover levels of potentially dangerous chemicals diacetyl, acetyl propionyl, and acetoin…