In the News 10th December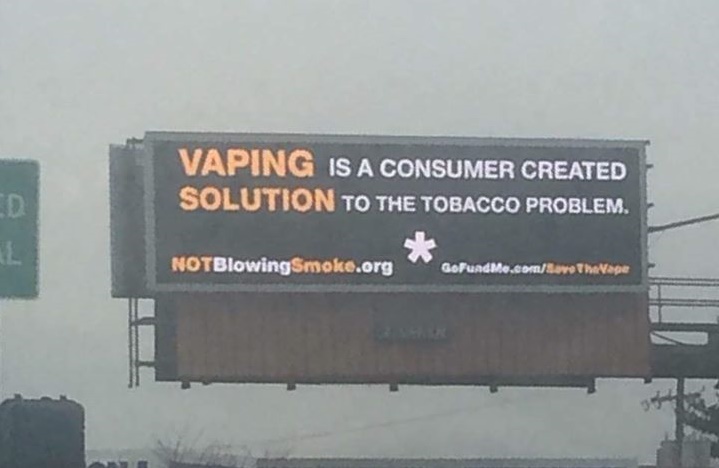 Thursdays News at a glance:
Much ado about nothing; Harvard's diacetyl scare – Diacetyl and acetyl propionyl in the news, yet again – Oh Sweden – 12 Top E-Cig Experts Predict The Future of Vaping in 2016 – 'Operation Selfie' #stoptheban – The Project: Vaping – Embrace It or Ban It? – New Study Finds that Average Diacetyl Exposure from Vaping is 750 Times Lower than from Smoking – Is the Harvard E-Cigarette Buttery Flavor Study Credible? – French and British vape standards studied for Msian regulations – No evidence to support ban on e-cigarettes – Practicing what we preach on smoking cessation – Republicans Are Trying to Sneak an E-Cigarette Exemption Past the FDA – Nicotine Science and Policy – Daily Digest – Thu, 10 December 2015
Harvard's diacetyl scare – Fergus Mason
Yet again there's a new study out on vaping, and as usual it's stuffed full of scary words like diacetyl. However a closer look suggests that the researchers have found little that's new and nothing that's scary.
So diacetyl is back in the news again, with a new paper from a group of researchers at Harvard University. This one claims that the flavouring is found in 75% of all e-liquids, not just the creamy flavours it's usually associated with. Predictably the usual suspects in the media are all over it….
In the news, yet again – ECITA
A recent study conducted by researchers at the T.H. Chan School of Public Health (part of Harvard University) examined levels of three flavouring compounds in refills and liquids for e-cigs.

The exact detail of what was tested is a little unclear, since details of the hardware tested are not included:
Argvargen
I know. It's been an age. So by way of an apology for the lack of blogposts, here's a quick update on the state of play for tobacco and harm reduction in Sweden.

The "government" have recently published a Big Document about the fresh hell they plan to impose on those long-suffering folk who just want to get on with their lives in peace, namely smokers, snusers and vapers….
12 Top E-Cig Experts Predict – Ashtray Blog
The future of vaping is uncertain. Think:

The FDA is on a mission to ban 99% of e-cigs in the USA… denying choice to the 10% of adult Americans who vape. And EU regulations will affect many millions of vapers in Europe.

What will happen to vapers – and vape technology – in 2016?

To find out, we spoke to different voices from across the industry, including a scientist, an analyst, a documentary film maker, activists, bloggers and more….
Save E-Cigs
Yesterday was a partial victory for Welsh Vapers. The Health Minster decided on a compromise. There was to be no blanket public vaping ban, instead he said that he would provide a list of where the vaping ban was to be implemented. – However, and to quote him, the list "includes but is not limited to schools, eating places/restaurants and public transport."

Please note the words – but not limited to – this is political speak for mission creep, and we know how regulators love that!
Read Judith's (featured in the above video) story.
I am 65 years old. I began smoking when I was about 5 years old when my father got me to light his cigarettes in the car. When I was 14 years old I began to smoke regularly so I was smoking for 58 years.

I have been trying most of my life to stop. I tried cold turkey many times, hypnosis, nicotine patches, nicotine gum, nicotine lozenges and Zyban (which caused a myocardial infarction in 1997). I have had three attempts with toxic Chantix with increasing abdominal pain each time I used it….
Working to get the benefit from e cigarettes – Jim McManus
I had an unexpected discussion about e cigarette safety today which was entirely encouraging.

Today was the Annual Safer Communities Conference for the Local Government Association. An event which talks about a range of things keeping communities safe…
From Vaping is 750 Times Lower than from Smoking – The Rest of the Story
In a new study that appears designed to send a scare to vapers throughout the country, researchers from the Harvard T.H. Chan School of Public Health reported finding diacetyl in 39 of 51 flavors of e-liquids tested, with levels ranging from below the level of quantification to 239 micrograms per e-cigarette cartridge. The chemical diacetyl has been linked to a serious and often fatal lung disease called bronchiolitis obliterans or "popcorn lung"
Brad Rodu – Tobacco Truth
A month ago, I warned vapers to avoid e-liquids containing buttery flavorings diacetyl (DA) and acetyl propionyl (AP, also known as 2,3-pentanedione) – chemicals associated with bronchiolitis obliterans, a serious, sometimes fatal lung disease seen in workers producing buttered popcorn. …
Does this mean Malaysia will adopt the TPD?
The Domestic Trade, Co-operatives and Consumerism Ministry is still collecting data before regulating the trade of e-cigarettes or vaping machines. Its minister Datuk Hamzah Zainuddin said the ministry had so far studied the standards used in France and Britain. "From there we will adopt those which are suitable for Malaysia," he said…
imbide.com
The decision by the Welsh Health Minister to partially ban e-cigarettes in public places in Wales, has been criticised by trade bodies.

Mark Drakeford told the National Assembly for Wales that he supported a ban on the use of e-cigarettes in all enclosed public places in Wales. However following debate, the Public Health Bill will now ban e-cigarettes in just schools, eating places and on public transport instead. The ban on the use of the devices will affect bars and pubs if they serve food.
Eli Lehrer – R Street
R Street's work on tobacco harm reduction matters a great deal to us. On these matters, we've taken a position different from many other libertarian groups. It might be best summarized like this:
IT'S LAST-MINUTE CONGRESSIONAL budget season, which, for politicians, means it's time to sneak totally unrelated provisions into the budget bill. And this year, the Republicans have a gift for all the vapers out there: a provision about the "grandfather date" for tobacco products. Wait, what? But keep reading—this obscure little provision could exempt current e-cigarettes from upcoming regulation, all by going around the Food and Drug Administration.
Are Growing Fast: Guy Bentley – Daily Caller
A new study highlights the uphill struggle facing e-cigarette advocates who are on a mission to convince the public that vaping is safer than smoking by an order of magnitude…