In the News 4th November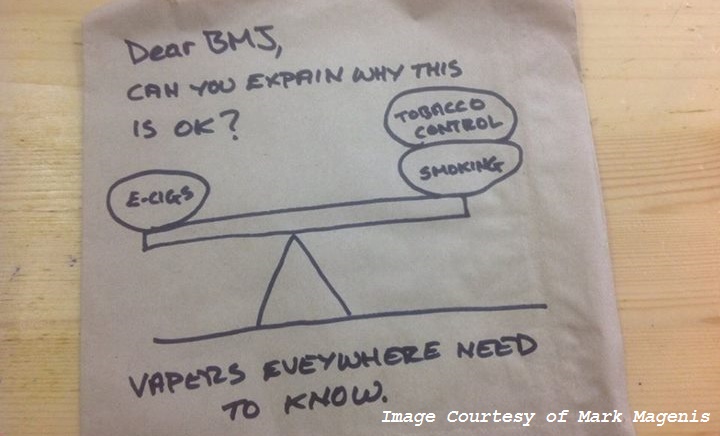 Wednesdays News at a glance:
Fight for your right to Vape in the UK! – Louise Ross: Scaremongering about e-cigarettes is not in the best interests of patients – FDA "regulation" of e-cigarettes would not actually be regulation – UK Smoking Capital Revealed – Five Positive E-Cigs Facts From CDC's Health Survey – New  Study Shows  Adult E-Cigarette Use Has an Overall Benefit for the Public's Health – Nanny State out to snuff e-cigarettes – Vape Regulation Is Coming, and It Just Might Kill the Industry – VapeMentors Hosts Webinar on Nov. 18 on How to Prepare for the FDA
Todds Reviews
First off go to this page here and type in your post code, it will find all your local Politicians that can be contacted via email and automatically creates a standard email for you. https://www.writetothem.com/
Now you are going to have to enter text detailing why you are contacting them and what your expectations are, the following should hopefully give you a good starting point, full credit goes to Clive Bates Blog
Scaremongering about e-cigarettes is not in the best interests of patients – The Counterfactual
As evidence continues to emerge about the safety and benefits of e-cigarettes as a displacement tool for smoking, healthcare professionals have a duty to inform, not scare, people about these products.

Pity the poor smoker, trying to do the right thing and quit smoking with the aid of an electronic cigarette, and facing criticism for doing so. Conflicting reports in the media have led to many people viewing e-cigarettes with fear and confusion, and assuming that they have detrimental effects on health. Running the Leicester Stop Smoking Service, operated by Leicester City Council, I spend a lot of time undoing these preconceptions…
But how many people in your town spark up? – David Ottewell
Blackpool is the nation's smoking capital – with nearly three times as many adults sparking up as in parts of the south.

Data released by health watchdogs today showed the north west resort has an adult smoking rate of 26.9 per cent.

That means one in four people still smoke cigarettes in the northern seaside town….
Carl V. Phillips – Anti THR Lies
A recent news poll asked people, "Do you believe e-cigarettes should be regulated by the FDA like tobacco products?", and 57% said "yes". The main lesson from that is that people who are clueless about survey research should not be allowed to do survey research. Any moderately competent researcher would realize that answers to that question are meaningless when the respondents have no idea what they are being asked. If forced to field such a question, an honest researcher would have also asked one or more questions about how FDA regulates tobacco products and, after discovering that not a single respondent was anywhere close to right (I am pretty confident that would be the result), would dismiss the responses to the first question as meaningless….
Despite claiming that electronic cigarettes are creating a new generation of smokers, a recently released study from the Centers for Disease Control and Prevention (CDC) suggests very few non-smokers are trying out e-cigs.

Released October 31, the 2014 National Health Interview Survey (NHIS) collected information on more than 36,000 U.S. adults representing multiple age, ethnicity and gender groups…
Has an Overall Benefit for the Public's Health – The Rest of the Story
A new study published in the journal Nicotine & Tobacco Researchis the first population-based study to comprehensively examine the pattern of electronic cigarette use among U.S. adults and demonstrates that the use of these products is having a strong net benefit for the public's health….
Ceding personal responsibility to the government is nothing new. If anything, it has become the new normal in places like California. Often cloaked in language about protecting people from their own choices, the Nanny State lately has increasingly become fixated on, of all things, electronic cigarettes…
And It Just Might Kill the Industry – Motherboard
The vaping industry in America is on a precipice, staring down a fast-approaching but uncertain future. In October, the Food and Drug Administration filed its final regulations to the White House Office of Management and Budget, the eighth step in a nine-step process to regulate electronic cigarettes that started more than four years ago.

These final regulations aren't public yet, but vapers are worried that if the rules are anything like the proposed regulations the FDA put out last year, the industry could be in trouble….
Nov. 18 on How to Prepare for the FDA
Entitled, 'Knock, Knock. It's the FDA Calling,' the webinar aims to help business owners 'future-proof' their vape shop or e-liquid company and avoid getting shut down by the FDA.

The one-hour webinar is sponsored by Molecule Labs, NicSelect, VaporSearchUSA, Calco Commercial Insurance and Parrot Vapors….
New Mexico bans the sale of e-cigarettes to minors and requires child-resistant packaging, but the more difficult question of how e-cigarettes should be taxed lingers before the Legislature.

Sen. Cisco McSorley, D-Albuquerque, says he'll make another run at putting an excise tax on e-cigarettes and other so-called vaping products when the Legislature meets in January.
---

---