In the News 3rd November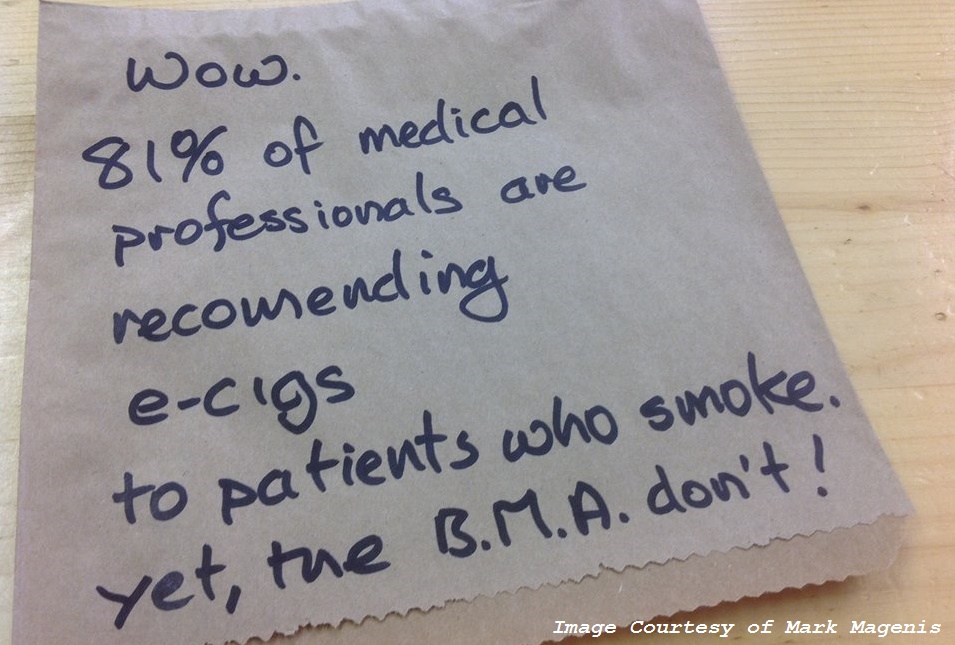 Tuesdays News at a glance:
Truth and Consequences – The e-cigarette debate in Norway: Government tricked into implementing the TPD? – CDC Irresponsibly Lies to Public – Alaska State Health Director Lies About Risks of Smoking – Remember, what the US government wants to do to ecigs, they have already done to smokeless tobacco – And That's My Opinion! – American Vaping Presentation at the New Mexico Legislature – Welsh pub owners voice concerns over indoor e-cigarette ban – Anti-smoking messages can backfire and make it harder for people to quit – Former smokers who quit within the past year are four times more likely to be daily e-cig users – Nicotine Science and Policy – Daily Digest – Tue, 3 November 2015
Mawsley – Planet of the Vapes
Professor Abigail Friedman, Yale University, has published an important addition to the body of work hammering home that there is no gateway effect leading vapers into smoking (regardless of age). It found a statistically significant link that demonstrates youths were vaping in place of smoking – and when barriers were put in place they took up the more dangerous option…
Government tricked into implementing the TPD? – Vaping Giraffe
Last week the Norwegian government, or actually two of the governing parties, announced that they want to allow selling e-cigarettes and e-liquid containing nicotine here in Norway. Regular readers of this blog might have read my posts on the subject last week, and if you haven't I hope you'll find them time to read them now. In short, it turned out that the government is really preparing to implement the TPD, and the Norwegian Union of Vapers (NDS) responded to this, exposing the governments hoax and what looks more like an attempt to win votes among vapers than a real effort to facilitate access to vaping products like they claim to be doing….
Tells 1/4-Pack Per Day Smokers that They Might as Well Smoke 2 Packs Per Day – The Rest of the Story
So according to the CDC, reducing the number of cigarettes smoked per day doesn't reduce health risks. That indeed implies that smoking 2 packs of cigarettes per day is no more harmful than smoking 1/4 pack per day and that reducing consumption from 40 cigarettes per day to just 5 cigarettes per day offers no health benefits…..
Surpassing the Modern-Day Tobacco Industry in Dishonesty – The Rest of the Story
One of the major changes in the tobacco industry in the past decade and a half is that it is no longer undermining the public's appreciation of the hazards of smoking by downplaying the health risks. If anything, the tobacco companies have been relentlessly emphasizing that its combustible tobacco products (i.e., cigarettes) are substantially more hazardous than the non-tobacco-containing electronic cigarettes that they manufacture….
They have already done to smokeless tobacco – Carl V. Phillips
Well, a lot has happened during my blog hiatus. I trust I do not need to tell anyone interested in THR that things in the US e-cigarette world "got real", with the US FDA finally moving ahead with "deeming" e-cigarettes. Why, exactly, it was suddenly more real that it was for the last year or two — during which it was clear that this was coming soon — I will leave to the behavioral economists. But it does seem to have changed the mood. The last time I posted here, CASAA membership was about 70,000 and today is north of 110,000 and climbing fast….
Joe Nocera – New York Times
The late South African psychiatrist Mike Russell was among the first to note that smokers "smoke for nicotine, but they die from the tar." Meaning that while nicotine addicts smokers, it is the burning tobacco, with all of the carcinogens the smoke produces, that kills them. I've written a lot about e-cigarettes — maybe excessively so — because I think this point is so important…
The study, conducted during October, canvassed the views of pub owners and customer service staff in over 70 premises around Cardiff, and found very little support for an indoor vaping ban.

Of those who engaged in the survey, an overwhelming 97 percent said it should be up to individual business owners rather than the government to decide whether or not to allow vaping inside.

Many staff also believed that banning e-cigarettes in public places would have a detrimental impact on cigarette smokers looking to either quit or reduce their tobacco consumption by switching to vaping…
And make it harder for people to quit – LSE
New evidence released today shows that public health policies targeted at smokers may actually have the opposite effect for some people trying to quit.

A review led by LSE Research Fellow Dr Sara Evans-Lacko indicates that stigmatising smoking can, in some cases, make it harder for people to quit because they become angry, defensive and the negative messages lead to a drop in self-esteem…
Are four times more likely to be daily e-cig users – Truth Initiative
Adding to a growing body of research on patterns of e-cigarette use, researchers from Rutgers School of Public Health and the Steven A. Schroeder Institute for Tobacco Research and Policy Studies at Truth Initiative have found evidence that among U.S. adults, some recent cigarette quitters may have done so with the assistance of electronic cigarettes. The research informs an ongoing debate as to whether e-cigarettes are effective aids for smoking cessation, promote uptake by non-tobacco users, discourage cessation via dual use of cigarettes and e-cigarettes, or encourage relapse to cigarette use among former smokers.