In the News 2nd November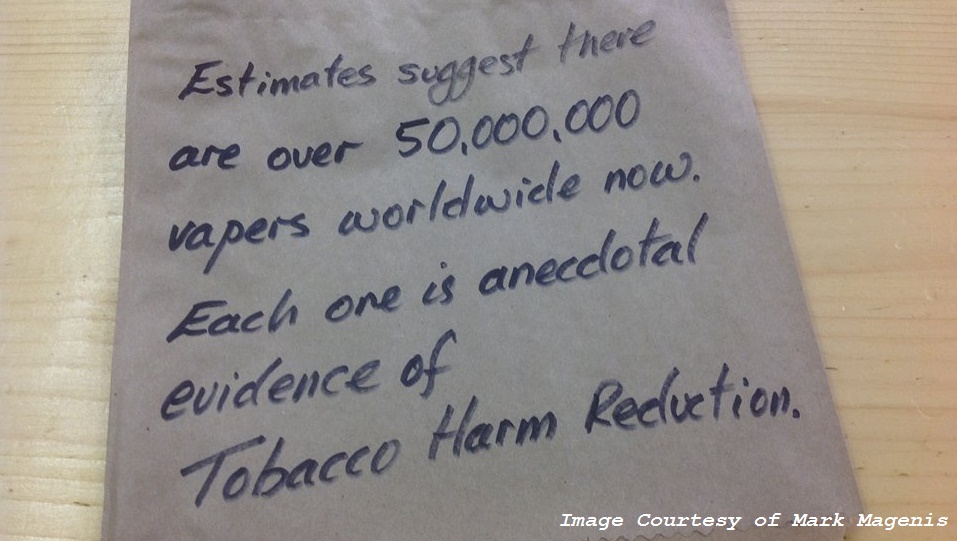 Mondays News at a glance:
"Against Smokers" – Steve Baker MP On E-Cigs – Cheers to Vaping – BMJ refuses to print article – SFATA Responds to Sen Edward Markeys statement on electronic cigarettes – E-Cigarette Regulations And Concerns – National Poisons Information Service – BAT to sue TGA on nicotine inhalers – New CDC Data Suggest E-Cigarettes Are Helping Smokers Quit – Modeling the health effects of expanding e-cigarette sales – Banning E-Cigarette Sales to Minors Spurs Conventional Smoking – At 'vape' competitions, it's all about community – Nicotine Science and Policy – Daily Digest – Mon, 2 November 2015
Dick Puddlecote
If you've ever wondered how disgusting pieces of shit like this are created, or how human beings are encouraged to spew revolting bile such as this towards fellow law-abiding citizens, you only need to look to the vile tobacco control industry who promote it.

Last week, anti-smoking organisations gathered for the Oceania Tobacco Conference in Perth, Australia. These people, for want of a better description of them – who routinely claim to respect and want to 'help' or 'support' smokers  – had some great ideas like this to impart….
Dick Puddlecote
One of the soundest MPs in Westminster has produced a short film about vaping which is worth sharing.

Steve Baker, eurosceptic MP for Wycombe and – more importantly – the humble Devil's blog mascot, is seen here speaking to a local vendor about e-cigs and how the EU's appalling Tobacco Products Directive will affect the market. The shop owner does a decent job of getting the main points across, I thought.

And if nothing else, it's worth watching to see an MP request to use a sub-ohm device and gamely manage it without choking  … well almost.
Mawsley – Planet of the Vapes
"Devices encourage excess alcohol consumption," The Daily Mail claims a study claims. The researchers from Purdue University in America were looking into whether there was a causal link between vaping and problem drinking. What will spring to mind instantly is that this is a curious area of research to be carrying out given that there have been no fears expressed in this area to date….
Ahead of smoking ban debate – Velvet Glove. Iron Fist
As I mentioned yesterday, I'll be debating whether psychiatric hospitals should ban smoking outdoors next month. My debating partner will be a former service user known by the Twitter handle@Sectioned_ (hereafter known as S).

A few weeks we both received an e-mail from the British Medical Journal asking whether we'd write an article putting our case, to be published alongside an article by the proposition. Ever since the BMJ started commissioning hatchet jobs against people who disagree with them on policy I have wanted nothing to do them so I didn't reply, but S agreed to write a piece for them…..
Vaping Links
The United States has "deeming" regulations waiting to be unleashed to the world. The "Office On Management & Budget" has it in their hands. This multifaceted issue has MANY angles and very serious consequence.

Before you go any further – before you read another line go HERE….
Report 2014/15
The use of electronic nicotine delivery systems, including electronic cigarettes (or e-cigarettes), continues to increase within the UK and elsewhere. Electronic nicotine delivery systems, including e-cigarettes, deliver a vapour which is then inhaled. This is generally achieved by heating a liquid containing various concentrations of nicotine, with the inhaled vapour typically containing
nicotine, propylene glycol and flavourings…..
The Smoke-Free Alternatives Trade Association (SFATA), the largest trade association exclusively committed to effectively representing and managing the interests of the vapor industry, today issued the following response to recent statements made by Sen. Edward Markey (D-Massachusetts) on the U.S. Senate floor regarding e-cigarettes:

"As the largest vapor industry trade association currently with more than 600 members across the country representing online retailers, brick and mortar vendors, distributors, manufacturers, importers and wholesalers, we were dismayed to learn of Sen. Markley's comments calling for a ban of the vapor industry and citing flavors as justification….
One of the largest tobacco ­companies in the world has sparked another­ legal battle with the Australian government, over its refusal­ to allow its electronic cigarette to be classified as a legal health product.

British and American Tobacco has launched legal action against the Therapeutic Goods Administration claiming that the health authority did not even consider an application to have its Voke nicotine inhaler listed, much like other nicotine products that could help smokers quit the habit.
Jacob Sullum – Reason
People who welcome e-cigarettes as an alternative to the conventional kind hope they will help smokers quit, thereby dramatically reducing the health risks they face. People who fear e-cigarettes worry that vaping will encourage smoking among people who otherwise never would have tried tobacco by getting them hooked on nicotine. New survey data from the U.S. Centers for Disease Control and Prevention (CDC) provide evidence that top officials at that agency are wrong to favor the latter view.
Joel Nitzkin – R Street
A modeling study by Sara Kalkhoran and Stanton A. Glantz published in the Oct. 1, 2015 edition of JAMA Internal Medicine can reasonably be interpreted as demonstrating the possibility that promoting e-cigarette sales for smoking cessation in the United States has the potential for substantial public-health benefits…
Science Blog
More than 40 states have banned the sale of electronic cigarettes to minors, but a new study out of the Yale School of Public Health indicates that these measures have an unintended and dangerous consequence: increasing adolescents' use of conventional cigarettes.
Using data from the National Survey on Drug Use and Health, the research finds that state bans on e-cigarette sales to minors yield a 0.9 percentage point increase in rates of recent conventional cigarette use by 12 to 17 year olds, relative to states without these bans…
Justin Tenney and Danny DeSantis stood with their backs to each other as if they were in an old-fashioned duel.

After pressing the tips of their modified electronic cigarettes to their mouths, they lowered their bodies to a crouch, a tactic they believed would give them the greatest lung capacity. As the evening's moderator counted to five, the two finalists rose to a standing position before pushing out swirling clouds of sweet-smelling vapor shaped like horizontal tornadoes.