In the News 30th October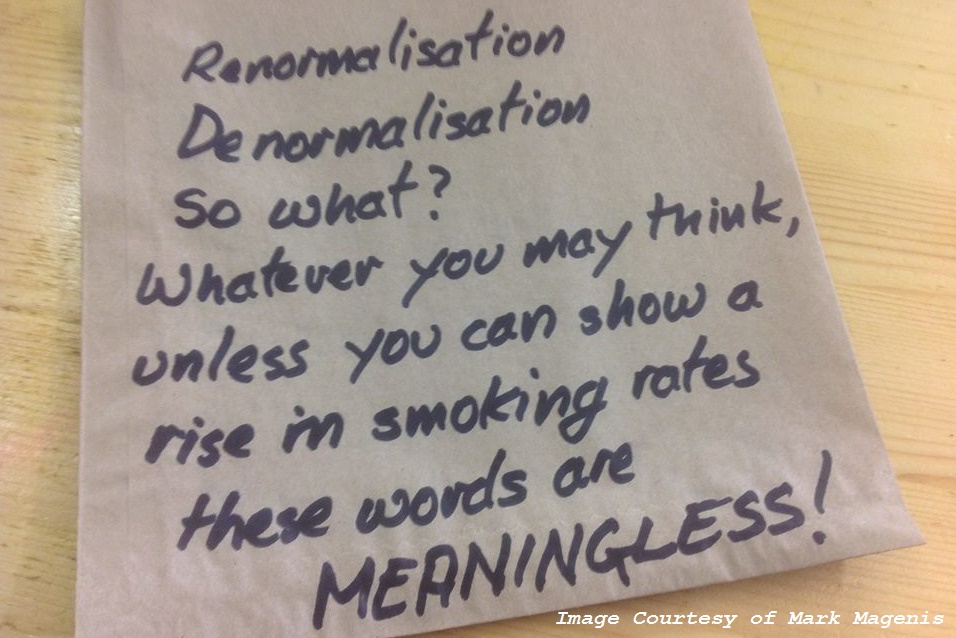 Fridays News at a glance:
Government wants to implement TPD, Norwegian vapers bite back! 10 ways to improve Matt Myers' letter to the New York Times -The Reg Map on Rulemaking – Saving our children with lies and fears -Smoking set to kill a third of young Chinese men. Vaping might save them – Vape Advocate –  Smoke-free should be a choice – Malaysia Electronic Cigarette Ban Fails Amid Controversy Over Health Effects And Safety – Nicotine Science and Policy – Daily Digest – Fri, 30 October 2015
Norwegian vapers bite back! – Vaping Giraffe
On Monday Norwegian government parties Høyre and FRP announced they wanted to make it legal to sell e-cigarettes and e-juice containing nicotine here in Norway. Not surprisingly it was all just an effort to make it look like they're doing something good for public health, when really they're just preparing to implement the TPD.

Norwegian vapers, however, will not give up without a fight. Yesterday, Kjell Marius Jenssen, head of board of NDS, wrote an article published on minervanett.no, exposing the governments real intentions and calling their bluff. On behalf of Norwegian vapers, he bites back…hard….
Clive Bates – The Counterfactual
In a recent column, New York Times columnist Joe Nocera invited Matt Myers, President of the Campaign for Tobacco-Free Kids, to change direction and lead a campaign to exploit the public health potential of e-cigarettes by finding a better form of regulation than that in preparation at the FDA. In a response letter to the NYT, Matt declined this genuine and flattering invitation. Here I take a look at the exchange and then suggest ten ways Matt Myers' response letter could be improved….
The following is a useful overview that shows you the steps that are generally taken during regulatory rulemaking. As you can tell from this map, the FDA's deeming regulations are currently at step 8 and we're only one step away from the final part of the process.
You can download the full map (a 51K PDF).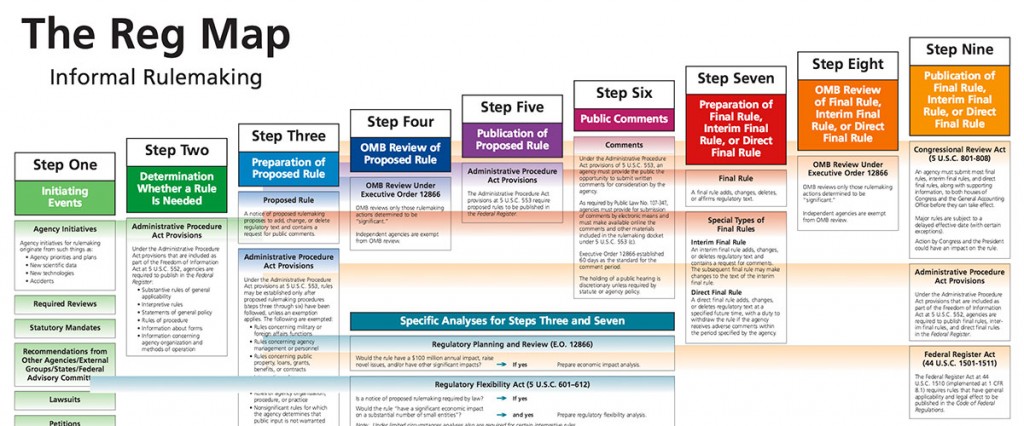 Gary Wood – Norton Chart
On October 28th Sen. Merkley (D-OR), Sen. Markey (D-MD), and Sen. Blumenthol (D-CT) took time during the Senate's morning session to attack e-cigarettes with a list of lies and fear producing myths regarding vaping while claiming they are saving our children. They attacked big tobacco as their main target because we do not like big tobacco. They attacked nicotine as the main culprit for health related illnesses despite knowing it is not the nicotine that kills when you smoke, it is the tar and other deadly carcinogens…
Vaping might save them – Erik Crouch
Earlier this month, the prestigious medical journal The Lancet sounded the alarm: smoking is set to kill one in three young Chinese men over the next few decades.

China's vaping scene is still in its infancy. Despite the fact that nearly all of the world's industrially produced e-cigarettes are assembled in the country, domestic use is far lower than in the west. Nevertheless, a fledgling market has developed, with both ecommerce retailers and brick-and-mortar shops getting in on the action….
---
This Old Vape Shop
Here is my message to the current political situation in regards to vaping and vapers. If we don't stand up now and vote and get off of our butts we won't be able to vape at an affordable rate and it will force a lot of your favorite brick and mortars out business. Pushing us to go back to analogue cigarettes. I don't care who you align yourselves with just align yourselves with someone.
---
There are two primary arguments in favor of becoming a smoke-free and tobacco-free campus. The first is secondhand: it is harmful to public safety and creates a nuisance. The second: FGCU should not allow its students or employees to engage in activities it deems unsafe for the individual…
Amid Controversy Over Health Effects And Safety – Malaysia
The Malaysian government said Friday it would not ban electronic cigarettes, also known as e-cigarettes or vapes, after a proposal to do so sparked a fierce debate centered on the health effects of using them. Instead, the government would implement regulations and carry out public health campaigns to education the public on the effects of vaping, as smoking electronic cigarettes is called.