In the News 25th September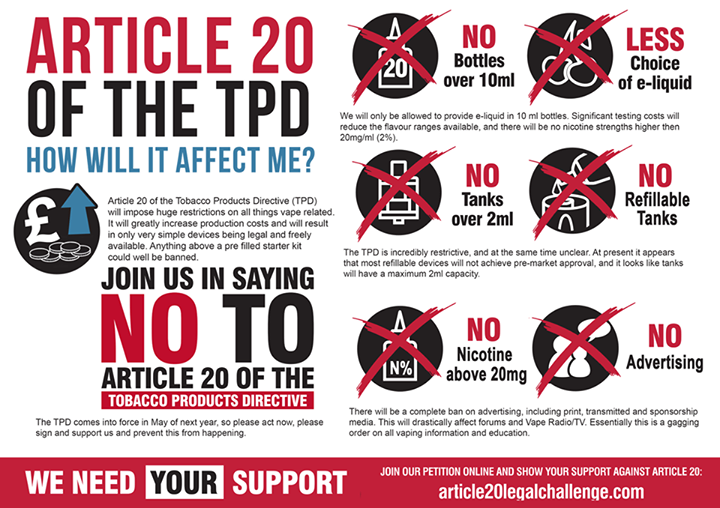 Article 20 Challenge Update: 64261
Collection ends 5pm Mon. 28th September. Handover 11am Tues 29th September
Fridays News at a glance:
European Court update  – Totally Wicked Petition Handover – Vapers in Power – Call to Action – Leading the Way on Ecigs – Louise Ross, Stop Smoking Service Manager – Is "ecigs are a gateway" the new "addiction"? -Important New Study Documents that Dual Use is Not a Negative Consequence of E-Cigarette Use, But a Positive One – Philip Morris Device Criticized by Imperial Researcher – Proposed Pierce County vaping rules spark debate – DC Launches Anti-Smoking Campaign A Week Before Taxing Vape Shops Out Of Existence – Nicotine Science and Policy – Daily Digest
Totally Wicked – Article 20 Challenge
Totally Wicked, the UK's leading independent electronic cigarette manufacturer, will formally challenge the validity of Article 20 of the EU Tobacco Products Directive (TPD) at the Court of Justice of the EU (CJEU) in Luxembourg on Thursday the 1st of October 2015. The CJEU's decision, expected early next year, will determine whether Article 20 of the TPD breaches EU law. The hearing follows a decision by the High Court in London on 6th October 2014 to refer questions relating to the lawfulness of Article 20 to the CJEU for a "preliminary reference" ruling…..
Mawsley – Planet of the Vapes
Totally Wicked are sending out a call to all vapers: come and support us as we hand over our petition – your petition. The 50,000+ names on the list will be delivered to the Department of Health at Richmond House, 79 Whitehall, London SW1A 2NS. The handover will taker place at 11am on the 29th of September….
Leading the Way on Ecigs – Louise Ross, Stop Smoking Service Manager
Last Tuesday, I was tired and wanted to go home at the end of the working day and watch Emmerdale. However, I'd just read Lorien Jollye's blog, where she describes how she juggles a demanding home life with an even more demanding role as an unpaid advocate for better health through switching from smoking  to vaping…
3 actions you can take this week to help vaping:
1. Sign this petition – if it reaches 10,000 signatures then the UK government has to respond. There can only be one UK Government and Parliament petition per subject so we need to sign this one! https://petition.parliament.uk/petitions/105139

2. Get to London to the Department of Health in Whitehall for 11am next Tuesday for the handover of the Legal Challenge (http://article20legalchallenge.com/) supporters list.
Sign up for the Thunderclap from @vapers to support the Challenge (http://thndr.it/1PBlNpU) and share it on Facebook and/or Twitter.

3. Say thank you to Public Health England for their landmark review (https://www.gov.uk/government/publications/e-cigarettes-an-evidence-update), which found that e-cigs are 95% safer than smoking and do help smokers to quit. This thank you letter from Denmark might help: https://vapers.org.uk/a-heartfelt-thank-you-from-the-danish-vapers/
Letters can be emailed to: duncan.selbie@phe.gov.uk
i.e., Fiercely debated in the absence of defining the term – Carl V. Phillips
Just a quick note to vent my amusement about the never-ending war of commentaries about whether e-cigarettes are a gateway to smoking. That war apes a scientific debate, but it is not one for several reasons. Most notably, no one (on either side) ever explains what they would mean by "there is a gateway effect." There are also serious problems about what would constitute useful evidence…
That Dual Use is Not a Negative Consequence of E-Cigarette Use, But a Positive One – The Rest of the Story
An important new study led by Dr. Christopher Russell of the Centre for Drug Misuse Research in Glasgow and presented recently at the 2015 Tobacco Science Research Conference reveals that contrary to the claims of many anti-tobacco advocates, dual use (of e-cigarettes and tobacco cigarettes) is not a negative consequence of e-cigarette use, but a positive outcome that could well stand on a pathway to eventual smoking cessation….
Sam Chambers – Bloomberg
The tobacco industry's united front is being tested as Imperial Tobacco Group Plc takes a swipe at Philip Morris International Inc.'s new cigarette alternative.

The Marlboro maker claims its "iQOS" product — a black pen-shaped device that heats sticks containing tobacco — could potentially reduce risks compared with smoking because combustion isn't involved. Imperial researchers tested the so-called "heat-not-burn" gadget and found evidence that some of the processes within a burning cigarette are still occurring…
About 40 people, mostly e-cigarette store owners and other advocates of "vaping," turned up at a health department hearing Wednesday night — delayed to account for crawling traffic and road closures related to China President Xi Jinping's visit to nearby Lincoln High School — to describe their concerns over bringing vapor products into line with Washington's smoking in public places law….
A Week Before Taxing Vape Shops Out Of Existence
D.C. Council Member Yvette Alexander announced Tuesday that the week of Sept. 20, 2015, would forever be known as "DC Calls It Quits Week."

The announcement comes just one week before the city plans to implement a 67 percent tax on e-cigarettes, effectively taxing vape shops out of existence…