In the News 25th March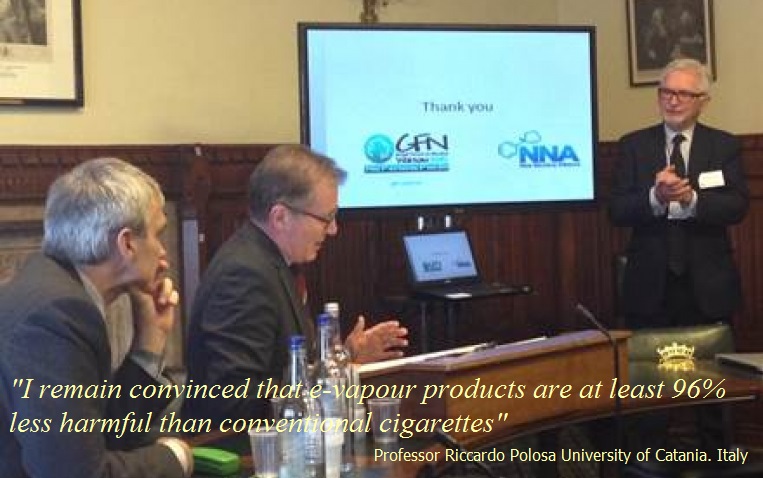 Wednesdays News at a glance:
A new study verifies that e-cigarettes are orders of magnitude safer than tobacco cigarettes .. Who Is Misinforming Jane Ellison About E-Cigs? .. Jane Ellison – Third Delegated Legislation Committee .. E-Cigarettes can provide significant public health benefits .. California Department of Public Health Running Campaign to Keep Smokers from Switching to Electronic Cigarettes .. NOTBlowingSmoke Rebuts California Anti E-Cig Propaganda .. Fresh and Making Smoking History in the North East Partnership statement on electronic cigarettes .. Innovative new stop smoking group to start in Felixstowe .. E-cigarettes versus NRT for smoking reduction or cessation in people with mental illness .. Quit and Smoking Reduction Rates in Vape Shop Consumers
From Dr. Farsalinos
A new study was published today in International Journal of Environmental Research and Public Health by our group, evaluating e-liquids for the presence of tobacco-derived toxins. Additionally, the accuracy of nicotine labelling was assessed. The study is novel because for the first time we assessed tobacco-flavored liquids for the presence of phenols and nitrate (known toxins in tobacco smoke), as well as nitrosamines. Moreover, we assessed a specific group of e-liquids (known as Natural Extracts of Tobacco – NETs), which are made by using cured tobacco leaves to extract the flavor. This is the first time that such liquids are specifically tested…..
From Dick Puddlecote:
In 1976 Prof Michael Russell wrote that 'smokers smoke for the nicotine but die from the tar. When we urge people to stop smoking, we explicitly mean to quit smoking tobacco.

It is a worry that concern among smokers over the perceived dangers of electronic cigarettes and vapourisers appears to be rising compared to the much more harmful product which is tobacco.  A significant number of people hold incorrect beliefs about the harm from electronic cigarettes and nicotine – believing that part or most of the health risks from smoking are from nicotine….
Monday 23 March 2015 Meeting started at 4.30pm, ended 4.52pm
Mark Pawsey MP said: "I established the APPG along with a number of my Parliamentary colleagues as we all believe that this growing industry requires further analysis and scrutiny by law makers. We need to look at all sides of the argument and use the scientific evidence available to us to better understand what potential benefits these devices may have from a public health perspective."
In a press release touting the campaign, the director of the California Department of Public Health – Dr. Karen Smith – stated: "California has been a world leader in tobacco use prevention and cessation since 1990, with one of the lowest youth and adult smoking rates in the nation. The aggressive marketing and escalating use of e-cigarettes threatens to erode that progress."
I occasionally get asked why this website was given it's Grumpy nomenclature. Well, it's precisely because of reasons like the State of California deciding to go to war with the entire e-cig and vaping industry with ill-informed and nonsensical rhetoric.

On Monday, California began to roll out a new wave of television and digital anti e-cig propaganda advertisements, just a couple of months following the California Department of Health (CDPH) ridiculously declaring e-cigarettes a public health risk….
This statement aims to encapsulate the key current evidence to both smokers considering switching and to colleagues working in public health that electronic cigarettes are a safer option, and may help many to quit tobacco. It has been agreed by Fresh and by members of the Making Smoking History in the North East Partnership in the belief that harm reduction will need to play an important role to reduce smoking in our region….
We will be launching an innovative new stop smoking group in Felixstowe later this month, which aims to help people quit using e-cigarettes. The group is thought to be one of the first of its kind in the country and will be open to smokers who want to stop smoking using e-cigarettes. Starting on Tuesday 31st March, it will run for six weeks at the E-Cig Emporium on Hamilton Road, from 5.30-6.30pm….
Study released today demonstrating effectiveness of e-cigs in this randomised trial
People with mental illness have higher rates of smoking than the general population and are at greater risk of smoking-related death and disability. In smokers from the general population, electronic cigarettes (e-cigarettes) have been shown to have a similar effect on quit rates as nicotine replacement therapy, but little is known about their effect in smokers with mental illness….
A Prospective 12-Month Survey:
Here, we present results from a prospective pilot study that was aimed at surveying changes in daily cigarette consumption in smokers making their first purchase at vape shops. Modifications in products purchase were also noted. Design: Participants were instructed how to charge, fill, activate and use their e-cigarettes (e-cigs). Participants were encouraged to use these products in the anticipation of reducing the number of cig/day smoked….