In the News 24th November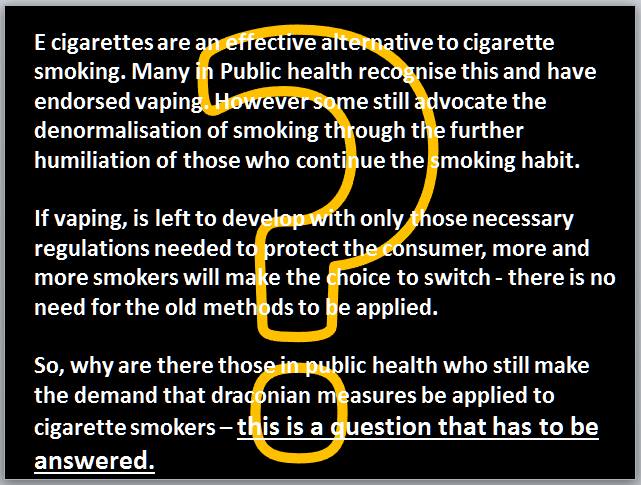 Tuesdays News at a glance:
A Billion Lives – Capsules? Is that the future? – E-cigarette Evidence. Guilty As Charged, The Scream Test. – Smokers and vapers need to stand together because divided we fall – Thanks to Invalid NEJM Formaldehyde Study, Public is Being Told that Cancer Risk from Vaping is 15 Times Higher than from Smoking – Memo to the FDA: Please Correct Errors on Your Website – Ecigs.Our right not to smoke Tobacco – The changing face of gantries – Pennsylvania Budget Standoff – Nicotine Science and Policy – Daily Digest – Tue, 24 November 2015
Grandad – Head Rambles
There has been a bit of a commotion over this Billion Lives thing over the weekend.

Simon Clarke wrote about it and that was followed up by Dick Puddlecote who threw in his hape worth.

I had little to add to the debate, but then under an article on Facts Do Matter I came across a response by Aaron Biebert, the director of the film.  To say my gob was smacked was a slight understatement….
Dave Dorn – The Sun Also Rises
So I had to go to the local convenience store for milk this morning. A short walk, but a pleasant one, and at all adds to the activity. Have to stay healthy, after all!

Anyway, as I picked up the two two litre jugs of the white stuff and plopped them on the counter, I saw, where once there had been an orderly display of tobacco cigarettes, there was now a set of shutter, emblazoned with POS (which means point of sale, not, as some would have it, piece of shit) advertising for Vivid ecigs. Above that was the display – two shelves worth – of Vivid ecig paraphernalia. In prime position were the "capsules"…..
Guilty As Charged, The Scream Test – Vaping Links
Like a crime scene, "experts" are trying to cover up scientific evidence about e-cigarettes. Cleverly disguised with their self-important pseudo-opinions, they publish their assessment long before it has been properly reviewed.

Like seasoned criminals, experts are studious at covering up or altering these scientific studies and research to their benefit, not yours. There will be no evidence reviewed unless they say it's "ok"….
Because divided we fall – Forest Eireann
Over in the UK right now there appears to be some kind of animosity unfortunately developing between vapers and smokers.

At first glance it looks as if elements in the vaping community are seeking to share the high moral ground with the tobacco control industry in their condemnation of the put-upon smoker. Certainly in articles I've seen over the months an attitude of holier-than-thou is sometimes in evidence when vapers consider those of us who like to smoke….
Public is Being Told that Cancer Risk from Vaping is 15 Times Higher than from Smoking – The Rest of the Story
According to an article published yesterday at CapeCod.com, the cancer risk from vaping is 5 to 15 times higher than the cancer risk from smoking.

The article states: "A look at the dangers of inhaling formaldehydepublished in the New England Journal of Medicine earlier this year included two studies that showed that the risk of developing cancer from long-term vaping is five times as high as that of smoking a pack of regular cigarettes a day. The second study suggested the risk was 15 times higher."
Please Correct Errors on Your Website – Tobacco Truth
The FDA website includes several glaring errors on its Established List of Harmful and Potentially Harmful Constituents in Tobacco Products or Tobacco Smoke (here).  For example, the list wrongly identifies acrylamide as both a respiratory and a cardiovascular toxicant.  It is neither of these.  It is a probable human carcinogen, according to IARC, and it was correctly labeled in the list published in the federal register (here)….
The Smoke-Free Alternatives Trade Association  (SFATA), the largest trade group dedicated to advocacy, awareness and education for the vapor products industry, today issued the following statement regarding the Center for Environmental Health's (CEH) lawsuits against tobacco and e-cigarette companies:

"We continue to question the concerted campaign of misinformation and frivolous lawsuits which only serve to further confuse and discourage smokers from making the switch to what has shown to be a far less harmful alternative to cigarette smoking…
An Update from Vince
I wanted to update you all on how the court case went yesterday. Let me start by saying I believe it went very well!

We were originally going to be arguing 4 grounds of appeal and a lot of work went into that.
Particularly grounds 3 and 4 which were based around the introduction of fresh evidence asserting that e-cigs were essentially harm reduction devices and should be outside the prohibition of section 106 A of the Tobacco Products Controls Act 2006….
If you have been following the situation in Western Australia, you will know that in that State it is currently illegal to sell electronic cigarettes and vape gear. However, the man at the centre of the controversial legislation, has reported there's been some positive developments in a move to reverse the situation for those in the West.
Interesting analysis
The C-Store Champions discuss the e-cigs and vaping products market and give their advice on starting out and managing the category….
Gov. Wolf originally proposed a 40 percent tax on the wholesale cost of e-cigarettes, which would have made Pennsylvania only the second state in the nation to impose a massive wholesale tax on these products. Any sort of excise tax on e-cigarettes would shut the doors of many new Pennsylvania small businesses that are helping smokers quit. Furthermore, a new tax on e-cigarettes would fly in the face of growing evidence suggesting that e-cigarettes are at least 95 and as much as 99 percent less harmful than traditional cigarettes. Taxing life-saving products is about as misguided as it gets from a tax and health policy standpoint…