In the News 23rd April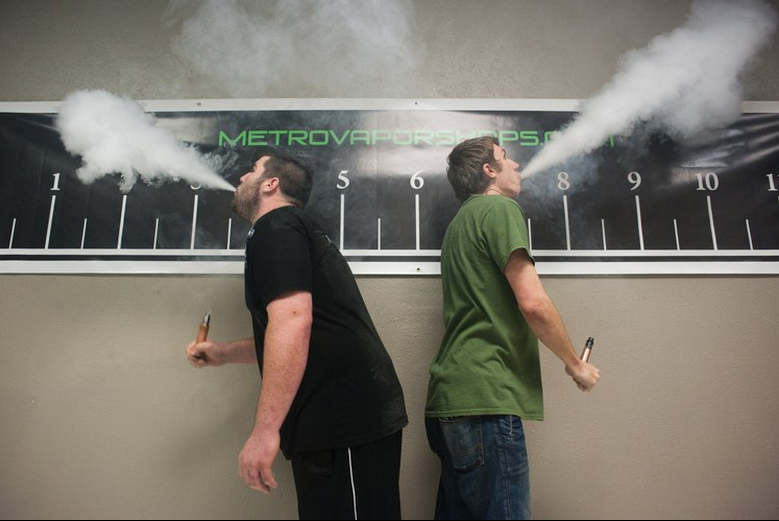 Thursdays News at a glance:
CDC Refuses to Ask Critical Survey Question So that Results Don't Foul Up Its Attack on E-Cigarettes – Institutionalised Lying – An Interview with Nicotine Expert Dr Jacques Le Houezec – Regular e-cigarette use in children, adolescents low – Vaping: it's like smoking, only more manly – Take a Deep Breath if You Want to Try Competitive Vaping – California ecig "regulation" hearing: a catalog of lies (part 2) –  NYTimes editorial and op-ed sows confusion between e-cigs and real ones – Why The CDC Has It Wrong About The Rise In Teen Vaping – Why Is The CDC Lying About E-Cigarettes? – Public Health Circus – Nicotine Science and Policy – Daily Digest – Thu, 23 April 2015
It's all been happening in public. Tobacco Control was left in disarray by the arrival of the new e-cigarettes. Their discomfiture was painfully obvious. Some of them approved the new smokeless device, and some disapproved. But the emerging consensus seems now to be that e-cigarettes are the exact same thing as cigarettes, and just as dangerous….
So that Results Don't Foul Up Its Attack on E-Cigarettes
Since 2012, the CDC has known that past 30 day use of electronic cigarettes has been increasing dramatically among youth. This makes it essential for the agency to determine whether these kids are becoming addicted to vaping or whether they are merely experimenting with e-cigarettes on an occasional basis. So you would figure that the CDC would add a question to find out exactly how often youths are using e-cigarettes…..
Neurologist Dr Jacques Le Houezec is the Honorary Lecturer, UK Centre for Tobacco Control Studies, University of Nottingham, England, a founder member of The Society for Research on Nicotine and Tobacco and manager of treatobacco.net. You can find him blogging at Le Blog de Jacques Le Houzeq….
"The prevalence of experimental e-cigarette use, combined with few distinctions according gender or family background could allow e-cigarettes to become normalized relatively quickly with the youth population," the researchers wrote. "However, at present, there is a very low prevalence of regular use, which suggests that e-cigarettes are unlikely to be making a significant direct contribution to adolescent nicotine addiction."
The massive growth since the launch of the first e-cigarette in China in 2004 has taken many by surprise – the retail vaping industry is now worth a lung-busting $3.5 billion. For decades the sales of "analogue" cigarettes have been in decline, but by contrast vaping is growing fast, prompting the CEO of GlaxoSmithKline, owners of the Nicorette patch, to bemoan falling sales as a result….
Two judges perched on stools nearby watched as the contestants' foggy clouds traveled along a black measuring stick. As fans held their breath, Mr. Seybold's cloud reached out all the way to 6 feet. Mr. Waller's billowed out to about 5. As the judges pointed to Mr. Seybold, the crowd erupted in applause and cheers. "Sweet!" a spectator shouted. Mr. Seybold had won the first round in the Clouds for Heroes competition at the Metro Vapors vape shop….
Continuing from the previous post, you will recall that we established that California Senator Mark Leno is absolutely hilarious when he tries to talk about science — assuming you can maintain a sense of humor about someone who is spouting lies in support of a bill that would inflict a great deal of harm with no apparent benefits. He continues by suggesting he also does not understand how lawmaking works, or even his own bill. Sadly, it is not nearly as funny as his attempts to talk science….
In their ongoing campaign to stifle the truthful communication of risks (hypothetical) and benefits (not yet documented but theoretically huge)  regarding the innovative low-risk nicotine devices, e-cigarettes and vapor products, the NYTimes has reached new "heights" today. Working hand-in-glove with the "public health" officials, NGOs and politicians whose craving for cigarette tax money and/or big pharma largesse outweigh their ethics, the Times' editorialists published an essay misleadingly titled The Perils of Smokeless Tobacco….
Last week, the Centers for Disease Control (CDC) announced soaring rates of e-cigarette use among teens. The number of middle and high school students using electronic cigarettes tripled between 2013 and 2014, according to a government survey of 22,000 schoolchildren. Dr. Thomas Frieden, CDC Director,called this trend "shocking" and "alarming."
For years anti-smoking activists and public health officials have tried to justify their irrational hatred of electronic cigarettes by arguing that vaping leads to smoking, especially among impressionable young people who otherwise would never touch tobacco. But that is not happening. To the contrary, vaping and smoking rates among teenagers are moving in opposite directions….
The first idea to name this article was Public Healther-Skelter. Because that's exactly what it is. But heck, someone beat me to it on Google.
What public healthers do with the money from government and non-government never ceases to amaze me. That multi-million $$ Californication still rings in my mind.