In the News 22nd December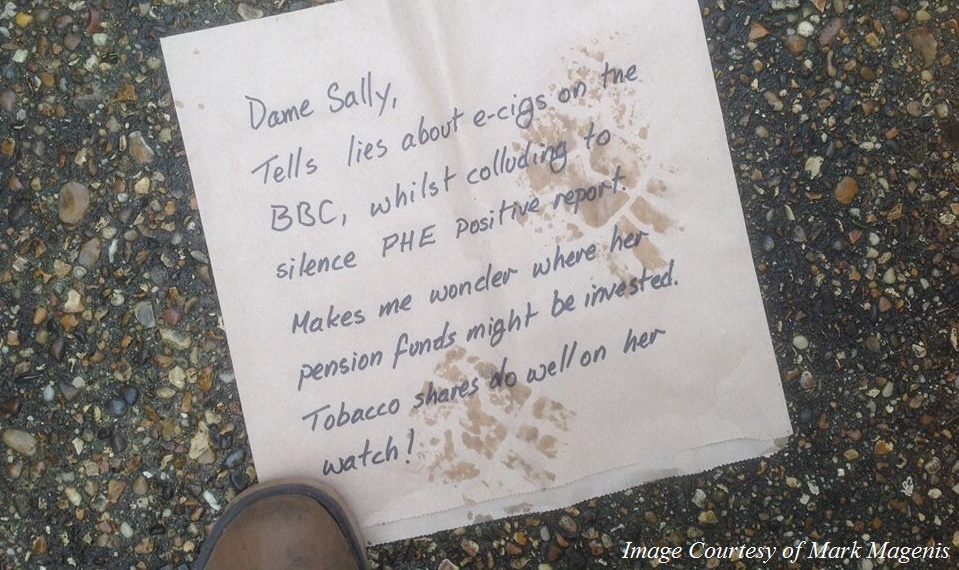 Tuesdays News at a glance:
To Squirt Or Not To Squirt, That Is The Question – Escaping the EU directive on e-cigarettes – Holland Attacks Evil Ecigs – E-Cigs' Inconvenient Truth: It's Much Safer to Vape – "SAEV" Us Please! – Vapers in Power End of Year Newsletter 2015 – ASH hit by 25 per cent cut in public funding – Mischaracterization of E-Cigarette Risks Skews Smokers' Perceptions, Hurts Their Health – E-cigarettes should be promoted as a smoking cessation – Anti-Vaping Advocate Testifies that E-Cigarette Aerosol is More Toxic than Secondhand Smoke – E-cigarette flavors needed to keep vapers from returning to smoking – GOP Congressman Defends Right to Vape – Nicotine Science and Policy – Daily Digest – Tue, 22 December 2015
That Is The Question – Dick Puddlecote
I've written recently about some quite astounding EU idiocy contained in the TPD towards e-cigs, specifically on how vaping devices and liquids must be labelledand not advertised from May next year, so it's nice to bring some positive news for a change.

Well, I say that but yesterday's release by the Department of Health of guidelines for refilling mechanisms doesn't seem to have gone down well. There has been an outpouring of consternation – even anger – on social media and I really can't understand why…
Clive Bates – The Counterfactual
I've written  and presented many times on the utter mess the EU Tobacco Products Directive (TPD 2014/40/EU) has made of regulating low-risk alternatives to smoking: notably Article 20 that regulates e-cigarettes and Article 17 that bans snus.

EU legislation is especially ill-suited to regulating new disruptive and controversial technologies that regulators don't understand – see my discussion of regulating disruptive technology. Directives are produced by a kind of committee pinball game that reflect prejudices, esoteric beliefs and haggling of people with little knowledge of what they are dealing with and no accountability for the outcome or damage done….
Mawsley – Planet of the Vapes
Double Dutch, a phrase often used in English to describe confusing things, might aptly be applied to the manner politicians in Holland are treating vaping. A long-held prohibition stance juxtaposes against the relaxed attitude to recreational drugs and smoking in bars; the language being used could provide a clue to the motives behind it. …
It's Much Safer to Vape – David Amsden
Daniel Walsh was first drawn to electronic cigarettes for the same reason millions of smokers have taken up the devices. "I was a guy who could work 20 hour days and juggle a number of complex projects, but I couldn't quit," says Walsh. "It was my greatest deficit." The quixotic promise that have made e-cigs the subject of endless controversy — that smoking cessation and smoking as recreation can coexist — resonated with Walsh….
Paul Barnes – Facts Do Matter
It seems that the run up to Christmas entitles folk to, frankly lose their damn minds. We are all painfully aware of the mantra "think of The Children™", but never more so has it been apparent that the crusade against smoking and vaping has never really been about health….
---


---
End of Year Newsletter 2015
When we formed ViP we were asked:  Why have a political party for vapers? What's the point when there's no chance of getting a ViP candidate elected? Why not have a non-political mass membership organisation instead?

Here's why we need Vapers in Power: the Tobacco Products Directive forbids the promotion of vaping (Article 20 section 5)….
Simon Clark – Taking Liberties
The news was revealed yesterday in an answer to a parliamentary question by Conservative peer Lord Naseby:

Action on Smoking and Health
To ask Her Majesty's Government, further to the Written Answer by Lord Prior of Brampton on 8 December, how much grant the Department of Health will provide to Action on Smoking and Health in the current financial year, and whether they will place a copy of any grant application and award letter in the Library of the House….
Skews Smokers' Perceptions, Hurts Their Health – Brad Rodu – Tobacco Truth
Accurate perception of the safety of e-cigarettes relative to cigarettes declined in the UK from 2013 to 2014, according to a study from King's College and University College London.

Leonie Brose and colleagues conducted a longitudinal web-based survey of smokers and ex-smokers from 2012 to 2014 (abstract here). …
That E-Cigarette Aerosol is More Toxic than Secondhand Smoke – The Rest of the Story
According to an article in Latinos Health, the head of the Muskogee Wellness Initiative told county health officials that the aerosol produced by electronic cigarettes is more hazardous than the smoke produced by tobacco cigarettes….
Prof Bauld talks to ecancertv at NCRI 2015 about the impact of E-cigarettes on cancer.
To keep vapers from returning to smoking – R Street
The variety of flavors available for Electronic Nicotine Delivery Systems (ENDS) like e-cigarettes are a component that keeps many users from returning to traditional tobacco cigarettes, according to a new paper from the R Street Institute…
Rep. Duncan Hunter (R., Calif.) is fighting for the right to vape, attacking Democrats who oppose electronic cigarettes that help him smoke less.

"Yes, I vape," Hunter, a Marine Reservist who served three combat tours in Iraq and Afghanistan, wrote in an editorial published in the Hill. "On occasion, I might even smoke a real cigarette."