In the News 20th November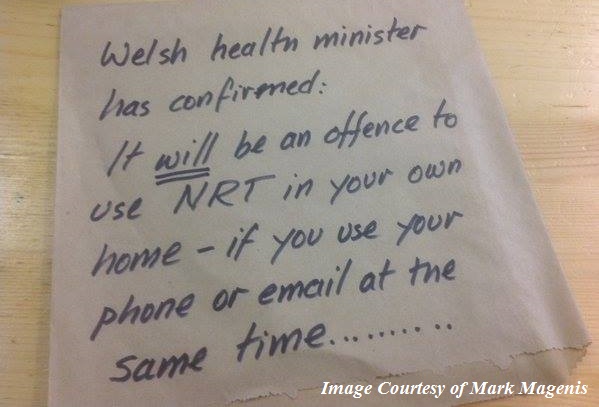 Fridays News at a glance:
The experience of vaping – The Wibbly Wobbly World of Mark Drakeford – Relapse Prevention Updated – Resources from the 2015 E-Cigarette Summit – Will  – Vaping Kill Me? – You Are Being Lied To – A Billion Lives – The Great E-Cigarette Cover-Up – FDA and CDC Generate Smokeless Scaremongering – My Public Comment to OIRA on FDA Deeming Regulations – Is it time for the WHO to Upgrade and Redefine its MPOWER Program? – Nicotine Science and Policy – Daily Digest – Fri, 20 November 2015
Facts Do Matter
It's one of the hottest topics in public health right now. It's divided scientists and researchers across the globe. It's even divided the community on some aspects of it. Vaping. A consumer driven market that has enabled 2.6 million people (UK) to either reduce the harms of smoking or stop smoking full stop.

The question that rattles around in my head regularly is why is this topic so divisive and why are so many intent on heavily restricting it? To that end, I try to go back to basics, with a little help from some friends….
The Vaped Crusader
Hi Kids, my name is Mark Drakeford. I am a "Politician". Politicians are special people that are chosen to make big, important decisions for less special people that are too stupid to think for themselves.

When I'm not being a "Politician" I spend my time riding my pet unicorn across technicoloured rainbows in a magical, two-mooned, pixie-filled land called Wales….
Alan Beard – Why Oh Why
There appears some resistance in UK Government circles,and other influential sources,to acknowledge the concept of long-term e-cigarette use as a method to maintain tobacco smoking cessation.

This appears totally contradictory when NRT is available for long-term use as approved via NICE guidelines
To access the 2015 presentations, please click on the presenter names below to download
Public Health England recently announced that electronic cigarettes are 95% healthier than smoking. Why not 100%? We ask the experts…
---
Why Big Pharma And Public Health Are Lying About The Dangers Of Vaping – Guy Bentley
Major pharmaceutical companies and pubic health activists are among the leading culprits spreading disinformation about the health risks of e-cigarettes.

A new film set to be released in 2016 titled "A Billion Lives" exposes one of the main reasons behind the increasingly visceral campaign to tax, regulate and ban e-cigarettes — money. The title of the film is based on the World Health Organization's estimate that one billion people will die from smoking over the course of this century….
---
Brad Rodu – Tobacco Truth
While the FDA and CDC refuse to acknowledge that smokeless tobacco causes almost no disease, agency staff have produced a fresh study (abstract here) showing that smokeless tobacco users have higher trace levels of nicotine and some contaminants than do smokers.  This meaningless finding (explained below) leads to grossly misleading headlines, such as "Smokeless Tobacco More Toxic Than Cigarettes, Study Says" from Time's Alexandra Sifferlin…
Michael Siegel – The Rest of the Story
This morning, I met with several staff of the Office on Information and Regulatory Affairs (OIRA) of the Office of Management and Budget (OMB) of the White House Executive Office to provide feedback on the proposed FDA deeming regulations for electronic cigarettes (RIN#0910-AG38). I am grateful for having had the opportunity to share my analysis of the regulations as pertaining to the provisions of Executive Order 12866, which outlines the criteria a regulation must meet in order to be approved by OIRA….
Scott D. Ballin – Nicotine Science & Policy
With an estimated one billion smokers in the world and with over 5 million people dying each year from the deadly cigarette, isn't it time for all stakeholders to reevaluate the strategies that are being used? Isn't time to take advantage of and incorporate harm reduction as an appropriate global strategy for reducing disease and death caused by cigarette smoking?

Earlier this year, the World Health Organization (WHO) issued a new paper on the use of taxation as part of its MPOWER global strategies for reducing disease and death caused by the use of tobacco…