In the News 16th December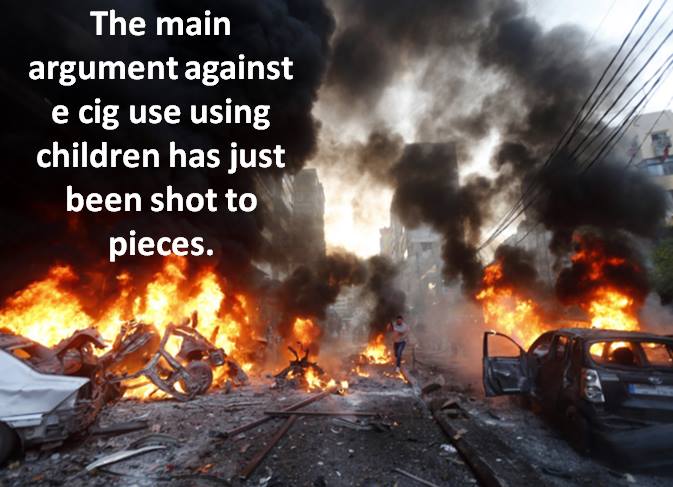 Wednesdays News at a glance:
Breaking News: UK Chief Medical Officer Tried To Hinder E-Cig Evidence Review Claims Blogger – David Cameron reveals that he's tried to quit smoking several times – Misguided health advice could be killing us – Copy & Paste? – Communication with Molly Scott Cato MEP on Article 20 – The Vaping Advocate's Rules For Campaigning – The end of e-cigarette in Hungary? – E-cig Tax Suspended and Sent to the Constitutional Court – Opinion Journal: Save E-Cigarettes! – E-Cigarette Industry Faces Prohibition – New National Survey Refutes CDC Claim – Ontario delaying ban on using e-cigarettes in public – Voter Backlash – AMA Position Statement on Tobacco Smoking and E-Cigarettes 2015 – Nicotine Science and Policy – Daily Digest – Wed, 16 December 2015
Tried To Hinder E-Cig Evidence Review Claims Blogger – Ashtray Blog
E-cigs have been mired in controversy for years. The author of highly restrictive EU e-cig regulations was accused of soliciting bribes from tobacco companies and had to resign.

He was later found moving millions of euros to an offshore bank account.

E-cig scientists have written to the EU claiming their studies were twisted to support the case for regulation. The EU is accused of having dozens of secret meetings with the tobacco industry while writing the regulations.

I could go on. But now the controversy has moved to the UK….
Fergus Mason – Blasting News
Too often, nutritional science is abused or misinterpreted to suit an agenda or obsession. The results can be lethal.

I grew up thinking it was dangerous to eat more than three eggs a week. That's not true. I thought salt would give me high blood pressure. That's not true either. I believed margarine was healthier than butter. Guess what? Not true. Why did I believe all those things? Because I was told, over and over again, that this is what health experts said….
Communication with Molly Scott Cato MEP on Article 20 – GlosVaper
A little while ago I wrote to my MP, MEPs covering my region and others about my concerns over the damage that the TPD Article 20 amendments might do.

Now, fairs fair, it's the first reply I've had. Sadly, it's a pretty obvious cut & paste effort and is deeply worrying as it shows the level of misunderstanding and the lack of knowledge that the decision makers in this have shown. I'm posting this for public record and to help others spot this in communications with other politicians over the TPD.
E-Cigarette Politics
Here is a blueprint for establishing community resistance to industry / government moves to restrict or ban e-cigarette use. It outlines an action plan for how the community can remain ex-smokers in the face of overwhelming pressure to force them back to smoking….
According to hvg.hu, the National Assembly has set the same rules for electric cigarettes on Tuesday that determine the traditional tobacco products. E-cigarettes can be sold only in national tobacco stores from next May – the National Assembly decided. Human Resources Minister Zoltan Balogh, who submitted the proposal, justified the regulatory framework for electric cigarette, electronic devices imitating smoking, all accessories, components and refill bottles by the protection of young people….
And Sent to the Constitutional Court AgiVape News
Today, and Ordinance issued TAR Lazio (Regional Administrative Court) suspended the e-cig tax on liquids without nicotine and sent the entire legislation to the Constitutional Court, which last April struck down the previous fiscal regime. Legislative Decree n. 188/2014, followed by a AAMS (Monopolies Agency) Provision, established a € 3,73 +22% VAT tax per 10ml of liquids with or without nicotine….
American Enterprise Institute Resident Scholar Sally Satel on the benefits of vaping and why Congress may protect the industry from burdensome regulation.
After Crucial Rider Fails To Make Omnibus Spending Bill – Guy Bentley
A policy rider that could've saved 99 percent of the e-cigarette of from de facto prohibition failed to make it into the House's omnibus spending bill released Tuesday night.

The rider would've changed the Food and Drug Administration's (FDA) rules requiring all e-cigarette products released after February 15, 2007, to undergo the costly Pre-Market Tobacco Applications (PMTA) process…..
That E-Cigarettes are Addicting Kids and Leading to Smoking – The Rest of the Story
The Centers for Disease Control and Prevention (CDC) has claimed that electronic cigarettes are condemning youth to lifetime addiction to nicotine and serving as a gateway to cigarette smoking. New data released today by the National Institute of Drug Abuse (NIDA) from the 2015 Monitoring the Future (MTF) survey demonstrate that the CDC's claims are baseless….
Has Just Been Debunked – Guy Bentley
One of the key weapons in the anti-vaping armory has been shot to pieces by new data from the National Institute on Drug Abuse (NIDA).

E-cigarettes have been a constant source of controversy among tobacco control activists, with many claiming the industry is using flavors to entice kids to try the nicotine-filled products and get them hooked for life….
---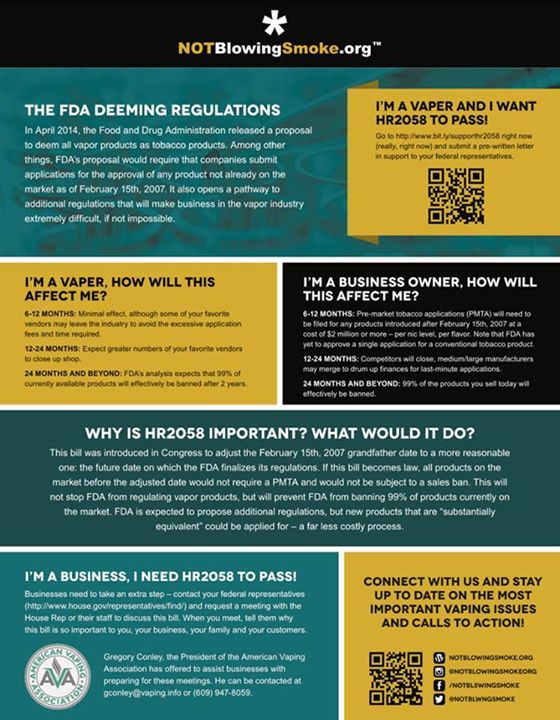 ---
The province is delaying its plans to ban vaping in public spaces, Ontario's Associate Health Minister Dipika Damerla told CBC News in an exclusive interview.

The province was all set to ban the use of e-cigarettes in public spaces, offices, businesses and even in vape shops beginning January 1, 2016…
On Tobacco Smoking and E-Cigarettes 2015
The AMA today released its updated Position Statement on Tobacco Smoking and E-Cigarettes 2015, which replaces the AMA Position Statement on Tobacco Smoking 2005, and incorporates the AMA's policy position on e-cigarettes.

AMA President, Professor Brian Owler, said the AMA wants the Federal Government to work with the States and Territories to introduce nationally-consistent controls and restrictions on the marketing and advertising of E-cigarettes.
If Johor authorities don't return confiscated vape goods, group warns
KUALA LUMPUR, Dec 16 — The Johor government will risk losing votes in the next general election if it does not return the vape products confiscated yesterday during several raids in the southern state, a local business group warned….