In the News 15th December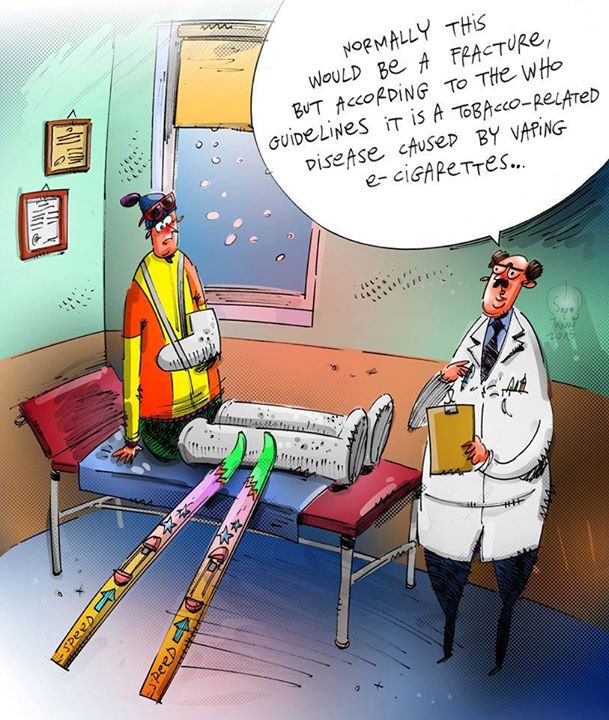 Tuesdays News at a glance:
Conversation Stopper – Vapers aren't paranoid – they ARE out to get us – Sense breaks out in Glasgow NHS – To vape, is to be a criminal – Do harsh new anti-vaping laws in Canada foreshadow the TPD? – Will 2016 be the year that the high street vape shop runs out of puff? – Nicotine – from villainous to valuable? – Media Bias Exposed: 'Popcorn Lung' Chemical 750 Times Greater In Tobacco Vs. E-Cigarettes – When reality goes arse over tit – What Revolving Door? – 'Popcorn Lung' disease claim linked to vaping exaggerated, says cardiologist – Nicotine Science and Policy – Daily Digest – Tue, 15 December 2015
Dick Puddlecote
Regular readers here may remember an article in September reporting that vape-hating Martin McKee and Chief Medical Officer Sally Davies share monumental levels of correspondence between each other on the subject of e-cigs. So much so that the fellow jewel robber who used the FOI Act to request information over a relatively short period was told it would cost far too much to dig it all out!
First of a triple from:  Fergus Mason – E-Cig Plaza
Details are now emerging of a conspiracy between Chief Medical Officer Sally Davies and a cabal of "public health" activists to prevent research that might show vaping in a positive light. It's time these crazed fanatics were ejected from the discussion; they are corrupt and dangerous, and they've outlived their welcome.

I'd love to do nothing with this blog but chat about how great vaping is, discuss the latest awesome gear and share people's stories of how electronic cigarettes helped them quit smoking. But I can't.
Fergus Mason – E-Cig Plaza
It often seems like vaping is being crushed by a massive steamroller with a blind and deaf idiot at the wheel; no matter what the evidence says the clanking monster grinds on, leaving a trail of bans and stupid laws in its wake. However this week's news from Glasgow hints that it might have a reverse gear after all….
Facts Do Matter
At least, in Canada it is. You will of course remember Bill 45, curiously entitled "Making Healthier Choices Act" which effectively makes it illegal to use/sell or display e-cigarettes; curiously when I first read Bill 45, I immediately thought "this is the TPD on fucking steroids". I was, in fact completely fucking wrong….
Mawsley – Planet of the Vapes
Lucie Charlebois, the Quebec minister for Public Health, drove Law 44 onto the statute book and a stake through the hearts of Canadian vapers. Covering a wide range of unnecessary and ill-considered measures, Loi 44 combines them with excessive punitive fines. Ecig users here should shudder as Britain's vaping doomsday clock clicks to two minutes to Midnight…
The high street vape shop runs out of puff? – The Economic Voice
The 8,000 vaping shops on the British high street may vanish — in a puff of vapour —  just as suddenly as they appeared. A little-known piece of EU legislation, the Tobacco Products Directive (TPD), will regulate the sale and marketing of e-cigarettes much more strictly than current laws stipulate. Small business owners worry that the proposed changes will make their products less attractive to customers and that this means the beginning of the end for their business….
Fergus Mason – Blasting News
Parkinson's disease researchers are becoming more confident that nicotine, the addictive drug in cigarettes, could be key to keeping sufferers healthy.

A million people in the USA suffer from Parkinson's disease and it's becoming more common as the population ages – it's much more common in the elderly, and usually starts to appear around age 60. After Alzheimer's it's the most common neurodegenerative disease, and it causes huge distress both for the sufferer and their loved ones….
Just Another Ordinary Morning
During a routine flight over the Pacific, a passenger jet developed engine trouble. It soon became clear to the crew that the jet was, sooner rather than later, going to crash into the sea. They announced this fact, as flight crews often do, to the passengers.

One of the passengers decided that he would conduct a search of the jet, and soon found a parachute (yes, I know they don't really have those on passenger jets. This is fiction) and began to strap it to himself.
[soundcloud url="https://api.soundcloud.com/tracks/237161026″ params="auto_play=false&hide_related=false&show_comments=true&show_user=true&show_reposts=false&visual=true" width="100%" height="450″ iframe="true" /]
'Popcorn Lung' Chemical 750 Times Greater In Tobacco Vs. E-Cigarettes – Guy Bentley
Reports of high levels of a potentially deadly chemical in e-cigarettes have been greatly exaggerated and are part of a trend toward the demonization of vaping, according to a leading tobacco control expert.

Diacetyl, a chemical linked to the severe respiratory disease bronchiolitis obliterans, commonly known as "popcorn lung," was found in 39 of 51 flavored e-liquids examined by researchers at the Harvard T.H. Chan School of Public Health….
Head Rambles
The sad news is that my Interweb seems to be irrevocably broken. Or maybe it's my laptop?

Either way a strange fault has developed where it's throwing all sorts of weird, strange and impossible search results at me without any explanation.

The fault started a couple of days ago when it told me that air causes obesity.  Now I put this down to a dose of crap reporting, or maybe someone getting their maths in a knot so I didn't pay that much attention [apart from writing about it]….
---


---
An Unprecedented Endorsement of a Political Appointment by the "Gold Standard" Medical Journal
It's deja vu all over again.  In the spring of 2015, the New England Journal, the most prestigious US medical journal, published a remarkable series of opinion pieces extrolling physician-industry collaborations, and minimizing the significance of resulting conflicts of interest.  More remarkable was the extent that the articles' argument were bolstered by logical fallacies (look here).
Disease claim linked to vaping exaggerated, says cardiologist – The Rakyat Post
A recent research finding which suggested that e-cigarette usage could lead users to develop the chronic respiratory condition known as "Popcorn Lung" disease has been blown out of proportion, says a leading cardiologist.

Dr Konstantinos Farsalinos, of the University of Patras in Greece, said the recent finding was exaggerated as the report on the matter failed to mention that the chemicals that caused bronchiolitis obliterans, were also present in tobacco cigarette smoke and in larger quantities, too.
Smokers say in survey – The Rakyat Post
The majority of smokers in Asia believe their governments would be wrong to ban electronic cigarettes if the devices were scientifically proven to be less harmful than tobacco, according to a recent survey.

The survey, which was carried out by regional consumer advocacy group factasia.org, found that 75% of those polled were in favour of the government not preventing or delaying the introduction of less harmful alternatives…