In the News 14th December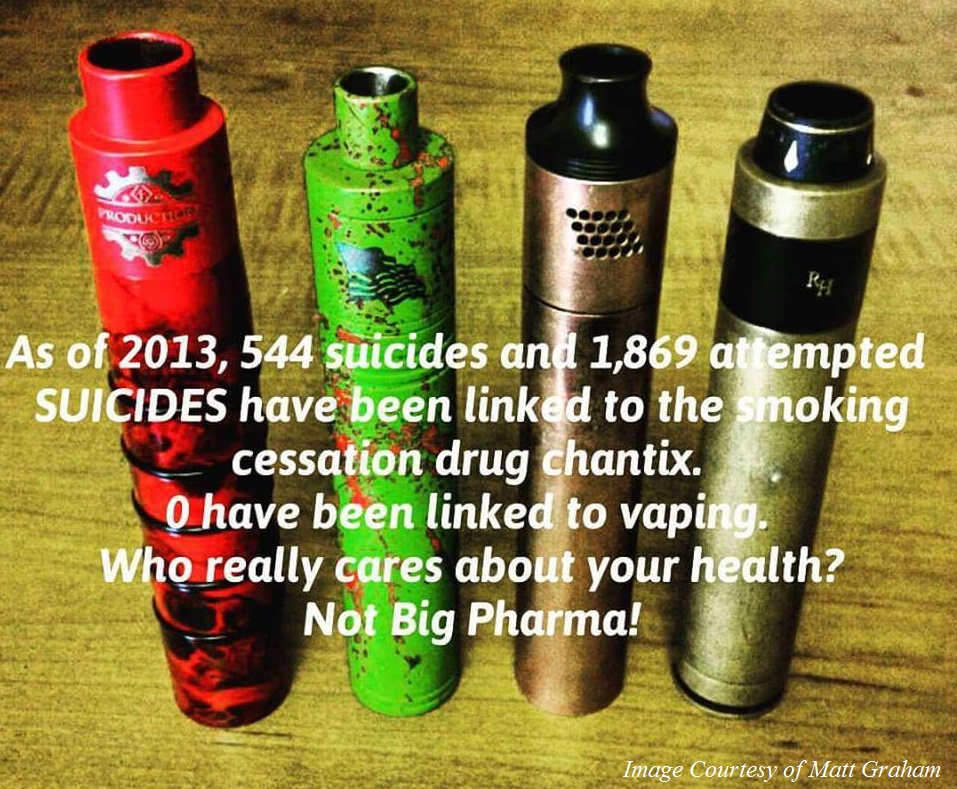 Mondays News at a glance:
An open letter to ADPH – Health Risks or scare stories? – Vaping & Ambulance Chasing – Revealed: Big tobacco and the corruption of the TPD – Give Us Strength! – Norwegian vapers protesting against the TPD – Open letter in the Norwegian Medical Association Journal – Vaping MPs Ignore Parliament Bans – E-Cigarettes. The Last Stand – #VapeDad – Randy Hillier December 09 2015 – Bill 45 – Liberals lost in a fog over vaping: – Michael Russell Orator for 2016 Announced – Smoking Rate Collapsing As E-Cigarette Use Soars – Singapore bans e-cigarettes – E-cigarette adverts to be made illegal in EU – The Troubling Link Between Parkinson's and Smoking: – Nicotine Science and Policy – Daily Digest – Mon, 14 December 2015
Just Another Ordinary Morning
Dear ADPH,

I have read with interest this morning your final position statement on nicotine vapourisers (e-cigarettes), and should like to take issue with you on this position. Not in part, but as a whole.

In the overview of ADPH's position you state the following:
Dave Upton – E-Cig Health Risks
Whether you've read newspapers or magazines, watched TV or just talked with friends, I'm sure you will have heard some of the scare stories; Formaldehyde, gateways to smoking, cancer causing, as bad as ordinary cigarettes, luring our children into tobacco use and so on.

I was fortunate when I started using e-cigs – the media hadn't really picked up on the topic & no tobacco company had any involvement…
Facts Do Matter
If there's one constant in this multiverse it is the incessant need for folk to have to blame someone else for their stupidity. In some (rare) cases, it is actually the fault of the product either through some kind of wacky early-life failure or through some product design flaw. Sadly, the majority of these kinds of cases is simply down to Darwinism.

Well OK, not all cases are down to Darwinism some are, to put it mildly outright lying….
Mawsley – Planet of the Vapes
The World Health Organisation's (WHO) Framework Convention on Tobacco Control (FCTC) held huge sway during the drafting of proposals for the Tobacco Products Directive (TPD) and the ecig-related Article 20. Many allegations of corrupt science blighted its passage into law. Vapers may ask themselves, in light of a recent Panorama investigation, if dishonesty went to a financial and drafting level.
The report focussed on allegations of crooked practises being operated by British American Tobacco (BAT). With knowledge of the history of tobacco company practise it isn't difficult to extrapolate the detailed action across the rest of the industry…
Ian Green – Vapers in Power
Having run my own Vape store for the past three years, I thought that most of the anxiety witnessed was when a new customer is being talked through their first ever purchase. You can sometimes smell the fear when you mention "atomisers", "variable voltage/wattage" and then there's the "juice menu". Lots of flavour choices and varying nicotine strengths. You get the picture.
Now there's a new generation of anxious Vaper. Not just anxious…distraught!
---


---
The Vaping Giraffe
Today (Saturday) was the day Norwegian vapers hit the streets to show that we're not at all happy with our governments attempt to implement the TPD. I was attending the demonstration in Trondheim, where somewhere between 40 and 50 people gathered to protest against the governments disguised TPD implementation. Now I know this might not sound to impressive, but you have to take into account that Norway is not a very big country, and only a bit less than 180.000 people live in Trondheim. Besides… those 40 to 50 people made sure we were noticed when walking down the busiest shopping street in town….
Erik Berfits
Håkon Olov Leira, Postdoctoral Fellow, Norwegian University of Science and Technology, Trondheim Norway.

E-cigarettes are a good alternative to regular cigarettes, they can save many years of life lost and lost years of health, respectively. Sadly the Health Minister and central health communities want to restrict access….
Mawsley – Planet of the Vapes
Throughout the year, John Bercow (MP and Speaker of the House of Commons) has worked towards making the Parliament buildings a vape-free environment. Finally, despite requests to be allowed to vape in their offices or to have a designated vaping room, he pushed through a total ban. Vape areas were set up outside, the only places where the use of an electronic cigarette was permissible. Vaping MPs have treated the move with disdain…
Smoke Free Nation
According to the recent Electronic Cigarette study conducted by researchers at Harvard University, eCigarettes might not be the new panacea proponents are now claiming will be the end of big tobacco.

Joseph G. Allen, lead author of the Harvard Study, has called out these battery operated devices creating an unsettling tone among the debates for healthier alternatives across North America…
PC MPP Randy Hillier #VapeDad
The Ontario government is blowing smoke when it comes to a crackdown on vaping, PC MPP Randy Hillier says.

The former smoker and now committed vaper is challenging new e-cigarette rules that take effect Jan. 1 across Ontario.
Guy Bentley – Daily Caller
A new Gallup poll shows cigarette smoking among young adults has plummeted to a new low just one month after data from Centers for Disease Control and Prevention (CDC) revealed e-cigarette use surging.

The Gallup poll reported a decline in smoking among adults aged 18-29 by a 12 percentage points to 22 percent over the past decade….
Global Forum on Nicotine 17-18th June '16
The third Michael Russell Memorial Oration during the conference will be delivered by Donna Darvill, one of the founding members of the New Nicotine Alliance (Australia).
In a pre-emptive measure to protect public health, Singapore has banned emerging tobacco products like e-cigarettes, smokeless cigars and cigarillos from tomorrow.

Ministry of Health today said that the emerging tobacco products, currently not available in Singapore, will be banned to ensure that they do not gain a foothold or become entrenched in the Singapore market, which could stimulate demand for and increase the prevalence of tobacco consumption.
Nursing in Practice
E-cigarettes cannot be advertised in magazines, newspapers, on TV and on radio, from May 2016, the Department of Health (DH) announced today.

Last week the DH confirmed that electronic cigarettes (e-cigarettes) will be prescribed in GP practices in the new year as a useful tool in smoking cessation services…
Can We Deny the Benefits? – Neurology Advisor
Research has shown a confounding link between nicotine and reduced risk of Parkinson's disease.

More than 50 years after the discovery of reduced mortality rates in patients with Parkinson's disease (PD) who smoke cigarettes, researchers may be on the cusp of opening the door to nicotine-based treatments that could help ease symptoms of the disease.