A Bucket Full of Popcorn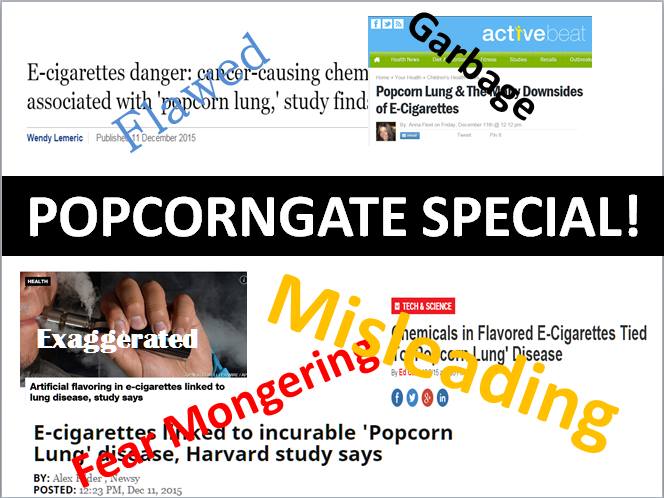 #PopcornGate
It's everywhere. Lies. Misinformation and more lies. Spreading like an itchy rash, and the damage caused to vaping will be immeasurable. The tales of people too scared to make the switch to vaping because of this is enough to fill this page time over. Here, hopefully we have gathered a relevant summary of relevant blogs, articles and more importantly facts that can be used as reference and a go to page for anyone concerned about diacetyl,  bronchiolitis obliterans and vaping.
Share it until the internet breaks!
Harvard's diacetyl scare – Fergus Mason
Yet again there's a new study out on vaping, and as usual it's stuffed full of scary words like diacetyl. However a closer look suggests that the researchers have found little that's new and nothing that's scary.
So diacetyl is back in the news again, with a new paper from a group of researchers at Harvard University. This one claims that the flavouring is found in 75% of all e-liquids, not just the creamy flavours it's usually associated with. Predictably the usual suspects in the media are all over it….
Fergus Mason – Blasting News
Instead of researching their stories to find out the truth, too many journalists rely on press releases. We need a return to proper reporting.

Today, film director Aaron Biebert presented a speech to the White House's Office of Management and Budget. In it he issued an eloquent plea for President Obama to ensure that upcoming FDA regulations on electronic cigarettes don't wipe out the industry and leave what survives in the hands of the tobacco companies….
But exaggerates risks and fails to discuss about smoking – Dr Farsalinos
As you all know, I have a strong opinion against the use of diacetyl and acetyl propionyl in e-liquids. In the study we published last year, we made this clear and we analyzed the potential risk from the use of these compounds at high levels (basically, when used as ingredients, or are present as contaminants but at high levels). We emphasized the fact that none should deliberately add these compounds in e-liquids and tests should be conducted to detect potential sources of contamination…
What you need to know! – Ashtray Blog
Sitting on Highway 71 in Missouri is a factory producing microwavable popcorn. The factory used a flavour called Diacetyl to produce its popcorn – and, according to one of its employees, Eric Peoples, it did so at three times the usual levels.

In the late 1990's, workers at the factory, including Eric Peoples, began to get ill. Initially they thought it was just a cold or asthma.

But then one worker after another was diagnosed with a rare disease called bronchiolitis obliterans – now commonly known as popcorn lung….
---
Public panic, it's the hard currency of public health research. Organizations and institutions live and die by the reach grant and the more fear they incite the more funding comes their way.
---
In the news, yet again – ECITA
A recent study conducted by researchers at the T.H. Chan School of Public Health (part of Harvard University) examined levels of three flavouring compounds in refills and liquids for e-cigs.

The exact detail of what was tested is a little unclear, since details of the hardware tested are not included:
From Vaping is 750 Times Lower than from Smoking – The Rest of the Story
In a new study that appears designed to send a scare to vapers throughout the country, researchers from the Harvard T.H. Chan School of Public Health reported finding diacetyl in 39 of 51 flavors of e-liquids tested, with levels ranging from below the level of quantification to 239 micrograms per e-cigarette cartridge. The chemical diacetyl has been linked to a serious and often fatal lung disease called bronchiolitis obliterans or "popcorn lung"
Brad Rodu – Tobacco Truth
A month ago, I warned vapers to avoid e-liquids containing buttery flavorings diacetyl (DA) and acetyl propionyl (AP, also known as 2,3-pentanedione) – chemicals associated with bronchiolitis obliterans, a serious, sometimes fatal lung disease seen in workers producing buttered popcorn. …
On Risk Of 'Popcorn Lung' From E-Cigarettes – Guy Bentley
A Harvard study claiming most e-cigarette brands expose users to harmful chemicals omits critical information and exaggerates the risks of flavored e-cigarettes, according to tobacco control experts.

The study, published in the journal Environmental Health Perspectives, analyzes a host of e-liquid flavors to discover levels of potentially dangerous chemicals diacetyl, acetyl propionyl, and acetoin…
---


---
And "popcorn lung" again, so here's a graph – The Drip Club
You all know what it is I'm talking about, so I'm not going to reinvent the wheel here. Check out Farsalinos, The Daily Caller's article, Suck My Mod's thoughts on it, or my guide to vaping and health if you want to learn more. I just wanted to graphically show you the magnitude of diacetyl exposure in a few specific cases. The graphic design team has been pretty busy on other projects, so you get to bask in the glory of my top-notch MS Paint skills. You may have to open the image in a new tab in order to see all the detail…
Aspen Valley Vapes
The recent study on electronic cigarette flavorings by Harvard University has taken over social media. The Harvard article alone has over 250,000 shares on Facebook alone, that doesn't include the hundreds of thousands of shares that were accumulated between different news sources that covered this article. If one in every ten users shared that article, that means over 3.5 million plus people (more than likely much higher) have seen the released study….
New York Times
In a first-year pharmacology class at Harvard Medical School, Matt Zerden grew wary as the professor promoted the benefits of cholesterol drugs and seemed to belittle a student who asked about side effects.

Mr. Zerden later discovered something by searching online that he began sharing with his classmates. The professor was not only a full-time member of the Harvard Medical faculty, but a paid consultant to 10 drug companies, including five makers of cholesterol treatments….
And Finally…
Aunt Sally's Artifice – Neil Robinson @Entropy72
Professor Dame Sally Davies is the Chief Medical Officer for England, the most senior medical advisor to the Government in the UK, equivalent to the Surgeon General in the USA. Under the auspices of this role, she is a member of the Board of the NHS, a civil servant in the Department of Health, and head of the medical civil service….
---
Smoke Without Fire: The story of the e-cigarette
---
---