Vaping In The News – April 1, 2017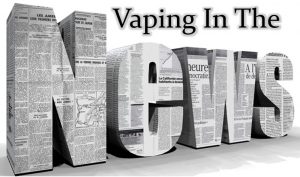 Vaping In The News–March 26th–April 1st, 2017
New Zealand ~ Neal Asher On Vaping ~ E-cigarette-Research Fundraiser ~ The Thunder from Down Under ~ Cigar Industry Lawsuit Against FDA Delayed ~ New Nicotine Alliance ~ Harm Reduction Drives Younger Vapers, Not Flavors ~ As the vaper revolution gathers steam, American smokers are being left behind ~ Two Studies ~ A Poll ~
---
---
You MUST get louder.
There are millions of people who have chosen to switch to e-cigarettes. If you're reading this, you are the minority of those who are involved.
The time for rolling over and accepting the regulations, restrictions, taxes, and bans they come up with is unacceptable.
---
While tobacco and other nicotine products were still legal, legalizing nicotine for e-cigarettes in New Zealand is now underway.
---
We're demanding professionals answer questions  – making snowflakes melt…and they're not used to that.
…and also instinctively want to seize control of and legislate for anything new. But it is some in the medical profession for whom I have the greatest contempt. They've had careers telling people to 'quit or die' and now cannot quite comprehend this level of harm reduction.
---
WE are raising funds for Dr. Farsalinos & his team:

"Unbiased, reliable – full access" information.

We can't expect him and his team to do his research for free.

So far the challenge has been ignored by public health, tobacco control, and government. We have raised $580.00 and one challenge has been submitted.

Make some noise.
---
The Canadian Government Can Lie


You might think this is an April Fool's joke  – but it isn't. David Sweanor was not allowed to speak due to lack of openings, which prompted this ThunderClap on twitter.

In Canada, there is a possible $500,000 fine and two years jail time. For telling the truth about e-cigarettes.

What's the fine for government officials lying?
.@SenateCA Fine up to $500k & jail up to 2 years for saying the #ecigs can help quit or #vaping is safer than smoking? NO! #BillS5 pic.twitter.com/dDXmkKkJzk

— Anonymous Drew (@skrymir42) March 29, 2017
---
It is time for those in power to change the laws, to see they've been lied to (and still are) by ANTZ (Anti-Nicotine & Tobacco Zealots) long enough. It is time to stop rewarding the lies and accept that smokers are switching in droves for a reason.
---
NNA has come a very long way in two short years and we have thoroughly earned our reputation as a "go to" organisation on tobacco harm reduction. Now we need your help to achieve even more. We have never asked for money before but we need to now.  
---
THE only regulation points they have are the never-ending fictitious "Think of the Children™" claim – which goes hand in hand with the even more fictitious nicotine "addiction" claim.
Great article by Robert Morgen
A new study out today shows that young vapers are drawn to vaping because of the harm reduction factor, not flavors.
---
Ecigs are not the only thing under the rules imposed by the FDA.
The hearing on the joint lawsuit filed by the International Premium Cigar & Pipe Retailers (IPCPR), Cigar Rights of America (CRA) and Cigar Association of America (CAA) has been delayed.
---
Via Guy Bentley:
The United States is a world leader in innovation. But when it comes to ensuring smokers have the maximum possible access to new devices and products that will help them quit and save their lives the U.S. is found tragically wanting.
---
Two Studies:
---
Breathe ND, a tobacco "prevention" program addicted to Master Settlement Agreement funds – is being defunded. Good Riddance.
Nicotine gum is going away for this company
---
A Poll, comments are welcome
[polldaddy poll="9709470″]
---
You can find me here trying to be cordial on Facebook
You can find me here being a bit more evil on Twitter
You can also find me on LinkedIn
---
More to come.
Keep ON #Vaping On.
Kevin
Save
Save
Save