Vaping Digest May 24th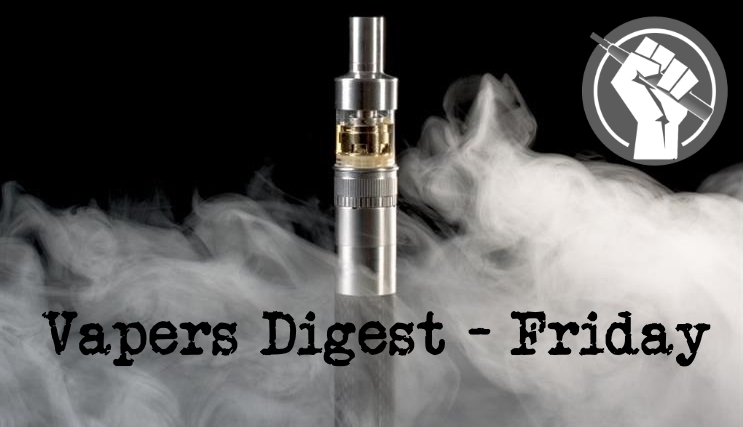 Friday's News at a glance:
E-cigs can double success rates of quitting smoking – State lawmakers balk at more anti-vaping laws, and JUUL hit back at dubious Twitter study – People Who "Smoke" Ecigs Study – Wild About JUUL – Is Big T Money 'Bad'? – The Grubby Face Of An Epidemic – Vaping is the most effective and popular quitting method – T21 Bill Will Open a Debate on Vaping – Judge Tosses Key Provisions of Quebec's Anti-Vaping Law – California ban on flavored tobacco products shelved – Former FDA head Scott Gottlieb rejoins VC firm – Nicotine Science and Policy Daily Digest
Kate Kelland, Reuters
People using e-cigarettes to quit smoking are about 95% more likely to report success than those trying to quit without help from any stop-smoking aids, according to the results of a large study in England.

The research, funded by the charity Cancer Research UK and published in the journal Addiction on Thursday, analysed success rates of several common stop-smoking methods – including e-cigarettes, nicotine replacement therapy (NRT) patches and gum, and Pfizer's varenicline, sold as Champix in the UK.

It also adjusted for a wide range of factors that might influence success rates for quitting – such as age, social level, degree of cigarette addiction, previous attempts to quit, and whether quitting was gradual or abrupt.
And JUUL hit back at dubious Twitter study – Fergus Mason
There are signs of growing opposition to the USA's demented war on tobacco harm reduction, with state politicians in California working to reach a compromise that will protect children while letting smokers access safer alternatives. Their counterparts in Arizona have gone a step further and are trying to block towns and counties from imposing any more anti-vaping laws. However, opponents of harm reduction continue to spread misinformation and push for tougher restrictions.
---

---
Dave Cross, Planet of the Vapes
Rachel Rosen is a graduate student in the Department of Psychology at Rutgers Robert Wood Johnson Medical School, where Marc Steinberg works as an associate professor of psychiatry. Together, they have published a letter in Nicotine & Tobacco Research journal focussing on the number of vapers who would like to quit.

Given that the press release conflates vaping with the act of smoking is pretty damning as to its overall integrity. The Department of Psychology at Rutgers doesn't manage to hit the heights of top choices for prospective students in New Jersey, and so the research has all the modesty of a hysterical child bellowing in a supermarket frozen food aisle while wearing a T-shirt emblazoned with the words "Why won't anybody pay attention to me?!"
Dave Cross, Planet of the Vapes
Journalists, especially those in the States, pick up their pens, pencils and poison when the name JUUL is associated to a story. While wanting to be seen as earnest, many are questioning the actions as the company fights to secure its future and extend its reach. But then, it has been said, "the only thing worse than being talked about is not being talked about".
"There are only two tragedies in life: one is not getting what one wants, and the other is getting it"
San Francisco is the scene of a major battle in the making. If the attacks on flavours and device sales weren't enough, legislators also moved to prohibit "nicotine companies" from leasing city property.
---
---
Dave Cross, Planet of the Vapes
A paper in the British Medical Journal (BMJ) has caused a flurry of worry about tobacco companies influencing politicians and the parliamentary process. In particular, links between the Institute of Economic Affairs (IEA) and Conservative politicians has come under the spotlight – but is it fair attack people if they haven't received money directly from tobacco companies?
Before considering the BMJ piece, the concept of 'Six Degrees of Separation':
Dave Cross, Planet of the Vapes
The true, ugly face of the vaping epidemic that has gripped a school in America has been revealed. Others from around the world are sharing it as evidence that their institutions are suffering from the same fate. It is shocking and readers of a nervous disposition are advised to skip to the next article.
The Food and Drug Administration's focus group told them to tell the world that America had a teen vaping "epidemic". The Surgeon General, lobby organisations and billionaires gladly used the word in press releases that were lapped up by eager pet journalists. Thanks to a recent exchange on social media the picture is now clearer than ever.
---

---
ATHRA
The study published in the journal Addiction reported on 18,929 smokers who had made a serious quit attempt in the previous 12 months over the period 2006-2018. Vaping increased quit rates by 95% and varenicline increased quit rates by 82% compared to no treatment.

Of all the available treatments, the highest quit rates were from vaping and varenicline

Nicotine replacement therapy (nicotine patches, gum etc) on prescription increased quit rates by 34% but when these products were purchased over-the-counter they were not effective at all.
Jim McDonald, Vaping 360
A bipartisan Tobacco 21 bill has been introduced in the Senate, and will likely become the first major tobacco legislation to be passed since the 2009 Family Smoking Prevention and Tobacco Control Act that gave the FDA regulatory authority over tobacco products.

The bill is co-sponsored by Republican Senate Majority Leader Mitch McConnell of Kentucky and Virginia Democrat Tim Kaine. Called the Tobacco-Free Youth Act, the legislation is the fifth Tobacco 21 law proposed during this session of Congress.

The McConnell-Kaine bill would makes sales of tobacco products (including vapes) illegal to those under 21, and would require states to pass their own Tobacco 21 legislation. States that don't pass T21 laws will be denied federal grants to fund substance abuse programs.
Generated particles for the evaluation of lung cancer risk of active and passive users
Mauro Scungioa, Luca Stabilea, Giorgio Buonanno
Electronic cigarettes (ECs) are perceived to be safer than traditional tobacco cigarettes because of the absence of combustion processes. The use of these devices, however, exposes the users ("vapers") and passive "vapers" to possible high concentration of fine and ultrafine particles (UFPs) which can deliver toxic and carcinogenic compounds. In the present work, an experimental campaign was carried out using dedicated instrumentation in order to characterize both the aerosol emitted from ECs and the exposure to second hand EC smoke in a typical indoor microenvironment in terms of particle number and surface area concentrations.

Of Quebec's Anti-Vaping Law – Brent Stafford
A Superior Court judge invalidates key provisions of Quebec's Tobacco Control Act, which promulgated harsh new regulations and fines, seemingly intended to eviscerate the vaping industry.

The ruling comes after a three-year legal challenge spearheaded by the Canadian Vaping Association, which argued the vaping restrictions infringe on the "right to security of the person" and "freedom of expression" under both the Canadian and Quebec charters of rights and freedoms.
Trying to increase the legal smoking age to 21?
Four separate bills were announced last month to increase the tobacco age nationwide, but a KSL investigation has uncovered evidence linking all but one of those bills to Altria, the company that owns Philip Morris, Marlboro, and a significant stake in JUUL.

That includes a bill announced yesterday by Senate Majority Leader Mitch McConnell, R-Kentucky, and another co-sponsored by Utah's own Rep. Chris Stewart and Sen. Mitt Romney, also Republicans.
A California bill to ban flavored tobacco products, aimed at reducing the use of electronic cigarettes by minors, was shelved Thursday after the author said it had been watered down so much with exemptions that it was now opposed by public health groups.

Under intense lobbying from the tobacco industry, a Senate panel amended SB 38 against the wishes of its author to exempt hookah products and some flavors that are commonly used in cigars and pipes.

State Sen. Jerry Hill (D-San Mateo) said he was abandoning the bill in light of what he called "hostile" amendments.
Dan Primack
Scott Gottlieb, who recently stepped down as the head of the Food and Drug Administration, has rejoined venture capital firm New Enterprise Associates as a full-time investing partner, Axios has learned.

Context: Gottlieb had been a venture partner with NEA before President Trump tapped him to lead the FDA, where he became known for cracking down on e-cigarettes and working to battle the opioid epidemic.
---
A look back at how things have moved on or otherwise….
Mawsley, Planet Of The Vapes
Clive Bates has been an outstanding advocate for harm reduction and vaping. He has been a thorn in the side of the anti-harm reduction zealots, and is always quick to puncture inflated claims in dubious studies. He attended the US Ecig Summit 2018 and vented truth and humour in equal measure in a masterful speech.

Clive opens up by painting the picture of the rant to come: "My effort today is to try to use a series of questions to interrogate controversies about flavours and Juuls, and about things like that."

Before you think we are being unkind by calling it a rant, he calls it as much himself, "I go off on one" he writes on social media.
Harry Shapiro, Nicotine Science and Policy
Until recently the US Federal Government has refused to support funding for drug harm reduction interventions. The opioid crisis, which has hit the USA in the past 10 years, has changed official thinking. The National Institute for Drug Abuse report that the U.S. has experienced significant increases in rates of neonatal abstinence syndrome, hepatitis C infections, and opioid-related emergency department visits and hospitalisations. Most alarming for the authorities are continued increases in overdose deaths, especially the rapid increase since 2013 in deaths involving illicitly made fentanyl and other high strength synthetic opioids.
---
Visit Nicotine Science & Policy for more News from around the World

---