Vapers Digest May 23rd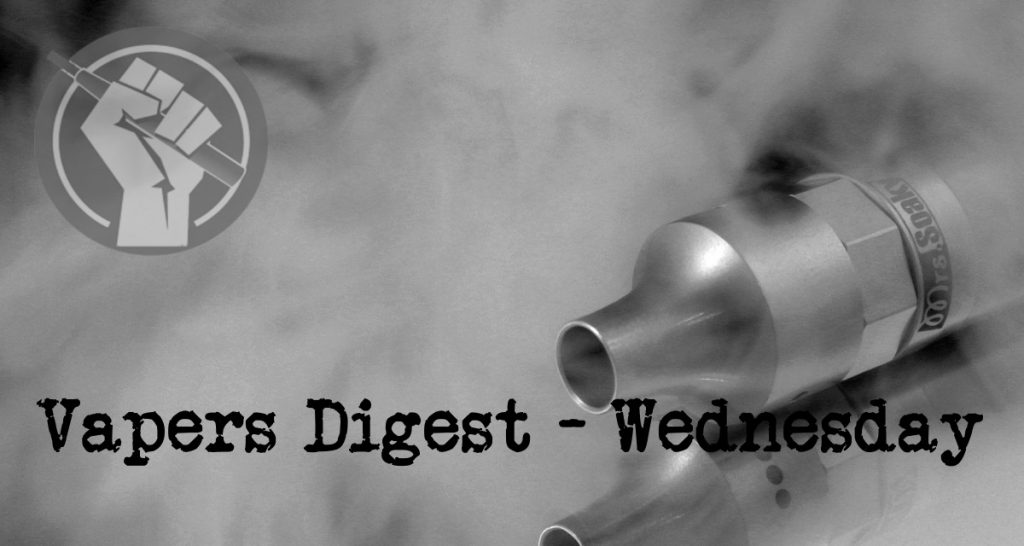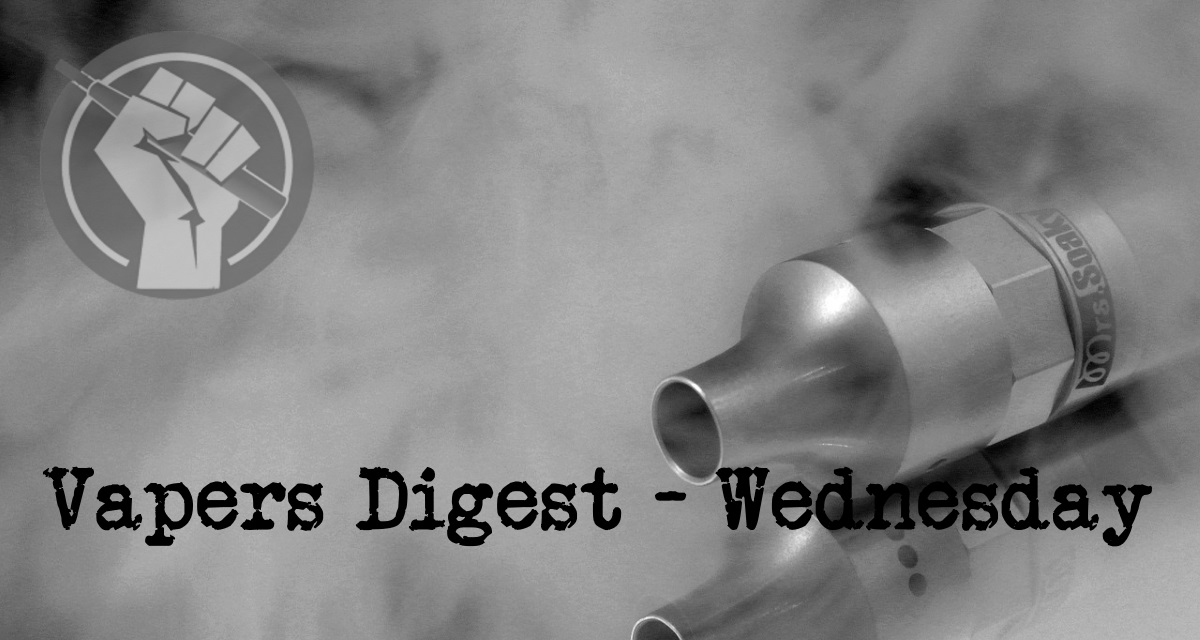 Wednesday's News at a glance:
Bates at US Ecig Summit 2018 ~ Harry's blog 60:  The wrong end of the telescope ~ The FDA should quit regulating nicotine cold turkey ~ Can You Vape to Death? ~ Pediatrics' Pants On Fire ~ YouTube's anti-vaping purge ~ Vape It | It's So Much 'Safer', Says Public Health Policy Strategist ~ Shift in tobacco regulation needed ~ ​E-cigarette and vaping ads coming soon to a TV, radio or newspaper near you
Mawsley, Planet Of The Vapes
Clive Bates has been an outstanding advocate for harm reduction and vaping. He has been a thorn in the side of the anti-harm reduction zealots, and is always quick to puncture inflated claims in dubious studies. He attended the US Ecig Summit 2018 and vented truth and humour in equal measure in a masterful speech.

Clive opens up by painting the picture of the rant to come: "My effort today is to try to use a series of questions to interrogate controversies about flavours and Juuls, and about things like that."

Before you think we are being unkind by calling it a rant, he calls it as much himself, "I go off on one" he writes on social media.
Harry Shapiro, Nicotine Science and Policy
Until recently the US Federal Government has refused to support funding for drug harm reduction interventions. The opioid crisis, which has hit the USA in the past 10 years, has changed official thinking. The National Institute for Drug Abuse report that the U.S. has experienced significant increases in rates of neonatal abstinence syndrome, hepatitis C infections, and opioid-related emergency department visits and hospitalisations. Most alarming for the authorities are continued increases in overdose deaths, especially the rapid increase since 2013 in deaths involving illicitly made fentanyl and other high strength synthetic opioids.
---

---
Raymond March

, Sun Sentinal
Jenni Sigler started smoking when she was 12 years old. By the time she was 33, she had tried everything to quit. Even with her health declining and her finances suffering, she remained a smoker.

Jenni's story is common. In 2015, nearly 70 percent of smokers in the United States tried unsuccessfully to quit. Their inability to stop comes with considerable health risks. According to the Centers for Disease Control and Prevention, smoking accounts for more than 480,000 preventable deaths per year. Health complications associated with smoking are also financially taxing, leading to nearly $170 billion in direct medical costs annually.
Daniel Kolitz, GizModo
I never thought I'd see the day, but vaping—the bejeweled fedora of nicotine delivery methods—is starting to seem a lot less ridiculous. Or, at least, somewhat less ridiculous. Juuling teens are still reliably funny. But at the same time, there are real, credentialed doctors out there making a case for vaping as a viable alternative to conventional smoking. One doctor, speaking to the New Yorker, claimed that if 10% of the cigarette smoking population switched over to e-cigs, 6.6 million lives would be saved. Of course, we're still unclear on what the long-term risks might be—some studies have suggested that e-cig vapor can be carcinogenic, and contain arsenic and lead. So if we're all going to switch over to vaping, it might be useful at least to know, in the short-term, if it could possibly kill you.
---
@BrineMinister @ASH_LDN @CRUKLondon @LindaBauld

UK donates £millions to @WHO and @FCTCofficial and this is how they treat a respected consumer organisation @NNAlliance :- shameful! pic.twitter.com/OdJDcy0Wdj

— Alan Beard (@Alan_Beard1) May 23, 2018
---
Well, they're already excluding consumer orgs that AREN'T industry funded or led; pic.twitter.com/141dmPydzq

— John Summers (@jsummers71) May 23, 2018
---
Mawsley, Planet Of The Vapes
If last week's tale of UNICEF slating Stanton Glantz and the Pediatrics journal wasn't bad enough, the American Academy of Pediatrics (AAP) magazine publishes a shockingly poor work of pseudo-science. Four AAP members claim to have identified vaping as the cause of an incident of "wet lung".

All doubt has now been removed that AAP members care for truth, the scientific process or honouring their commitment to the Hippocratic oath to "do no harm". In promoting 'Hypersensitivity Pneumonitis and Acute Respiratory Distress Syndrome From E-Cigarette Use', the AAP has doubled down on the disgusting use of fear tactics to pursue a campaign against vaping and vapers.
---

---

(Video)
Brent Stafford, Regulator Watch
All hope is not lost when it comes to public health and its perception of vaping in Canada.
In the final installment of our "Forgotten Crisis" series—shot on location at the B.C. Centre for Disease Control. Public health consultant Penelope Hutchinson shares her transformative story from vaping skeptic to vaping advocate. And, how vaping doesn't have to be "zero safe" in order to be "so much safer" than smoking.
---

---
Moon Ok-ryun, Korea JoonGangDaily
Enforcement of strong anti-smoking policy is necessary to lower the smoking rate. The World Health Organization recommended the member countries to lower the smoking rate to 30 percent or less by 2020 in the Framework Convention on Tobacco Control in March. The plan promotes a strict anti-smoking policy of "quit smoking or die," but the effect is doubtful.

According to the 2017 local community health survey published by the Korea Centers for Disease Control and Prevention, 39.3 percent of adult males in Korea are smokers. It is one of the highest among the OECD members and far higher than the WHO recommendation.
The federal government's new Tobacco and Vaping Products Act will force tobacco companies to use plain packaging, but it also opens up a world of advertising possibilities for vaping liquids and e-cigarettes.

The new law, which received royal assent last week, legalizes and regulates what had been a "bold, black market," said David Hammond, the Canadian Institutes of Health Research's chair in applied health and professor at the University of Waterloo.
---
A look back at how things have moved on or otherwise….
Clive Bates – The Counterfactual
The World Health Organisation does a good line in war-like rhetoric when it comes to tobacco policy. But what is it actually at war with? In this post, I examine the confusion in 'tobacco control' about what it is actually trying to achieve.
A study of parental and carer views on the use of electronic vaporising devices by their 11-18 year old children
Thank you for taking part in this survey which is being conducted by researchers in the School of Psychology at the University of East London in collaboration with London South Bank University, the University of East Anglia; and sponsored by Cancer Research UK.
---
Visit Nicotine Science & Policy for more News from around the World

---