Vaping Digest March 15th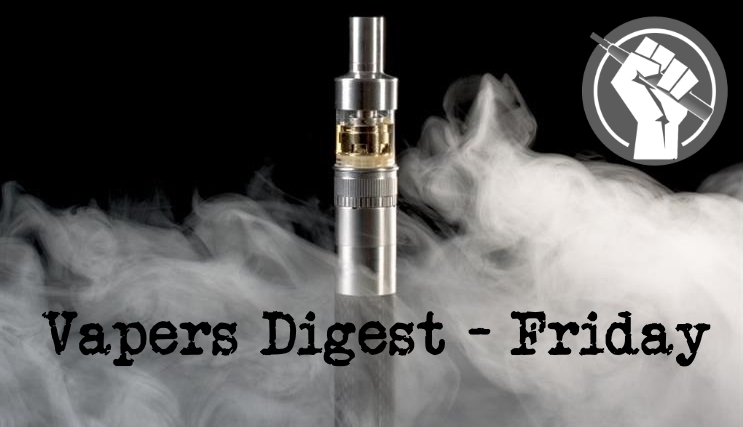 Friday's News at a glance:
NNA Call To NHS Trusts – Teen Vaping: What the Numbers Say – FDA's Campaign Against Tobacco Retailers – FDA Announces New Restrictions – Meet Scott Gottlieb's Successor at FDA – Vaping Parents Attacked – Selbie Hits Back – No Smoking Day Kerfuffle – Good on Hamilton for rejecting vaping ban – Ontology Webinar – Wealthy Vapers In India – Vaping saving lives and money – Nicotine Science and Policy Daily Digest
Dave Cross, Planet of the Vapes
A report was released by the government last August and declared to be "a beacon of enlightenment". Part of this document highlighted the woeful manner in which NHS patients were being treated, particularly in mental health settings. The New Nicotine Alliance (NNA) believes that, six months later, NHS Trusts are still to act on the recommendations.

The report stated: "NHS England should set a clear central NHS policy on e-cigarettes in mental health facilities which establishes a default of allowing e-cigarette use by patients unless an NHS trust can show reasons for not doing so which are demonstrably evidence-based."
Lee Johnson, Ashtray Blog
"There is an epidemic of youth vaping!" They say, showing a picture of a JUUL or pod-style device in the hands of someone too young to legally buy it.

They release ominous videos telling us that vaping "reprograms your brain" and warn of the spectre of a gateway to smoking at every opportunity.

They want parents to be scared, and they apparently don't want teens vaping under any circumstances.
---

---
Doesn't Hold Up to Inspection – Brad Rodu
Today Dr. Scott Gottlieb announced a draft compliance policy predicting that ""some flavored e-cigarette products will no longer be sold at all…other flavored e-cigarette products that continue to be sold will be sold only in a manner that prevents youth access…" (here)

Gottlieb has blamed a so-called youth vaping "epidemic" on illegal retail sales and "kid-friendly marketing." (here)  Last week he spotlighted Walgreens, saying that 22% of its stores had illegal sales of tobacco products to minors "since the inception of the FDA's retailer compliance check inspection program in 2010."  He also listed 14 other national retail chains that had violation rates of 15% to 44%. 
Interest representation groups for continuously stricter vaping regulations
Siemon Vermetten
Lobbying can only be a tool of democracy if equal opportunities are granted to all parties involved in the activity. Today dozens of anti-smoking organizations are being funded by the EU to lobby for the same strict vaping policy objectives.

According to Wikipedia, The European Commission defined interest representation as: "all activities carried out with the objective of influencing the policy formulation and decision-making processes of the European institutions".
---
Beim deutschen Händlerverband VdeH scheint es zu rumoren. In Großbritannien wird die E-Dampfe zum nationalen Nichtrauchertag von dortigen Gesundheitsorganisationen empfohlen.

weiterlesen:… https://t.co/Zb9jYkCKUy

— IG-ED (@ig_ed) March 15, 2019
Does the public health standard not require FDA to base marketing authorization decisions on a weighing of the risks & benefits of pod-based ecigs to the whole population?

Does FDA hold data on the number of adults who have quit, relapsed & initiated smoking through pod vapes? https://t.co/xdl338wBUo

— Christopher Russell (@NicotineSurveys) March 14, 2019
---
Jim McDonald, Vaping360
Nearly four months after announcing it, the FDA has finally issued guidance on the sale of flavored vaping products. The new guidance could be the last vaping-related policy decision by Commissioner Scott Gottlieb, who recently announced his resignation. The FDA announced yesterday that NCI director Ned Sharpless will take over as acting commissionerin April.
Jim McDonald, Vaping 360
Dr. Norman E. "Ned" Sharpless, currently the director of the National Cancer Institute, will temporarily fill the role of FDA commissioner beginning next month when Scott Gottlieb steps down. Gottlieb announced his resignation last week.

Health and Human Services secretary Alex Azar announced the appointment Tuesday.

"Dr. Sharpless' deep scientific background and expertise will make him a strong leader for FDA," said Azar. "There will be no let-up in the agency's focus, from ongoing efforts on drug approvals and combating the opioid crisis to modernizing food safety and addressing the rapid rise in youth use of e-cigarettes."
---

---
Four from Dave Cross, Planet of the Vapes
National No Smoking Day takes place every year takes place on the second Wednesday in March; it is intended to help smokers who want to quit smoking. Philip Morris' managing director appeared on a daytime television show to voice his support for the annual health awareness day as pension and insurance funds pull out of tobacco stock.
This year's event began with good news for pregnant women in Suffolk. Extra resources are being directed to help them at Ipswich Hospital. Stop Smoking in Pregnancy Lead Julie Newman said: "Our team at OneLife Suffolk are trained to deliver a specialist, non-judgemental and supportive service to work with pregnant women and their family and friends to stop smoking.
American researchers have had another pop at adult vapers in new research this week, in a paper titled: "Parental Smoking and E-cigarette Use in Homes and Cars". The team included serial mouse-poisoner and hysteria fan Deborah Ossip, who only last week was making fake claims about vaping causing wheezing.
The study has been published by the American Academy of Paediatrics in its journal "Pediatrics". The team was led by Jeremy Drehmer, and included Deborah Ossip for her "substantial intellectual contributions".
Vaping has been blamed for a rash of ailments despite little or no supporting scientific evidence. A Bristol CDB user broke out in a rash in a story that was picked up by Fox News in the United States. This happened at the same time as a Senator claimed vaping caused "instant popcorn lung" in a child despite Cancer Research UK saying this is impossible.
Lisa Santiago-Griggs suffers from a painful back and has be self-administering CBD capsules. For unexplained reasons, she decided to pop into a local vape shop and purchase a starter kit so she could vape CBD instead. Prior to this, Santiago-Griggs says she has never smoked or vaped, which makes the decision to change from capsules seem odd.
Some sections of the media had a field day following the publication of the latest electronic cigarette evidence by Public Health England. Despite being clearly laid out, newsroom decided to invent or distort facts to suit a desire for website hits more than propagating factual information. Public Health England's Duncan Selbie has spoken up to put them right.

New Zealand
Hamilton City Council has voted to keep vaping out of its smokefree policy following a debate on the city's Smokefree And Vapefree Outdoor Areas Policy and Smokefree Plan.

All but one city councillor agreed on 14 March to remove all references to vaping in the city's smokefree policy, despite a recent committee endorsement for vaping to be included in Hamilton's plan. The full council agreed to review its decision in 12 months' time.
A new study has found billions of dollars will be saved if e-cigarettes remain freely available.

The University of Otago study shows liberalising the rules around vaping products has led to a gain of 236,000 life years for the general population, and savings of $3.4 billion in the health system over their newly extended lifespans.
Lauren Back
Are Buying Juul Kits For $100 On The Gray Market
Juul is experiencing an unintentional bump in popularity in India, thanks to online and brick-and-mortar vendors who are reselling it on the unofficial gray market. Indian vendors told BuzzFeed News that the trendy e-cigarettes are flying off their shelves, at high prices, amid a lack of regulatory clarity around e-cigarettes in general in the country. While there is no federal ban on vape sales, the devices can't be sold in a growing number of states in India and the health ministry has asked the commerce secretary to ban the entry Juul products into the country.
Jim McDonald, Vaping 360
In the early morning hours of March 11, two burglars broke into a Winnipeg, Manitoba vape shop, and managed to steal a few mods, break a lot of glass, and in the process create a hilarious viral video.

The Flamingo Vape location on Pembina Highway in Winnipeg was the thieves' target. They broke the front door glass and walked in just after 1:00 a.m., with crowbars and sledgehammers in hand….
---
A look back at how things have moved on or otherwise….
Lega Italiana Anti Fumo

Tuesday 20 March at 12.30 am in European Parliament (Room JAN 6Q1) will be held the event: "Electronic cigarette and damage reduction: a potential step forward for European health".

Coordinator is Giovanni La Via, European Parliament.

PROGRAM

Agnieszka Kozakiewicz, European Commission
Riccardo Polosa, Institute of Internal Medicine and Clinical Immunology, University of Catania, Italy: "Health effects of vaping"
Linda Bauld, Professor of Health Policy, Director of the Institute for Social Marketing and Dean of Research (Impact) at the University of Stirling: "Youth and vaping. Gateway in or out of smoking"
Frank Baeyens, professor of experimental psychology at the KU Leuven: "Effectiveness of electronic cigarettes for smoking substitution"
Bernd Mayer,  Professor of Pharmacology and Toxicology at University of Graz, Austria: "Nicotine, everything you need to know but have never been told"
Karl Fagerstrom, Clinical psychologist of Smokers Information Centre, Sweden: "Accelerating the end of the tobacco epidemic. Tobacco harm reduction"
Harry Shapiro, Nicotine Science and Policy
I know there are some readers of this blog who are unfamiliar with the happy-go-lucky world of international tobacco control. Here is a snippet of back story. Derek Yach was formerly an important figure in WHO tobacco control circles until he recently became head of the Foundation for a Smoke Free World (FSFW) funded in a very transparent way by Philip Morris International.

Not surprisingly, this sparked howls of outrage from many in the tobacco control community. OK. Fair enough – be outraged and move on. OR maybe take a more grown up approach.
---
Visit Nicotine Science & Policy for more News from around the World

---