Vapers Digest March 7th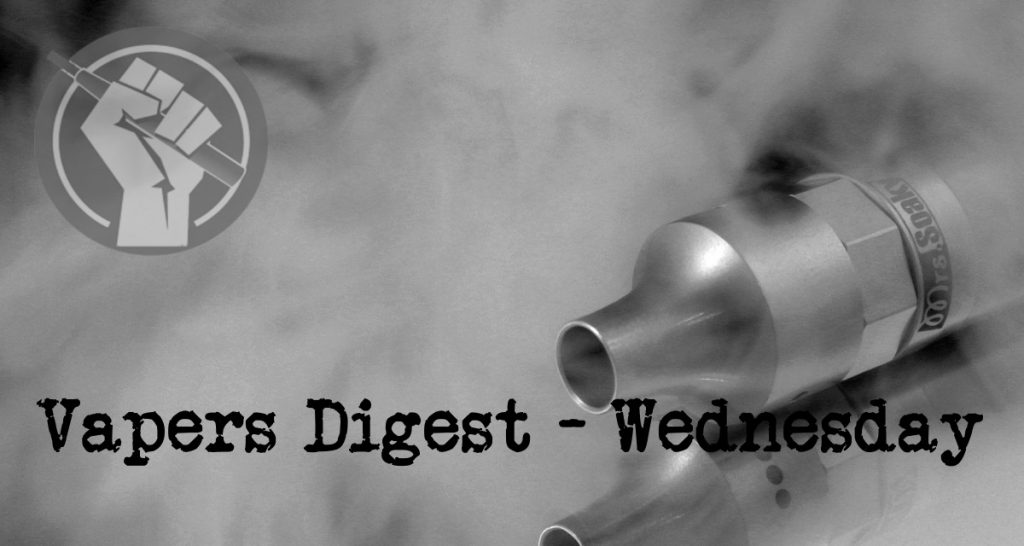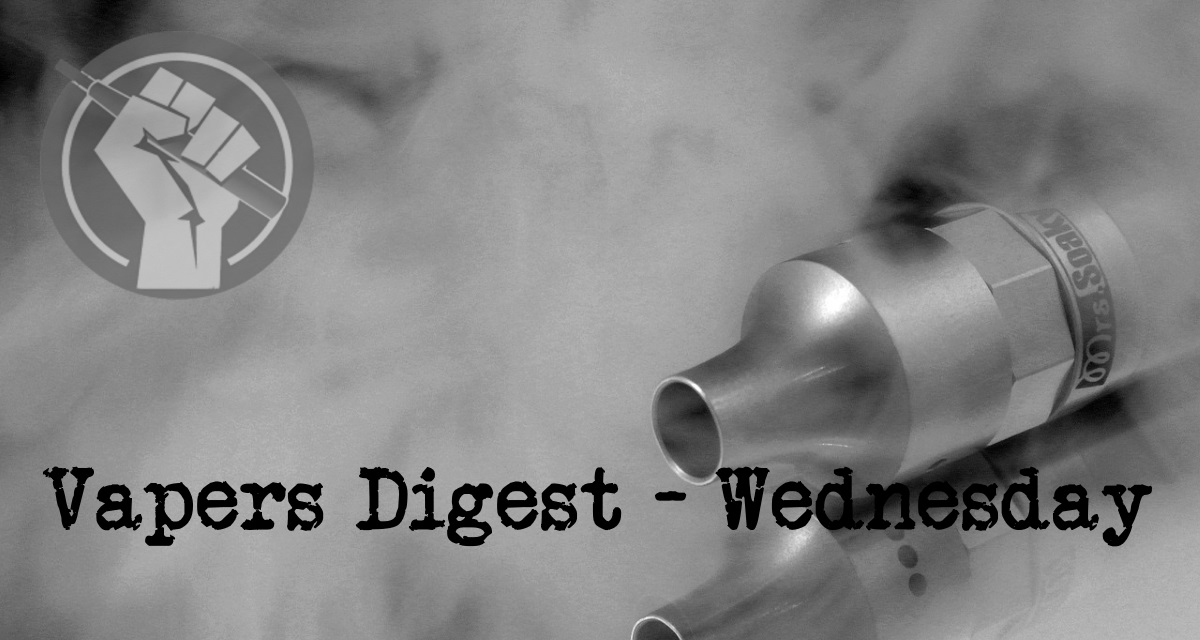 Wednesday's News at a glance:
Do flavoring compouds contribute to aldehyde emissions in e-cigarettes? ~ Tobacco control and the tobacco industry – a failure of understanding and imagination ~ Conference on Tobacco (or Health) Doesn't Embrace Harm Reduction ~ Knackered, but news of a new type of Electrofag ~ Written evidence submitted by Clive Bates ~ Why NNA supports all forms of tobacco harm reduction ~ CASAA Newsletter – March 2018 ~ The e-cigarette industry: The most unfairly treated industry in history ~ Guest column: Vaping may reduce harm to smokers ~ Is it possible that nicotine is not the cause of any withdrawal symptoms ~ Lafayette City Council votes to ban e-cigarettes
Konstantinos E. Farsalinos, Vassilis Voudris, Science Direct
Highlights:

A recent study found that flavourings are the major source of aldehyde emissions in e-cigarettes.

This replication study found aldehyde emissions lower by up to 589-fold compared to the previous report.

Unflavoured liquids also emitted aldehydes using the same e-cigarette devices.

Minimal differences were observed between flavoured and unflavoured liquids.Heading 3
Clive Bates, The Counterfactual
Tobacco control activists and academics are gathering in Cape Town for the World Conference on Tobacco or Health 2018 (#WCTOH2018).  High on the agenda is the role of the tobacco industry and how to fight it (e.g. see this session:"Breaking Big Tobacco's Grip").

In a guest posting below, David Sweanor provides an alternative perspective they are unlikely to hear discussed much at their conference.
---

---
Paul Barnes, Facts Do Matter
It is that time of year where all roads lead to a large, taxpayer-funded shindig of tobacco control troughers, hangers-on, activists and prodnoses. This time, the World Conference on Tobacco or Health (WCTOH) heads to Cape Town to discuss the latest "science", policies, ideas and general authoritarian principles associated with tobacco control.

Interestingly, the UK felt it necessary to send 35 delegates to the conference, all funded by the taxpayer (natch) to the tune of £250,000. Naturally, the usual suspects are there to talk about the various policies that are considered to be "successful" in driving down the smoking rate.
---
Cute effort. But big difference then and now: disruptive technology! I anticipated that in my SRNT 2005 talk https://t.co/4HKFC1w3vu We never had millions of smokers switching to reduced risk products. Every legacy sector is seeing tech led transformation for good. #WCTOH2018

— derek yach (@swimdaily) March 7, 2018
---
, Underdogs Bite Upwards
It pissed down all day yesterday. Since the concrete area outside slopes towards the house, the water from that and all the roof drains into a trough outside the door and combined with the melting snow, there is now an inch of water in the utility room. I have given up trying to mop it. I'll get the wet vac out today.
---

---
Clive Bates
Submission in response to a letter to the Committee from the Secretary of State regarding oral tobacco
I am Clive Bates, a consultant in sustainability, a former senior civil servant and former Director of Action on Smoking and Health (UK). I have no competing interests. I write in response to a statement provided to the Committee by the Secretary of  State for Health and Social Care, published on 20 February 2018 1. The statement provides background on the government's approach to the prohibition on oral tobacco products, often known as 'snus', and the ongoing legal challenge to this ban in which the UK is a defendant. The import, manufacture and sale of oral tobacco is prohibited in the European Union under the 2014 Tobacco Products Directive 2.

New Nicotine Alliance
The start of 2018 has seen a flurry of activity in the tobacco harm reduction sphere, with many potentially significant events taking place in relation to several different products. In light of this, it is worth revisiting the NNA's stated aims to reinforce why we are central to this debate and supportive of Tobacco Harm Reduction in all its forms.
---

---
Alex Clark, CASAA
Welcome back to CASAA's Newsletter. We know it's been several months since we last sent this out, but we are once again able to devote resources to delivering this to your inbox monthly. We hope you'll find our March update useful and informative.

On a personal note, February marked my five-year anniversary of switching to vapor products and becoming smoke-free. As some may remember, 2013 marked the start of vaping's meteoric rise in popularity. In fact, between 2013 and 2015, CASAA membership skyrocketed as consumers became aware of the regulatory threat from the FDA and state laws that jeopardize our access to these life-saving products.
David Boulton, Vapetrotter News
When you think about global industries it's quite rare that you can say you helped to build and shape one. But that's exactly what we're all doin, albiet with a lot of unwarranted barriers.
Dr. Michael Siegel, The Bulletin
A January 2018 report from the National Academies of Sciences, Engineering and Medicine concluded that substituting e-cigarettes for conventional cigarettes reduces users' exposure to many chemicals and carcinogens. Simply put, the report found that cigarette smokers who become "vapers" will likely live longer and experience fewer negative health consequences
Chris Price, Quora
Cigarette smoking creates complex dependence profiles, and it is likely that any 10 smokers chosen at random will show a number of different dependencies if these were to be comprehensively analysed.

Dependency breaks down into two main types: psychological and chemical. A subject may show elements of both, or one only. The most common group of dependencies is probably centred in the mixed chemical range of dependence: a strong dependence on a mix of compounds with their attendant synergy including boosted and potentiated nicotine (pH adjustment plus MAOI potentiation) plus any one or more of at least 20 candidates, from one of the other alkaloids such as anatabine, to carbon monoxide.
WLFI Staff Reports, WLFI
The Lafayette City Council voted a second and final time Monday night to add e-cigarettes to the city's smoking ban.
---
A look back at how things have moved on or otherwise….
Head Rambles
I wrote a little piece last week on the history of The Tobacco Wars. Reading back on it I realised it was getting a little confusing even to me, and I wrote the damn thing. Maybe I should try to simplify things?

OK.  First of all we had the Kingdom of Pharma, where the people were very jealous and greedy.  They would do anything for cash, and such minor trivialities as morals were of no consequence.  They made their income by enslaving people from other kingdoms in the name of their religion – Health.
Ian Craig – South Wales Argus
PLANS to ban the use of e-cigarettes in public in Wales will take a step closer next week.

AMs will discuss the plans to ban the activity in schools, hospitals, places serving food and public transport on Tuesday and Wednesday, with a final vote to be taken on March 15.
Peter Black
I have just come back from a visit to a local business that produces vaping products. We will be voting soon on the Public Health Bill that proposes to ban the use of vaping products in certain public places. The Welsh Liberal Democrats and I are opposed to these measures as we do not believe that they are evidence-based.
---
Visit Nicotine Science & Policy for more News from around the World

---