Vapers Digest 8th February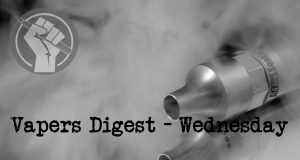 Wednesday's News at a glance:
Swedish Snuff (Snus), Cigarette Smoking, and Risk of Type 2 Diabetes ~ Innco Weekly Issue | Feb 6th, 2023 ~ SOTU: If Biden Was Serious About Reducing Cancer, He'd Embrace Tobacco Harm Reduction – Not Oppose It ~ The Western War on Vaping is Harming Public Health ~ International Green Light For Vapes As Kenya Lags In War On Smoking ~ Teenagers are being sold banned vaping devices containing up to 3,500 puffs, investigation shows ~ Grocery tax for tobacco tax: new bill would increase price of cigarettes, cigars to allow for tax-free groceries
Olga E.

 

Titova

PhD,

John A.

 

Baron

MD, PhD, 
Tove

 

Fall

PhD, 

Karl

 

Michaëlsson

MD, PhD, 

Susanna C.

 

Larsson

PhD,
Science Direct, American Journal of Preventive Medicine
Introduction

Cigarette smoking is a known risk factor for Type 2 diabetes, but evidence regarding former smoking and moist snuff (snus) use and Type 2 diabetes risk is inconclusive. This study investigated the relationships of cigarette smoking and Swedish snus use with the risk of Type 2 diabetes in a cohort of middle-aged and elderly participants.
Innco
Hi Dear Friends,

We hope you are doing amazingly well. The deadline to complete the case studies has been extended to February 12th. If you still need to finish, please do it before this date. With COP10 coming this November and a recent increase in the backing to push against harm reduction alternatives, we must have the necessary tools to demonstrate our arguments.

If you haven't seen the paper published by Tomasz Jerzyński, Jessica Harding, and Gerry Stimson regarding consumer organisations that advocate for the adoption of and access to safer nicotine products, their history, legal status, membership, structure, objectives, working methods and activities, and funding., we strongly encourage you to do so. You can check it out here.
---
Tim Andrews, Americans for Tax Reform (ATR)
"If President Biden was serious about cutting cancer, he would accept the science and take action to reduce smoking rates through proven harm reduction policies. Instead, Biden's FDA is doing the exact opposite," said Tim Andrews, ATR's Director of Consumer Issues. "The evidence is clear – harm reduction works, prohibition doesn't. But rather than help slash the number one leading cause of preventable cancer by helping people quit smoking through reduced risk alternatives, President Biden continues to seek prohibitions we not only know don't work, but we also know will come with tragic consequences."
---
*NEW* THR 101 information sheets you can download and print from the @Protectaxpayers Consumer Center – @lmstroud89 @NannyFreeState and @KimMurrayTPA. Fight #Misinformation with the #Facts! https://t.co/eyIMHonpUF

— Skip Murray (@imaracingmom) February 6, 2023
---
The illegal vape trade all over Australia is flourishing. Legal businesses are now being forced to close. https://t.co/y5DOl8jD93

— Legalise Vaping Australia (@LegaliseVaping) February 8, 2023
---
The Tobacco Harm Reduction Summit Spain 2023 is open for registration. Featuring THR experts from around the world, the summit is not to be missed. It takes place on 23 February and is free to watch online & attend in person, in most cases.https://t.co/rUbEwVMUEg

— European Tobacco Harm Reduction Advocates (@europethra) February 7, 2023
---
https://twitter.com/cjsnowdon/status/1623298594965954562
---
Policy Watch Africa
MAJOR new international health advice shows Kenyan policymakers are falling further behind the rest of the world in the battle to reduce the toll from smoking cigarettes, the Campaign for Safer Alternatives (CASA) warns today.

The Canadian federal health agency has updated its website to include several positive statements about alternative nicotine products and to dispel myths conveyed by activists opposing the latest technology that has been proven to reduce deaths from smoking.

CASA chairman Joseph Magero says: "Countries around the world are following the science that shows alternative nicotine products, such as tobacco-free pouches and e-cigarettes, can help millions of smokers to quit their habit.
---

---
Mary O'Conner, Daily Mail
Schoolchildren are buying illegal supersize vapes over the counter from local corner shops, a Mail investigation has found.

It is illegal to sell vapes containing nicotine to under-18s, but in some parts of the country many shops sell the devices to youngsters for around £5 – with no questions asked.

Some stores sell devices that are more than five times the legal size, giving young users up to 3,500 puffs instead of the legal limit of between 600 and 800.
---

---
Christopher Snowdon, Velvet Glove Iron Fist
In my fifteen years reading and writing about junk science, I have occasionally wondered if the day would come when a relative risk of 1% would be considered newsworthy. That day has finally arrived thanks to the Telegraph…
Stanford Study on Vaping & Covid – Brad Rodu
In August, I discussed a Stanford University study published in the Journal of Adolescent Health (JAH) claiming that young people who ever use e-cigarettes are five to seven times more likely to be diagnosed with Covid-19.  A group of harm reduction researchers subsequently wrote that the claims are implausible and the results "so suspect that any conclusions drawn from it [sic] cannot be relied upon…the paper should be retracted."
---
Visit Nicotine Science & Policy for more News from around the World

---