Vapers Digest 4th December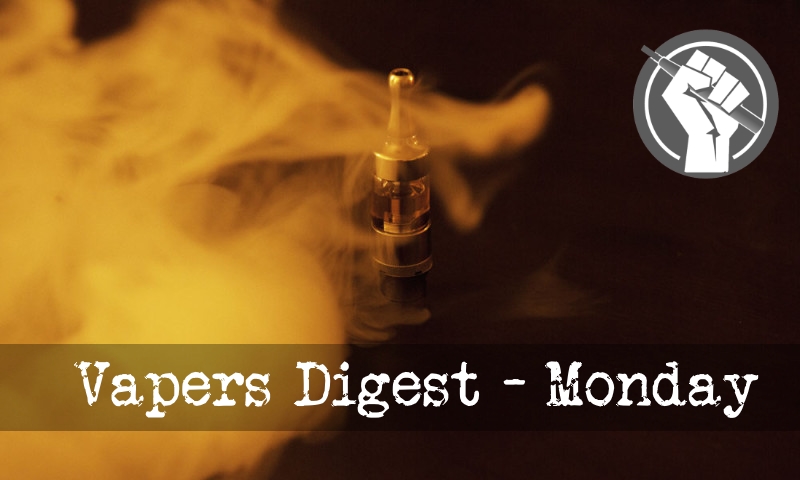 Monday's News at a glance:
Utter Waste Of Public Money – Chapman Called Out – New Tobacco Control Paper Recommends Vaping Without Realizing It – Nicotine poisoning is rarely serious – Gateway effect denial claims – CRUK: Vape For Mental Health – Letters of Intent for Early Scoping Work – Why is a Chicago suburb punishing teens that vape? – Feds Owe the Public 'Corrective Statements' – Scott 'volunteered' to lobby Pence – Vaping In The News – December 2nd – Nicotine Science and Policy Daily Digest
Dick Puddlecote
Just a quick one this. Let's lay to rest an inane argument that keeps repeating itself in ignorant comments sections and social media and has done for years.

On Friday, Mark Pawsey MP wrote an article on Con Home to say that vaping should be supported by government. As I was reading it, I just knew that someone would react like this … and in fact three did in the comments.
Mawsley, Planet of the Vapes
A survey in a national Australian newspaper comes out roundly against the continued banning of vaping. But, despite growing opposition at home and large opposition from abroad, Australians still can't easily access a product considered to be at least 95% safer than smoking – because of the actions of men like Chapman.

Anti-ecig campaigner Simon Chapman typifies the people who seek to influence their governments by distorting the truth and adding their own fiction into the mix. Only this time he has been rebuked for his duplicitous actions.
---

---
Recommends Vaping Without Realizing It
Carl V. Phillips, Daily Vaper
Tobacco controllers need to justify intentionally harming the people they claim to be helping. Even if only a few of them have pangs of conscience about inflicting harm and disregarding personal liberty, they still must convince policymakers to be complicit. Anti-tobacco policies have basically exhausted education (everyone knows the risks) and making "approved" smoking cessation aids available. This leaves only punishments as policy options, including taxes, lowering product quality…
And continues to decline each year – Dr Colin Mendelsohn
E-liquid poisoning is rarely serious and is continuing to decline each year, according to the latest data from the American Association of Poison Centres.

The Association collects data from 50 poison centres across the country.  In the first 11 months of 2017 there were 2,229 calls for exposure to e-cigarettes and e-liquid compared to 17,154 cases of exposure to hand sanitiser. The rate of exposure is continuing to decline over the last few years.
---
---
Mawsley, Planet of the Vapes
Cancer Research UK (CRUK), along with eleven other health bodies and charities interested in harm reduction, have urged authorities to embrace vaping for smokers who are being treated for mental health conditions. The group has produced a joint statement on electronic cigarettes.
The group consist of the CRUK, Royal College of Psychiatrists, ASH UK, Fresh, UKTAS, the Royal College of General Practitioners, Rethink, the University of York, the College of Mental Health Pharmacy, Breath, the Association of Mental Health Providers, and the National Centre for Smoking Cessation and Training.
Are a target-rich environment – Carl V. Phillips
I have repeatedly tried to explain what gateway claims mean — that engaging in one behavior causes another behavior (in the present context, that vaping causes smoking), what they do not mean, and what constitutes valid evidence for or against their existence. Why bother? As I noted in a recent piece on the topic, for The Daily Vaper (which links back to some of my more in-depth pieces), "most of the claims by vaping proponents that there is no gateway effect are also nonsense." Indeed, they create such a target-rich environment for criticism that even Simon Chapman can find the flaws.
---

---
Punishing teens that vape? – Jim McDonald
Laws vary, but most municipalities don't punish kids who vape or smoke. Usually the most severe penalties go to the retailers who sell adult products to minors. Face it, you'd have to be a really bored cop in a really boring city to spend your day arresting teenage vapers and smokers.

Welcome to Park Ridge, Illinois…
Foundation for a Smoke-Free World,
In our discussions with members of the public health community, it became apparent that some areas need more detailed scoping and development before the FSFW issues large-scale requests for proposals in 2018. Mindful that many complementary initiatives are underway, we seek Letters of Intent on this early scoping work from research organizations, academic institutions and other entities with relevant expertise, from organizations based in developed and developing countries..

Major tobacco companies, such as Altria and R.J. Reynolds Tobacco, have unveiled primetime television commercials and full-page ads in over 40 newspapers telling Americans something they already know: Smoking kills.

One ad says, "Altria, R.J. Reynolds Tobacco, Lorillard, and Philip Morris USA intentionally designed cigarettes to make them more addictive." Another reads: "More people die every year from smoking than from murder, AIDS, suicide, drugs, car crashes, and alcohol, combined."
On tobacco regulations for political donor – Matt Dixon
Shortly after the 2016 elections, Gov. Rick Scott promised a tobacco company — which had just given $50,000 to his political committee — that he would directly lobby Vice President Mike Pence on a regulatory issue that could cost the company millions of dollars.

The breakfast meeting with Scott was set up by Nick Iarossi, a lobbyist and Scott fundraiser, for his client, Jacksonville cigar giant Swisher International. The company wanted changes to FDA regulations.
Kevin Crowley, Vaping Links
Could Tobacco 21 increase smoking rates? ~ Ban on nicotine 'will do us more harm than good' ~ E-Cigarette Summit 5 – the return of the Summit ~ Tobacco Control Is Eating Itself ~ Plain Failure ~ Tobacco control through the lens of moral psychology ~ Public Invited to Shape Foundation for a Smoke-Free World's $1 Billion Research Agenda ~ Dr. Farsalinos Submits Official Complaint To FDA ~ Heat not Burn "as bad as smoking" says study – but what's the truth?
---
A look back at how things have moved on or otherwise….
New Nicotine Alliance
There is no case on principled or practical grounds to apply excise duties to vaping products and other products that offer a much safer alternative to smoking. The value to health and wellbeing associated with switching from smoking to vaping will exceed any benefits arising from revenue collection.

Just as it was with the Tobacco Products Directive, the inclusion of products which do not contain tobacco in the Tobacco Excise Directive is unhelpful and risks creating confusion in the minds of consumers.

If vapour and other reduced risk products are to be included in the directive then our view is as follows:
Dave Dorn – The Sun Also Rises
Prompted by a Twitter conversation, I am moved to explain why vapers habitually cite Aubergines (eggplant if you're USAnian) and other solanaceae in the dietary intake of that most addictive of all substances (it's more addictive than heroin, you know. Uh-huh), Nicotine.

Consider this tweet…
Peter Blackburn – BMA
An organisation that receives funding from three of the biggest tobacco companies in the world is providing support for the UK Parliament's APPG (all-party parliamentary group) on e-cigarettes.

The UKVIA (UK Vaping Industry Association) now provides the secretariat for the APPG, which aims to 'explore the most appropriate parliamentary and regulatory response to e-cigarettes and to raise education and literacy among policy makers regarding e-cigarettes and related public policy questions'.
---
Visit Nicotine Science & Policy for more News from around the World

---