Vapers Digest 4th August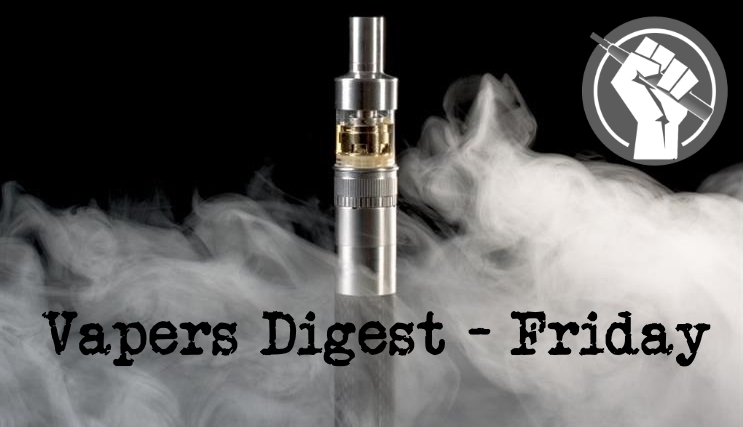 Friday's News at a glance:
The WHO's COP10 Takedown of Tobacco Harm Reduction Takes Shape – The WHO releases new report on the 'tobacco epidemic' and how to maintain it – Four in ten smokers wrongly believe – Misperceptions of Nicotine Causing Harm for Consumers – What the UK can learn from Sweden – The Healthy Truth is Free – Dawkins' Flavour Research – Totally Wicked Sponsorship Rebuke – House of Lords – Quebec Flavor Ban Will Begin Oct. 31st – FDA's Dubious Tobacco Policy – Oral Tobacco Use Linked to Slower MS Progression – Combating Misguided Hostility – Poor policy on tobacco and vaping supports organised crime – The Guardian makes some good points… – Tobacco Control Blocks Vaping Debate in Australia – BAT Talks Switching Smokers to Vapes
Of Tobacco Harm Reduction Takes Shape – Martin Cullip
Storm clouds continue to gather over the global future of tobacco harm reduction. New harbingers are constantly emerging as the World Health Organization prepares for the 10th Session of the Conference of the Parties (COP10) to the WHO's Framework Convention on Tobacco Control (FCTC). This is a treaty signed and ratified by 182 countries, originally drafted to tackle the harms of tobacco smoke.

In July I wrote for Filter about COP10 threats to products that have helped millions quit smoking. These threats could, in Panama City this November, become formal WHO policies with worldwide impacts. COP10's provisional agenda and other preparatory reports had previously been published, though were short on detail. But a recent flurry of documents has revealed more of the WHO's hostile strategy….
The 'tobacco epidemic' and how to maintain it – COPWatch
The World Health Organization released the 9th edition of its Report on the Global Tobacco Epidemic on the last day of July. The 8th edition, published in 2021, did not mention tobacco until page 9, instead beginning with "Electronic Nicotine Delivery Systems (ENDS) are addictive and not without harm" in large bold font and declaring that the devices should be strictly regulated.

To open with an intention to obstruct products which could alleviate the "tobacco epidemic" was an odd approach for the 8th report, but the new update carries on in much the same vein.
---

---
That vaping is as or more harmful as smoking – ASH
Earlier this year the Government announced a national 'swap to stop' campaign to offer 1 million smokers a free vaping starter kit together with behavioural support, to help them quit smoking. [2] Vaping combined with behavioural support is nearly twice as effective as medicinal nicotine replacement therapy, [3] so this evidence-based strategy could play a significant role in delivering the government's smokefree 2030 ambition.

However, the success of 'swap to stop' is threatened by growing concerns among smokers that vaping is as or more risky then smoking.

Among the 1.8 million smokers who are yet to try vaping 43% believe e-cigarettes are as harmful or more than smoking up from 27% in 2019.
---
---
Lindsey Stroud
Despite being on the U.S. market for more than a decade and a half, there is a lot of misinformation about e-cigarettes and nicotine and tobacco harm reduction.

A recent global survey of more than 15,000 doctors representing 11 different countries came to the alarming conclusion with 74 percent of participants "incorrectly [believing that] nicotine causes a range of illnesses from lung cancer to COPD." More recently, ABC News (and other outlets) picked up on updated guidelines from various public health trade associations (including the American Heart Association (AHA) and the American College of Cardiology), claiming that doctors "increasingly discourage vaping amid mounting health concerns."

Four from Dave Cross, Planet of the Vapes:
In 2021, Dr Colin Mendelsohn wrote a smoking cessation book containing "the healthy truth about vaping". Stop Smoking Start Vaping was widely recognised as a great contribution towards combatting the misinformation surrounding the use of electronic cigarettes. Now, anyone with an interest in vaping or using vapes as a way to quit tobacco use can access it in PDF form for free from Dr Mendelsohn's website.

Dr Mendelsohn is the Founding Chairman of the Australian Tobacco Harm Reduction Association charity (ATHRA) and a member of the Royal Australian College of GPs' national smoking cessation guidelines committee. He is actively involved in research, teaching and writing about smoking and vaping, with a commitment to evidence-based medicine.
New research looking at the impact of stop smoking text messages finds success through supporting smokers' flavour choices. The study "Co-production of a mobile phone text message programme to support people to stop smoking by switching to vaping" has been published by JMIR Publications and demonstrated a huge improvement in tobacco quit rates.

The work was conducted Vassilis Sideropoulos, Dr Eleni Vangeli, Dr Felix Naughton PhD, Professor Sharon Cox, Dr Daniel Frings, Professor Caitlin Notley, Professor Jamie Brown, Dr Catherine Kimber, and Professor Lynne Dawkins. The research team come from University College London, London South Bank University (LSBU), and the University of East Anglia.
Vape giant Totally Wicked has been defended from the unjust slurs thrown at it in the House of Commons during a recent debate. The comments relate to the tobacco harm reduction company's sponsorship of Blackburn Rovers Football Club and are laughable in the face of government inaction when it comes to the ongoing association between football clubs and gambling companies and ignored the difference between vaping and smoking.

Totally Wicked has a long-standing association with its local club and began sponsoring the Blackburn's training kit back in 2018. In 202, the relationship strengthened when Totally Wicked became a principal sponsor with the football club.
Lord Markham and Earl Russell spoke about vaping and tobacco harm reduction in the House of Lords. Earl Russell asked about claimed negative impacts of vaping on young people while Lord Markham raised the subject of reduced harm during a debate on lung cancer screening.

Liberal Democrat Earl Russell asked His Majesty's Government what assessment has been made of a claimed increase in vaping and vaping-related health conditions among young people.
---

---
About a smoke-free future – Richard Crosby
It's not often the UK places highly in Europe. Our men's national football team has never won a European tournament, we regularly jostle for the bottom spot at the Eurovision Song Contest and according to the World Economic Forum, even Moldova has better roads.

Yet there is one issue at which the UK – much to the apparent displeasure of the World Health Organisation – has proven to be adept. And that is slashing smoking rates.

We have one of the lowest cigarette consumption levels in Europe, helped in no small part by our decision to implement some of the methods used in Sweden, where a harm reduction programme has seen the smoking rate slashed by 55% in the last decade alone.
Jim McDonald
Quebec will soon ban the sale of vaping products in flavors other than tobacco (or unflavored). The new provincial health regulations also prohibit e-liquid sold in bottles with a capacity greater than 30 mL and prefilled devices that hold more than 2 mL.

The rules were formally published Aug. 2 in the official provincial gazette, and take effect 90 days after publication, on Oct. 31.

The flavor ban and other provisions were first announced in draft regulations published in April.
RegWatch
It's the number one vape brand by market share globally and the first to receive marketing approval by the U.S. Food and Drug Administration under the agency's PMTA pathway.
The brand is Vuse, and its owner, BAT, is one of the largest tobacco companies in the world.

Join us at the Global Forum on Nicotine in Warsaw, Poland, where RegWatch sits down with Danielle Tower, the Global Head of Scientific and Regulatory Affairs at British American Tobacco. Hear Tower's take on the pursuit of sound science, the ongoing battle against misinformation, and the company's mission to transform smokers into vapers.
Henry I. Miller, Jeff Stier
The Food and Drug Administration recently held an "Advancing Regulatory Science Through Innovation" forum to allow the public to "view the unique scientific research and collaborative efforts of FDA's 11,000 scientists." Intended to restore public trust in the agency, it was a bust in at least one important respect. It failed to address the broad public concerns that have arisen over the unscientific regulatory decisions of the agency's Center for Tobacco Products.

In December, the Office of Special Counsel alerted the president and Congress that the CTP "had relaxed its standards of review for certain tobacco products and stifled attempts by its scientists to raise concerns."
Linked to Slower MS Progression – Pauline Anderson
Oral tobacco use, also known as moist snuff, is associated with slower progression of multiple sclerosis (MS), a new study shows.

"Our finding that snuff use is not associated with worse disease progression indicates that nicotine replacement therapy could be an attractive way to increase the chance of quitting smoking post diagnosis," the investigators, with first author, Jing Wu, PhD candidate, Aging Research Center, Department of Neurobiology, Care Sciences and Society, Karolinska Institutet, Stockholm, Sweden, write.

Against Harm Reduction & Vaping – Michael Landl
In recent years, the topic of harm reduction and vaping has been surrounded by an unwarranted air of hostility. The World Health Organization (WHO) and its Director-General, Dr Tedros Adhanom Ghebreyesus, have again taken a stance against vaping in their latest "Report on the global tobacco epidemic, 2023." Unfortunately, this approach is misguided and ultimately detrimental to the goal of improving public health worldwide.

Let us be clear – the primary objective should be to reduce smoking rates and curb the devastating effects of tobacco consumption. However, the WHO continues to misdirect its energy toward attacking vaping, one of the most successful tools for smoking cessation.
Supports organised crime – Colin Mendelsohn
FLAWED GOVERNMENT POLICIES on tobacco and vaping have been major drivers of organised crime in Australia. High tobacco taxes and harsh restrictions on vaping have created rampant black markets run by criminal gangs, causing widespread harm and public concern.

Australia has the highest priced cigarettes in the world. A pack of 20 Marlboro costs $40 in Australia. The same pack is $24 in the UK and $13.50 in the US (all in AUD).

Cigarette excise has risen 5-fold over the last 15 years more than any other tax, and is now $1.28 per stick (including GST) or 65% of the retail price. This a bonus to the treasury, generating $13.8 billion in tax in 2012-22, more than petrol and alcohol combined. (Budget 2023-24 #1, p185). Further annual increases were announced in the last budget.
Tobacco Control Blocks Vaping Debate in Australia
There's no debate allowed on vaping in Australia, says Dr. Colin Mendelsohn, founding chairman of the Australian Tobacco Harm Reduction Association and practicing tobacco treatment specialist. Tobacco control is "impervious to evidence" and quick to cancel anyone who speaks to the positives of vaping.
But massively misses the bigger picture – Richard Crosby
The Guardian recently published an article that I can't entirely disagree with – it draws attention to the fact that nicotine pouches regulation is missing for under-18s – but seems to miss the big picture entirely. Not once does the article explain this is a harm-reduction product.

Influencers and freebies: Big Tobacco's push to sell nicotine pouches in UK: Health experts raise concerns over marketing for flavoured oral sachets that can legally be sold to under-18s
The Government's vaping strategy? Ask ASH!
Further to my previous post, which highlighted the fact that ASH is calling for a ban on the promotion and display of e-cigarettes in shops, the Independent today reports that:

In a survey of 12,271 adults carried out for ASH by YouGov, 43% thought vaping was as dangerous or more dangerous than smoking cigarettes.

Hazel Cheeseman, the increasingly high profile deputy CEO of ASH, said:
---
A look back at how things have moved on or otherwise….
Is Guiding Consumers Toward Smoking – Martin Cullip
A new American Cancer Society study suggests that the public health community should be more careful about the messaging it delivers on the differences in harm between combustible tobacco and vaping products.

The research found that the public perception among American adults of e-cigarettes being "more harmful" than cigarettes more than doubled during 2019 and 2020, and the perceptions that they are "less harmful" declined between 2018 and 2020. Of those surveyed, 28.3 percent believed vaping was more harmful than smoking in 2020, up from 12.8 percent in 2019 and 6.8 percent in 2018.

Meanwhile, those correctly believing vapes are less harmful than smoking dropped from 17.6 percent in 2018 to 11.4 percent in 2020.
Michelle Minton
America is headed in the right direction, if only when it comes to smoking. After decades of decline, cigarette use among adults is lower than ever and practically nonexistent among youth. But that is not good enough for some government officials who are pushing a series of radical policies aimed at forcing the public to hasten its march toward a smoke-free (and now also nicotine-free) society. The closest of these efforts to becoming reality is a proposed rule from the U.S. Food and Drug Administration (FDA) that would outlaw menthol cigarettes nationwide by 2024.

Based on its own number crunching, the FDA claims the move will save around half a million lives over the next 40 years and reduce health disparities. Supporters of the ban argue that this can be accomplished without triggering the devastating consequences caused by every other drug prohibition in history. The problem, however, is that the FDA's math is wrong.
---
Visit Nicotine Science & Policy for more News from around the World

---