Vapers Digest 29th December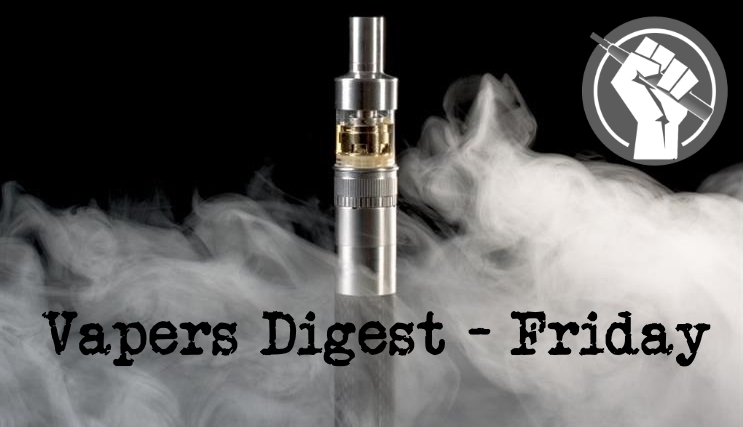 Friday's News at a glance:
Regulating e-liquid flavors – is the U.S. regulator more likely to do harm than good – More bad news from Asia – Vaping a cheaper and healthier option – The evidence keeps piling up: e-cigarettes are definitely safer than smoking – Tobacco truth top ten – New Year's Resolutions And Ways To Quit Smoking – Can e-cigarettes help smokers quit? – Carbonyl emissions in e-cigarettes – World Vape News
Is the U.S. regulator more likely to do harm than good
Clive Bates, The Counterfactual
FDA will soon request information on proposals to make rules about what it calls 'kid-appealing flavors' in vaping products. Inept rule-making driven by anti-vaping activist arguments and flawed reasoning could do immense harm.  This blog is to help American comrades and other interested parties to prepare for the battle ahead.  Please leave feedback, questions, suggestions etc. in the comments

Go straight to Letter and Briefing (PDF) to FDA about this subject on the Iowa Attorney General's website.
Fergus Mason, Vaping Post
A new law proposed by the Taiwanese government would kill off the island's vaping industry and make it almost impossible to buy products. Meanwhile India's federal government also seems to be moving towards a total ban. On the bright side, the UK looks set to scrap parts of the EU's hated anti-vaping laws after 2019, with the government committing itself to a review of the legislation.
Lesley Heggs, Leicester Mercury
If quitting smoking feels impossible, vaping is a cheaper and healthier alternative.

While e-cigarette use isn't without its own affects on people's health, Leicester's Stop Smoking Service actively encourages people struggling to kick a tobacco habit to try it.

And it proved surprisingly effective for hairdresser Lesley Heggs, who switched over five months ago and hasn't gone back since
---

---
E-cigarettes are definitely safer than smoking
Linda Bauld, The Guardian
Search for the term 'vaping' online and you'd be forgiven for thinking that it is an activity fraught with risks. The top stories relate to health problems, explosions and that vaping leads to smoking in teenagers. For the average smoker seeking information on vaping, a quick internet search offers little reassurance. Might as well continue smoking, the headlines imply, if these products are so dangerous.
Brad Rodu, R Street
During the holidays we celebrate this blog's eight years of factual reporting and critical analysis of science and policy surrounding tobacco and tobacco harm reduction. We've strived to satisfy the curiosity and technical interests of health professionals, while couching our message in terms that are comprehensible to the lay consumer as well. We are proud to note that Tobacco Truth has some 450 posts, with over 2.8 million pageviews. We sincerely hope this translates into a significant number of lives extended and improved.
---
---
And Ways To Quit Smoking
Carl V. Phillips, Daily Vaper
As we near the start of a new calendar year – and the accompanying spike in smoking cessation attempts – it is a good time to consider New Year's resolutions, vaping and other smoking cessation methods. It turns out that most methods have more in common with New Year's resolutions than widely realized.
EurekAlert
As e-cigarettes become more popular, fewer people are taking up smoking traditional cigarettes. But can e-cigarettes, an electronic nicotine delivery system, help people quit smoking altogether? That was the focus of a recent study led by a Hollings Cancer Center researcher.
---

---
A systematic review and methodological considerations
Konstantinos Farsalinos and Gene Gillman
Carbonyl emissions from tobacco cigarettes represent a substantial health risk contributing to smoking-related morbidity and mortality. As expected, this is an important research topic for tobacco harm reduction products, in an attempt to compare the relative risk of these products compared to tobacco cigarettes. In this study, a systematic review of the literature available on PubMed was performed analyzing the studies evaluating carbonyl emissions from e-cigarettes.

Azerbaijani President Ilham Aliyev has signed a decree on the application of the "Law on Restriction of Use of Tobacco Products", dated Dec. 1, 2017.

In accordance with the law, smoking of cigarettes, hookah and electronic cigarettes in healthcare, science and education institutions, museums, libraries, cinemas, theaters, circus buildings, exhibition halls, sports venues, concerts and other mass events is prohibited.
Mawsley, Planet of the Vapes
The town of Ayden, in North Carolina, is proud of the fact that vaping is banned from its parks, while a vaper is robbed of his cucumber juice in Manhattan Beach. It's enough to make you want to go for a holiday break, just don't choose Jamaica. It's probably worth avoiding flying too. And the lies in New Zealand are the kind of things some Australians say will cost lives.
---
A look back at how things have moved on or otherwise….
Will unlock greater potential – New Nicotine Alliance
On Tuesday during questions to the Under-Secretary of State for Health in Westminster, Nicola Blackwood replied to a query from Conservative MP Adam Afriyie about the use of e-cigarettes and, specifically, the negative outcomes that will undoubtedly arise from implementation of the EU TPD.
Norbert Zillatron
When ordinary people hear and read about "particulate matter" it's usually in the context of tiny solid nasties. Some even carcinogenic. Like diesel soot, asbestos fibers, coal dust, and of course smoke. In German this association is even more firmly entrenched. Here the term is "Feinstaub", literally "fine dust". The smaller these agents of destruction are, the deeper they infiltrate the lungs, take up permanent lodging, and wreak their havoc. It's the bad stuff you can see turning filter pads a sickly brown.
Dick Puddlecote
Our esteemed mascot asked an interesting parliamentary question recently, which was answered on December 1st.

Philip Davies Conservative, Shipley

To ask the Secretary of State for Health, whether the officials from his Department who attended the seventh conference of the Parties of World Health Organisation Framework Convention on Tobacco Control met with representatives of the Group Action on Smoking and Health during that conference. …
---
Visit Nicotine Science & Policy for more News from around the World

---