Vapers Digest 27th November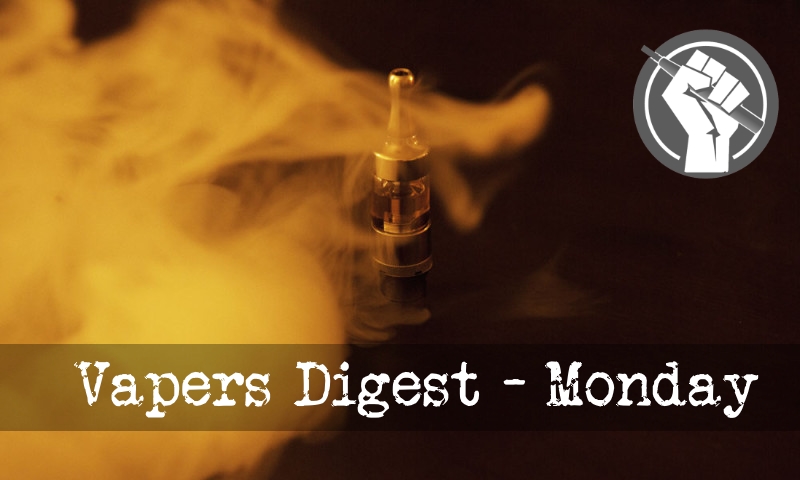 Monday's News at a glance:
PHE blasts Australian THR opponents, and Italian study finds no risk to lung health – Tobacco Control Researcher Calls for Boycott – Heat not Burn "as bad as smoking" says study – but what's the truth? – Vaping Crackdowns May Be Driving Up Smoking Rates – Ban on nicotine will do us more harm than good – E-Cigs are more preferred as smoking cessation aid – The Transportation of Deborah Arnott – Missing The Point – Vaping advocates rally against new rules – Vaping In The News November 25th – Nicotine Science and Policy Daily Digest
And Italian study finds no risk to lung health
Fergus Mason, Vaping Post
Scientists at Public Health England have blasted Australian campaigners who they say misled a government inquiry about vaping. Three prominent opponents of THR were named and shamed in a stinging rebuke issued by the health agency. Meanwhile a significant new study found no long-term health effects from vaping, and Canadian vendors are pushing back against Ontario's controversial proposals for an anti-vaping crackdown.
Calls for Boycott of Journal
Michael Siegel, The Rest of the Story
In a comment posted on Dr. Stan Glantz's blog yesterday, Dr. Thomas Eissenberg–a researcher studying electronic cigarettes at Virginia Commonwealth University–called for a boycott of the journal Addiction because of his claim that the editor of the journal exhibited bias in fast-tracking an article that reported low levels of aldehydes in e-cigarette aerosol.
---

---
But what's the truth? – Fergus Mason
And so it begins. A new paper presented to the American Heart Association claims that Heat not Burn products harm blood vessel function in the same way as smoking. No doubt there are a dozen other studies underway right now that will soon produce papers linking HnB to heart attacks, lung disease and various cancers. Carefully tailored press releases, all including some form of the phrase "as bad as smoking", will be leaked to sympathetic journalists.
May Be Driving Up Smoking Rates
Steve Birr, Daily Vaper
Advocates of the national Tobacco 21 agenda claim raising the purchasing age for both cigarettes and vapor products will curb smoking rates and help protect public health, but harm reduction advocates say the policies are having the opposite effect. Only one year after a Massachusetts city imposed the Tobacco 21 age hike, cigarette smoking among 12th graders surged from 9 percent to 33 percent, reports St. Cloud Times.
---
This kind of attempt at intimidation of journals, organisations and people who undertake and report science carefully and dispassionately is not what one expects from a serious scientist. https://t.co/73SbBaDUbx

— Robert West (@robertjwest) November 26, 2017
'It's like taking away a person's crutch when they need it most or taking a book they're reading off them and saying they can't read" https://t.co/0A3oKUcqP1

— Dick Puddlecote (@Dick_Puddlecote) November 27, 2017
---
Will do us more harm than good – The Australian
You don't have to be a medical insider to understand that smoking a substance that causes cancer is a lot more damaging than smoking one that doesn't.

Yet health authorities here, by threatening to put people in prison for possessing nicotine, have in effect banned electronic cigarettes, which offer a much safer way for addicted smokers to get their nicotine hit. It's the nicotine that's addictive, apparently (I wouldn't know, having never smoked), not the tobacco, which can kill you.
Oliver Kershaw
The fifth E-Cigarette Summit took place at London's Royal Society last Friday. For those interested in the true state of global science and regulations on vaping products (and, increasingly, other alternative nicotine products), the Summit is the calendar-event of note.

The following is my personal take on the overall themes, and I'll start off with a TLDR listicle:
---

---
More preferred as smoking cessation aid
Richard Craver – Winston-Salem Journal
Another university research study has determined that electronic cigarettes and vaporizers are emerging as the top product preference for smokers trying to kick their habit.

The University of Louisville paper found that quitting cold turkey was the most common single strategy used by everyday, occasional and former smokers. Next up was support from family and friends.
Frank Davis
In the Smoky Drinky Bar last night, the Flat-Earth-related discussion came round to wondering why there were no air flights over Antarctica, and we got hold of a rather good 3D globe at MeteoEarth, with me saying that if you wanted to fly from Australia to South America, or New Zealand to South Africa, you'd probably need to overfly Antarctica, and everyone else disagreeing with me.
Bolton Smokers Club
For many years now, smokers have suffered from a lot of persecution, because the persecution has been imposed a bit at a time.

I dare say that torturers know their business. I dare say that they know that a person subjected to thumb-screw torture or 'the rack' would become unconscious if too much pain was caused too quickly. The 'skill' of a torturer would be to stop at a certain point, and allow the pain to subside.

Jessica Nyznik, The Peterborough Examiner
Vapor Advocates of Ontario (VAO) members rallied outside Jeff Leal's office Friday, asking the minister of Agriculture, Food and Rural Affairs to speak up against a bill that would put restrictions on vape products and devices.

The group – all former cigarette smokers who quit when they turned to vaping – are asking for it to be dropped from a new bill tabled for legislation.
But its vape bars are under threat of government crackdown
In an inner-city vape bar, a group of hip, tattooed 20-something Jakartans slouch against a high, glass-topped table.

In Australia, they'd be at home in a Newtown cafe or a Bondi bar. Here, they're vaporistas.

Periodically, one of them sucks on a small rectangular e-cigarette, or 'mod', and exhales a dense white cloud of nicotine-tinged water vapour.
Kevin Crowley, Vapng Links
Jerry Iozzo, Marathon Man ~ A Year After 40 Percent Vapor Tax, Situation In Pennsylvania Is Grim ~ THRA: THRA Submission to the Canadian Public ~ A Brainy Furball ~ Health trio accused of presenting 'factual errors' to e-cig inquiry ~ E-cigarette brand mocks tobacco control ~ A Senior "Behavioral Scientist" advises someone to keep smoking ~ Simple question, simple answer ~ Drunken addicted mice ~ "Verge" author: Imagine my surprise
---
A look back at how things have moved on or otherwise….
Mawsley, Planet of the Vapes
The Desert Research Institute (DRI) is the environmental research arm of the Nevada System of Higher Education. DRI conducts cutting-edge applied research in air, land and life, and water quality across Nevada, the United States and on every continent. Latest research claims to demonstrate "e-cigarettes liquids contain dangerous levels of hazardous chemicals known to cause cancer in humans."

Never one for moderation, The Sun proclaims the research proves "E-cigs can kill". They continue, "Just ONE puff of flavoured e-cigarette vapour 'contains dangerous levels of cancer-causing chemicals'."
Underdogs Bite Upwards
Both of these are relative terms. I am in relatively good health, but won't be running any marathons or partaking of athletic activities of any kind in the foreseeable future. Mostly that's because I don't want to – the idea of lifting heavy things that don't need to be moved or running when nobody is chasing me is just silly. I don't need to be any stronger or faster than I am now, unless there is an incident involving a falling piano in my future.
Inform professionals on Ecigs – Jérôme Harlay
The Royal College of General Practitioners, the official channel for General Practice of Medicine in the UK, give their informed recommendations to health professionals regarding smoking cessation and the use of e-cigarette.

With this summary, RCGP comes along with Public Health England's statement on the relative risk of e-cigarette and combustible tobacco after a survey, this year, showed that only 17% of British GPs backed the idea of prescribing e-cigarettes, while 14% said they weren't sure.
---
Visit Nicotine Science & Policy for more News from around the World

---