Vapers Digest 25th October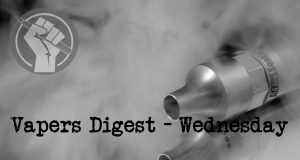 Wednesday's News at a glance:
WHO And Delegates Should Consider Proof Based Polices At COP10 ~ Sweden's snus EU future still uncertain amid tobacco directive evaluation ~ A vaper's call to the delegations to #COP10 ~ Study: Tobacco Harm Reduction Can Save Lives ~ Vaping Latest Research Dr Colin Mendelsohn ~ Evidence review of nicotine vaping ~ Kids using nicotine patches in exams for vape addiction. Time to panic? ~ The alarming measure some students are resorting to during year 12 exams ~ Rampant Black Market and Regulatory Challenges: Is Compliant E-cig Market in Australia Still Worth It? ~ KAC Scholarship Seeks Tomorrow's Leaders ~ Governments Need To Recognise Potential ~ All Set for Awards Dinner ~ Is Vaping Harm Reduction? ~ Kurt Yeo Chats To Ecigclick! ~ The war on vaping is bad for our health ~ Are vape laws vapid?
Outlook
At the upcoming COP10 conference in Panama, delegates from the health bodies of various countries and WHO officials will discuss and adopt policies and initiatives for tobacco control. Demonstrated success in countries like Sweden, Japan and England has enabled many countries to adopt harm reduction policies for tobacco control. Delegates at COP10 should also consider the scientific proof available while deliberating on a global policy to alleviate the burden from tobacco from the population.
---
Three with Dr Colin Mendelsohn
Soundcloud, ultra106.5fm
Editor note: Streaming Audio Link!
---
---
Three From Dave Cross, Planet Of The Vapes
The KAC global scholarship programme seeks out the tobacco harm reduction leaders of tomorrow and you have until 30 November to apply for the seventh cohort. Scholarships are open to participants from all professional backgrounds, with 25 entry-level places available. The scholarship includes bespoke mentoring, grounding in policy and practice and a stipend offered to support Scholars who complete individually designed projects.
A key message to Governments from the Asia Harm Reduction Forum (AHRF) 2023 is that governments worldwide need to acknowledge the transformative potential of harm reduction practices and the critical role of consumer choice in tobacco harm reduction.
The UK Vaping Industry Association (UKVIA) has received a record number of entries for its hotly anticipated 2023 Industry Recognition Awards, taking place at a prestigious London venue on Friday, November 10.
---

---
John T. Maier, Psychology Today
KEY POINTS

Whether vaping can be considered "harm reduction" is controversial.
With the influence of medicine and public health in addiction, the provider perspective is often foregrounded.
With addiction deemed a disability rather than disease, "harm reduction" can be thought of as accommodations.
---

---
Michelle, Ecigclick!
This weeks THR Superstar is Kurt Yeo!

This series of interviews is to celebrate those who fight so hard to protect the rights of us who benefit from safer nicotine products.

I first became aware of Kurt during the WVA (World Vapers' Alliance) Academy where he was a guest speaker and he impressed me a lot!

He, along with Craig Stuart are the founders of "Vaping Saved My Life" (VSML) and also does a lot of work as an advocate for vaping and Tobacco Harm Reduction (THR).
Jack Rowlett, Spiked Online
The UK government has declared war on nicotine. First, prime minister Rishi Sunak promised to ban cigarettes for everyone born after 2008. And now, health secretary Steve Barclay is looking to clamp down on e-cigarettes, supposedly to tackle the rise in youth vaping. Price rises, flavour bans and plain packaging are among the measures under consideration in a consultation launched earlier this month. The government thinks that these new restrictions will help save lives – but clamping down on vapes would actually be harmful to our health.
Tatut Bunnag, Bangkok Post
Over the past several years, we have seen the world wake up to the question of whether vapes and e-cigarettes are a better alternative to tobacco, which is well documented as harmful to our health. Authorities in the UK are preparing to ban the sale and manufacture of single-use vapes by next year, and the latest Netflix docu-series Big Vape: The Rise And Fall Of Juul also discusses the various issues.

We have witnessed a growing debate over the safety of vaping in Thailand, where it is illegal but nonetheless widely available. The question is whether vapes and e-cigarettes are as harmful as traditional tobacco products.
---
Visit Nicotine Science & Policy for more News from around the World

---