Vapers Digest 25th August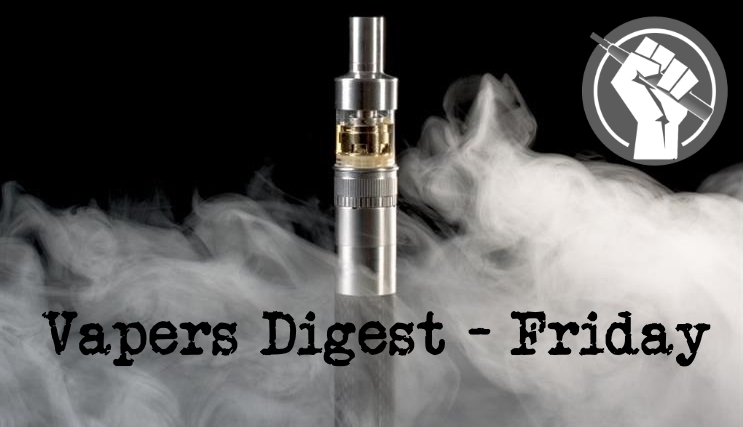 Friday's News at a glance:
Asia steps up anti-vaping enforcement; US academics jump the shark – Swedish Government Doesn't Oppose Snus – Smoking and E-cig use among teens is down, again – (Don't tell Stan) – What will our post-election vaping road map look like? – NHIS 2016 vaping data lacks crucial details – Survey from Indiana shows that e-cigarette use is on the decline – Banning e-cigarettes may do more harm than good in India – Men's Health Magazine endorses e-cigarettes – Dueling Interests at CPSC and FDA – Nicotine Science and Policy Daily Digest
US academics jump the shark – Fergus Mason
Several people were arrested in China and Thailand this week as Asian governments push ahead with increasingly draconian anti-vaping laws. Meanwhile academics in the USA are carrying out, or have already completed, some of the worst anti-vaping research that's been seen so far – a challenging project in a field filled with bad science, but one they seem to have embraced enthusiastically….
Kevin Crowley, Vaping Links
It's a long standing whine from inefficient tobacco control "experts", "those damn kids". Wait a minute…

Forgive me, I don't know where my head was at by typing "those damn kids".

It's Think Of The Children ™ . Future income for tobacco control. There. Clear conscience. I hope we both feel better.
---

---
Steve Dohmen, AVCA
Our current New Zealand government, as it stands, are pretty progressive in regards to vaping, by having shown an interest in assuring a fair regulatory approach that best accommodates future vaping legislation in NZ, and there's even a minority of cohorts from tobacco control that acknowledge vaping's beneficence… but we are also consciously mindful that come election time our hard fought submissions in helping motivate policy change could be eroded by a new party of less than empathic legislators?
Mawsley, Planet of the Vapes
According to INNCO, the collective voice for the most influential nicotine consumer organisations in twenty-five countries, the Swedish government has taken a bold and positive move in the global effort to eliminate tobacco related disease. It has chosen to not provide written observations to the European Court of Justice (ECJ) in relation to a case being brought to overturn the EU ban on the sale of 'snus'.
---
---
Diane Caruana – Vaping Post
The Centers for Disease Control and Prevention (CDC), has just released select 2016 NHIS vaping data, yet failed to include some much required details that would put this data into perspective.

The report titled, QuickStats: Percentage of Adults Who Ever Used an E-cigarette† and Percentage Who Currently Use E-cigarettes,§ by Age Group — National Health Interview Survey, United States, 2016, is part of The National Health Interview Survey (NHIS) and the results indicate that vaping is on the decline…
Shows that e-cigarette use is on the decline
Diane Caruana – Vaping Post
A recent survey clearly indicates a decline in the use of tobacco products and e-cigarettes, amongst adolescents in the state of Indiana.

The 27th Indiana Youth Survey, was conducted by the Indiana Prevention Resource Center at Indiana University's School of Public Health-Bloomington and was partly funded by the Indiana Family and Social Services Administration Division of Mental Health and Addiction.
---

---
An outright ban on e-cigarettes without collecting any research data may put public health in India at greater risk, experts have warned.

While tobacco-associated cancer is easily preventable by cessation of tobacco usage, a prohibitive environment may do more harm than allowing smokers, who wish to cease tobacco use, an alternative option based on nicotine replacement via e-cigarettes, the experts said.
Men's Health Magazine endorses e-cigarettes
Matt Rowland
When a mainstream fitness magazine like Men's Health officially endorses vaping as a smoking cessation tool, it's cause for a celebration. The vaping industry has been so consistently demonized by network news outlets in recent years that even the slightest glimmer of positivity coming from a reputable publication is truly noteworthy.
Cheryl A. Falvey and Lauren Bell
The regulation of e-cigarettes and other electronic nicotine delivery systems ("ENDS") presents complex regulatory and scientific challenges. Two key federal agencies with product safety mandates and overlapping jurisdiction – the Consumer Product Safety Commission and the Food and Drug Administration – have turned their attention onto the specific area of e-cigarette battery-related fires and explosions in the last few months.
---
A look back at how things have moved on or otherwise….
Dick Puddlecote
About a month ago I was politely emailed by an author of a US vape vendor blog asking if I'd be willing to do a short Q&A.

It's not the kind of thing I normally do but the questions showed good knowledge of this place, were quite interesting, and the vendor is based in Anaheim California which seems to me to be a pretty disastrously unlucky accident of location.
Wears the new colours of EU TPD –  Nathalie Dunand
A decree recently published in the official journal highlights some of the blurred legislative aspects but raises new concerns regarding the implementation of the EU TPD.

The decree brings enlightenments on laboratory agreements for cigarette smoke analysis, the mandatory warnings and notification fees as well as the transposition calendar for vaping products.
Ashtray Blog
Vapers have gotten wearily accustomed to seeing extreme, unsupported statements made about vaping. It seems like a week can't go by without somebody going above and beyond the evidence to scare people away from the safer alternative.

The latest example comes in the form of a Discovery Health Report which proudly claims to "expose mainstream cover-ups."
---
Visit Nicotine Science & Policy for more News from around the World

---