Vapers Digest 21st August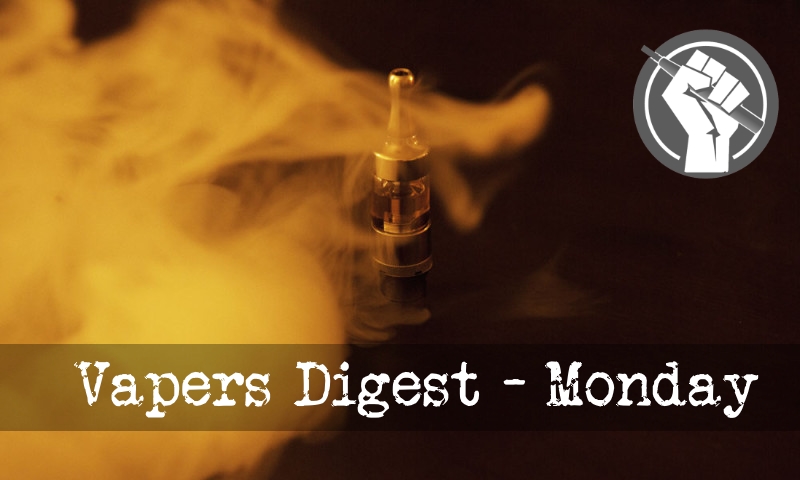 Monday's News at a glance:
Mixed news for US vapers, but problems emerge in UK hospice system – A Smoker's Manifesto – Challenges for Vendors – Lengthy reply Removed by Moderator – Nicotine Usage Survey for US & UK users – Young people and e-cigarettes – The FDA can't prove nicotine addiction or gateways exist – Nicotine is both the problem – and the solution – to ending smoking – Online e-cigarette sales ring busted – The FDA's words and actions do not match – Vaping In The News – August 19th, 2017
But problems emerge in UK hospice system
Fergus Mason, Vaping Post
In what looks like a concerted drive to penalise the city's vapers, New York's council has just passed a raft of laws aimed at reducing access to reduced harm products. At the same time more research shows that the "gateway" argument on teen vaping is pure speculation that isn't supported by the data….

British and international vaping advocates reacted with outrage this week as it emerged that a British hospice, run by the National Health Service, had deprived a dying woman of her e-cigarette. Blogger Susanne Nundy, better known as Anna Raccoon, had been suffering from cancer which had moved into a terminal stage…
Frank Davis
A few days ago I listed about 10 cultural movements that have arisen over the last 70 years. They had a great many predecessors, and they will have a great many successors. And one of those successors, given the current global War on Smoking (and upon Smokers), may confidently be predicted to be a global Smokers' Movement. And so it is entirely appropriate (and necessary) for there to be a smokers' manifesto that sets out their cause.
---

---
And Desirability of Compulsory Membership of a Trade Association
Alan Beard, Why Oh Why
Firstly…. I am not a vendor and so claim zero expertise or deep knowledge on the details of running a successful business, but as a consumer directly influenced by their current and future viability these thoughts are directed towards them.

I do not propose to rake over the sad history of how and why TPD2  evolved as it did, or bleat about how the MHRA is implementing such as this, despite Lord Prior stating:

"the promise of Italian light-style implementation"
Alan Beard, Why Oh Why
One of lifes' little frustrations, is writing what you consider a courteous detailed reply to someone, only for the moderator to jump in and remove the commentary(their prerogative of course!)

This happened today Monday 21/8/17 in reply to  Prof Michael Eriksen in the Conversation here 

My reply was thus :-
---
---
Hans Schmidt, Kevin Crowley
Who created it? Hans Schmidt (a well known source by myself and others) has created a nicotine usage survey for vapers. Simple stuff, folks. It will take less than 15 minutes in Google Doc format.

Informative for yourself, and data is always king. Due to the difference in currency, there are different surveys for the same results to make it simpler.

Please take it, and spread the link (or this blog) to your respective survey itself in your circles.
Gillian Golden, The Irish Times
The study does not show, as the headline suggests, that "Vaping among young teens may increase likelihood of smoking".

The key issue is not how many non-smokers try vaping, but how many vape regularly, and how many having tried vaping, go on to smoke tobacco.
BBC Radio London 18/08/17 – Thanks as always to @dnglos for the YouTubage
And the solution – to ending smoking – David Sweanor
At the end of July the Food and Drug Administration (FDA) in the United States did something remarkable, even revolutionary. It decided to behave in a rational way about nicotine, embracing a sensible "harm reduction" approach. Canada would do well to follow.

Instead, Canada has been focused on "risk aversion" where nicotine is concerned – and such a stance, ironically, protects the cigarette trade.
Kevin Crowley, Vaping Links
Is the Food and Drug Administration exempt from providing proof of the decision to classify and change the definition of nicotine as a tobacco product?

Aside from the government putting out fraudulent research, massive propaganda and the plain old "we aren't listening" – or "we heard you and don't care" stances, the deeming regulations of e-cigarettes rest, without being questioned, on the government's word.
---

---
Joel Nitzkin
In a new paper in the New England Journal of Medicine, newly minted Food and Drug Administration Commissioner Scott Gottlieb and Mitch Zeller, longtime director of the FDA Center for Tobacco Products, commit themselves to a science-based regulatory framework that takes into account "the continuum of risk for nicotine-containing products" to reduce tobacco-related addiction, illness and death.
Piyarach Chongcharoen
Police say they have broken up a major online electronic cigarette sales ring following a raid on a warehouse where about 3 million baht worth of smoking kits and accessories were seized.

A combined team of police, customs and excise officials raided the warehouse in tambon Ban Nua in Muang district on Friday and found 57 e-cigarettes, 2,849 bottles of e-liquid and 555 other smoking kits stored there.
And is vaping something you should try?
Deputy editor Simon Waters has smoked for most of his adult life, but hopes that he has found a way to give up permanently. In this personal account, he shares some of the downsides of smoking, and discusses the revolution around vaping that has helped him to kick the butts into touch.
Kevin Crowley, Vaping Links
The FDA shouldn't give into irrational e-cigarette fears ~ Nicotine Usage Survey for UK & USA ~ Government Waste ~ Treatment & Beyond ~ E-cig risk campaign for youths draws praise, criticism to FDA ~ Rehash worth rehashing ~ Gateway effects and electronic cigarettes ~ There is no safe level of research ~ Cruel But Sadly Not Unusual ~ "Smoking Fee" ruled out ~ The Burning Truth About Tobacco Bonds ~ Challenges for Vendors and Desirability of Compulsory Membership of Trade Association ~ A Nicotine-Focused Framework for Public Health ~ Professor Glantz ~ A Billion Lives
---
A look back at how things have moved on or otherwise….
Kevin Crowley – Vaping Links
On the 6th of August, the North American Premier of A Billion Lives was scheduled to start at 8:00 P.M. in front of a SOLD OUT audience. Janice & I arrived at the Pabst Theater in Milwaukee around 7:15 and the front doors were PACKED. The undercurrent of the crowd was electric and felt before we hit the door.
Steve Forbes
TYRANNY IS about control. Even in democracies the natural tendency of government, unless stopped, is to expand its powers and extend its tentacles into every facet of its citizens' lives–always in the name of helping them. Control means curtailing people's opportunities to make choices and restricting the scope of their freedom of action. Left to their own devices bureaucracies would bar you from doing anything without first receiving a permission slip from them.
A data bank with safest ingredients of e-liquids –  Jérôme Harlay
The strategies are diverse for the vaping industry to adapt to changing regulatory frameworks in fast-changing emerging market. The concept of Green toxicology is one of the most promising alternatives to conventional toxicology research and is being used by e-liquid manufacturers.
---
Visit Nicotine Science & Policy for more News from around the World

---