Vapers Digest 18th December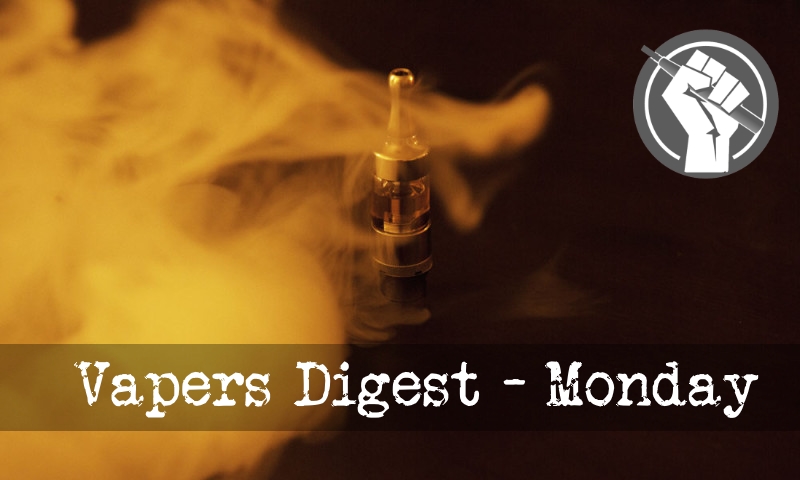 Monday's News at a glance:
Keep Smoking, Thailand Needs The Cash – Asian states continue to crack down on vapers – Loneliness: As Harmful As Smoking? – Cigarette Sales Continue Historic Plunge – AVCA Addresses ARFNZ – An article about vaping amongst teens – Vaping and the Tobacco Act – Smoking Cessation Is Not Medical Treatment – Time to wake up on e-cigs – Vaping In The News – December 16th – Safe Havens – Tokyo gov'ts split on indoor vaping – Nicotine Science and Policy Daily Digest
Dick Puddlecote
The drafts have been piling up here lately due to a hectic pre-Christmas in Puddlecoteville and at Puddlecote Inc, but here's a disturbing story from Thailand last week that deserves comment.

Net Idol arrested for e-cigarette faces 5 years saying police treatment "over the top"

A well known internet celebrity who was arrested in Pattaya at a checkpoint when an e-cigarette and vaping liquid were found has said her treatment at the hands of the local cops was over the top.
Fergus Mason, Vaping Post
India's state governments continue to push for tough vaping bans, with Maharashtra the latest to seek regulations. Meanwhile, Thai police are denying having used excessive force to arrest an internet personality arrested for possession of vapour products. On the brighter side, a Canadian doctor is preparing for a trial of e-cigarettes as a quit aid for Ottawa's homeless population, while Stanton Glantz faces new allegations of sexual harassment.
---

---
Matt Ridley, The Times
Health organisations now agree vaping is far less harmful than smoking yet it continues to be demonised and restricted
Imagine if Britain led the world in a new electronic industry, both in production and consumption, if independent British manufacturers had a worldwide reputation for innovation and quality, were based mainly in the north and were exporting to Asia. And that this innovation was saving lives on a huge scale while saving consumers over £100 billion so far.
Leaves out important detail – Diane Caruana
 An article published on The Guardian quoted data from a US survey released yesterday, and argued that nowadays, youngsters are more likely to experiment with e-cigarettes than regular cigarettes. The article failed to add that not only are e-cigarettes less addictive, but unlike those who experiment with cigarettes, the majority of these youngsters never become addicted.
---
---
Geoff Cliff
he good old BBC today managed to make me laugh. Not by means of one of their comedy shows, unfortunately (I find very few of their current offerings even remotely funny), but with their reporting via Victoria Derbyshire that loneliness is "as harmful as smoking". After a few sardonic chuckles, interspersed with one or two belly-laughs and a choking fit, I suddenly realised how utterly hilarious the whole "public health" obsession of the media has become. Then I became indignant. Then I became angry.
As New Technologies Take Over – Steve Birr
The unprecedented success of heat-not-burn products developed by Philip Morris International (PMI) and British American Tobacco (BAT) are sending cigarette sales spiraling downward at levels never before seen in Japan's tobacco market, where heat-not-burn products were first introduced. The trend away from combustible tobacco appears to be sustained and even accelerating, according to a recent analysis.
Jan Walsh
The Asthma and Respiratory Foundation of New Zealand (ARFNZ) has been intensely lobbying the new Government to back track on the Ministry of Health's plan to develop sensible regulation of Electronic Liquid Vapourisers (ELV's).

Nancy Sutthoff co-director of Aotearoa Vapers' Community Advocacy (AVCA) stated "ARFNZ needs to consider the science rather than taking a moralistic approach. It's almost like they want to punish people who stop smoking the 'wrong' way."
---

---
Carl V. Phillips, Daily Vaper
The previous science lesson explained why clinical trials are not useful for assessing the effectiveness of vaping for quitting smoking. While clinical trials (medical experiments) are often a useful study method, they do not replicate the real-world experience of switching to vaping. Clinical trials can measure the effect of assigning vaping to random smokers.
Gregory Conley
Earlier this month, Health Minister Aaron Motsoaledi announced a wide-ranging plan for South Africa to update its existing laws on tobacco products. With approximately 19% of South African adults smoking, Motsoaledi and tobacco control activists argue there is a pressing need for tougher restrictions on tobacco products, including new restrictions on public smoking, advertising bans, and graphic warnings on all packs of cigarettes sold in the country.
Bangkok
The arrest of a couple in Pathum Thani on Tuesday for allegedly selling electronic cigarettes has prompted users of the alternative products to come out and press lawmakers to revise the law, saying the ban is dogged by misinformation. And they are not wrong about that.

The arrested duo merely sold the products which have been illegal in Thailand since 2014, but which have been proven to be much less hazardous to health than tobacco cigarettes
Of Acting as Smoke-Screen for Big Tobacco
Controversy is swirling around the Foundation for a Smoke-Free World. This new non-profit organization has come under intense criticism from health agencies and anti-tobacco campaigners who accuse it of acting as a smoke-screen for Big Tobacco, a charge vigorously denied by the foundation's president.

Kevin Crowley, Vaping Links
AVA Announces the Start of #VapesGiving!™ ~ The academic scandal: Stanton Glantz ~ Paint me green and hear me roar! ~ FDA Responds to Cigar Groups ~ Up In Smoke ~ VAEP ~ We Don't need The Government To Solve Smoking Problems ~ Showing Adolescents Graphic Anti-Smoking Posters May Encourage Some to Try Smoking ~ In Other News
The national government and the Tokyo Metropolitan Government are at odds on how to treat heat-not-burn tobacco (HNB) products as they consider countermeasures against secondhand "smoke" inhalation ahead of the 2020 Tokyo Olympics and Paralympics.
Harry Shapiro
One of my favourite Woody Allen quotes come from his film Stardust Memories which goes, "intellectuals are like the Mafia. They only kill their own." Fortunately, within the conflicted world of tobacco control and tobacco harm reduction, there are relatively few albeit influential sabre-rattlers. But this area of public and scientific discourse is relatively new, so plenty of time for the dogs of war to be let loose.
---
A look back at how things have moved on or otherwise….
Paul Barnes, Facts Do Matter
Surveys. I've touched on the usual suspects upholding their own data as though it was the Holy Grail before. ASH is utterly remorseless when it comes to trumpeting their own data, usually for their own means, and they also heap scorn on data that contradicts their sacrosanct view of the populace. Typically, in the UK we have two primary sets of survey data on smoking – the ASH survey (hosted by YouGov) and of course the Smoking Toolkit Study.
Dave Cross, Stealth Vape
As inevitable as woman with a crown talking on the television after Xmas turkey, Santa is coming for you bearing gifts of a vape variety. Of course, logic says that we should be clearing stuff on the stand to make room. Logic says we can only use so many devices at one moment in time. But when did common sense enter into it?
Brad Rodu, Tobacco Truth
Teen smoking declined to record-low levels in 2016, according to the latest University of Michigan annual Monitoring the Future Study, which examines youth tobacco, alcohol and drug use (data tables here).  The figure at left shows the percentage of high school seniors using alcohol, marijuana, cigarettes and e-cigarettes in the past 30 days over the period 1990-2016.
---
Visit Nicotine Science & Policy for more News from around the World

---