News 22nd Dec 2014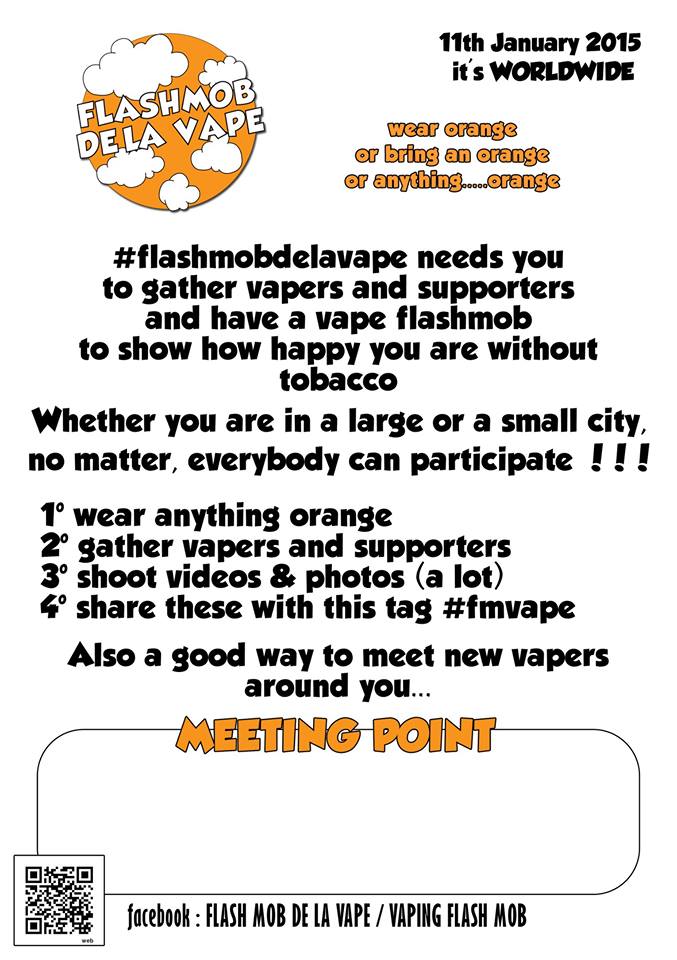 A Quiet Day! Have PH/TC Closed for Christmas?!
Olivier Cucuron has  made a poster for anyone organising a Flash Mob on the  11th Jan. Click the picture above for biggerness or pop over to the Facebook Group
WASHINGTON, D.C. – Today, the American Vaping Association, a leading advocate for the benefits of vapor products such as electronic cigarettes, reacted to the release of letters sent by three Congressional Democrats to twenty-eight state attorneys general urging them to declare 'e-cigarettes' to be 'cigarettes' for the purposes of enforcing the Master Settlement Agreement (MSA)….
The vapor emitted from the electronic cigarette contains from 9 to 450 times less toxic substances. To achieve this result, we can detect the components "through various methods of trapping and separation" as explained by a chemical engineer at ESA. According to the protocols used toxic substances are certainly found in vapor e-cigarette, such as formaldehyde, acetaldehyde or acrolein, but in very small quantities and still confirms the strong risk reduction to the product offers in comparison to tobacco smoke. These amounts vary depending on the heating power of the devices and are also influenced by vaporization conditions has is it explained to ESA….
Jean-Francois Etter and Thomas Eissenberg conclude E-Cigs are low dependency.
Some e-cigarette users were dependent on nicotine-containing e-cigarettes, but these products were less addictive than tobacco cigarettes. E-cigarettes may be as or less addictive than nicotine gums, which themselves are not very addictive.
Simon Chapman reaches to a new low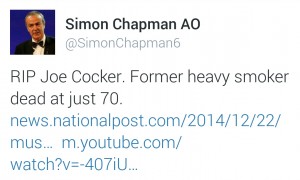 Original Tweet is here: https://twitter.com/SimonChapman6/status/547104892246953985
Simons email address: simon.chapman@sydney.edu.au should you wish to contact him directly…