In the News March 3rd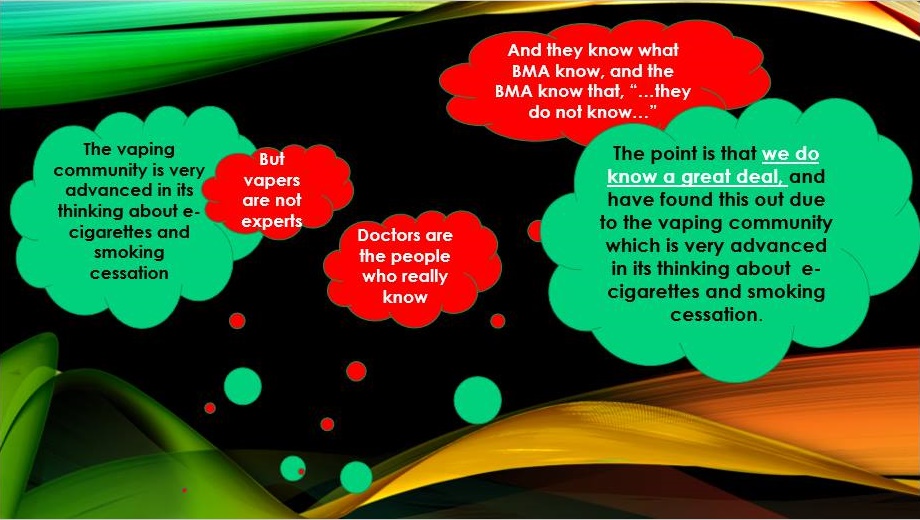 Thursdays News at a glance:
The Tobacco Wars – Annual quiz on e-cigarettes and harm reduction – 2016 – Newsflash: Tobacco companies are incredibly timid – Formaldehyde exposure from 3 e-cigarette formats tested well below WHO quality guidelines – Vaping discussed on BBC Radio Scotland – Law restricting sale of e-cigarettes set to be passed by MSPs – Disabled Vet Becomes Face Of Campaign To End War On E-Cigarettes – EU set to hike taxes on E-cigarettes; Britons may rebel – CPS to prosecute 'trolls' – 86.5% tax on e-cigs vaporized – Nicotine Science and Policy Daily Digest – Thursday, 3 March 2016
Head Rambles
Once upon a time in a land far far away there was a kingdom called Tobacco.

The people of Tobacco were very happy and prosperous and they lived their lives in peace and tranquility. Their religion was Life, and they devoted themselves to it.

Next to Tobacco there was another kingdom called Pharma. Their religion was Health which was a very different religion altogether and nothing like Life.
On e-cigarettes and harm reduction – 2016 – Clive Bates – The Counterfactual
Fun with a purpose – twelve thought experiments in the form of a quiz designed to interrogate your views on e-cigarettes and harm reduction.

Same questions as last two years – there are no right answers, only judgements and insights.
If you didn't try it before, try it now.
If you have tried it before, please try it again. You are entitled, no encouraged, to change your mind in the light of experience.
The biases in who answers a survey like this mean the aggregated results are of little value – so don't take anything away from totals.  The value is in thinking about the answers and reflecting on your own views.
Carl V. Phillips – Anti-THR Lies
In the previous post, I commented upon the most recent in the endless series of analysis-free and truth-free McCarthyist demands from "public health" to censor industry-funded research (as well as upon what I felt was an inadequate retort to it). I quipped on Twitter that every time I read one of those pieces, I feel like I am reading @DPRK_News….
---

---
From 3 e-cigarette formats tested well below WHO quality guidelines – EurekAlert!
A new study shows that the daily exposure to formaldehyde from three different types of e-cigarettes is well below the levels considered safe by the World Health Organisation (WHO) – at less than a sixth of the indoor air quality standard…
Likely to win assembly support – David Deans – BBC News
A ban on e-cigarettes in some public places is likely to win support from the assembly. The Welsh government is concerned e-cigarette use may normalise smoking.

A Liberal Democrat attempt to scrap the restrictions from the Public Health Bill is likely to fail with some Plaid Cymru AMs, including Elin Jones, supporting the regulations…
Featuring Linda Bauld – 3rd March 16 – Thanks as always to @dnglos for the YouTubage!
Set to be passed by MSPs – STV
Legislation restricting the sale of e-cigarettes is expected to be passed by MSPs at Holyrood.

The Scottish Government's Health Bill will ban under-18s from buying the devices and limit their advertising. The Bill will make it an offence to smoke within a designated no-smoking area around buildings in NHS hospital grounds.
OZ, Tax, NNA, Welsh pols and Double vision – a normal Thursday night in vapeland
To End War On E-Cigarettes – Guy Bentley – Daily Caller
Grandfather and decorated Army veteran Sgt. Brian Keith Roberts has become an unlikely symbol of vapers desperate struggle to prevent government agencies from imposing crippling regulations on the e-cigarette industry.

Roberts, a veteran of both the Afghanistan and Iraq wars was severely injured by an improvised explosive device while traveling across Helmand province in 2010. After three failed surgeries, his leg was amputated below the knee..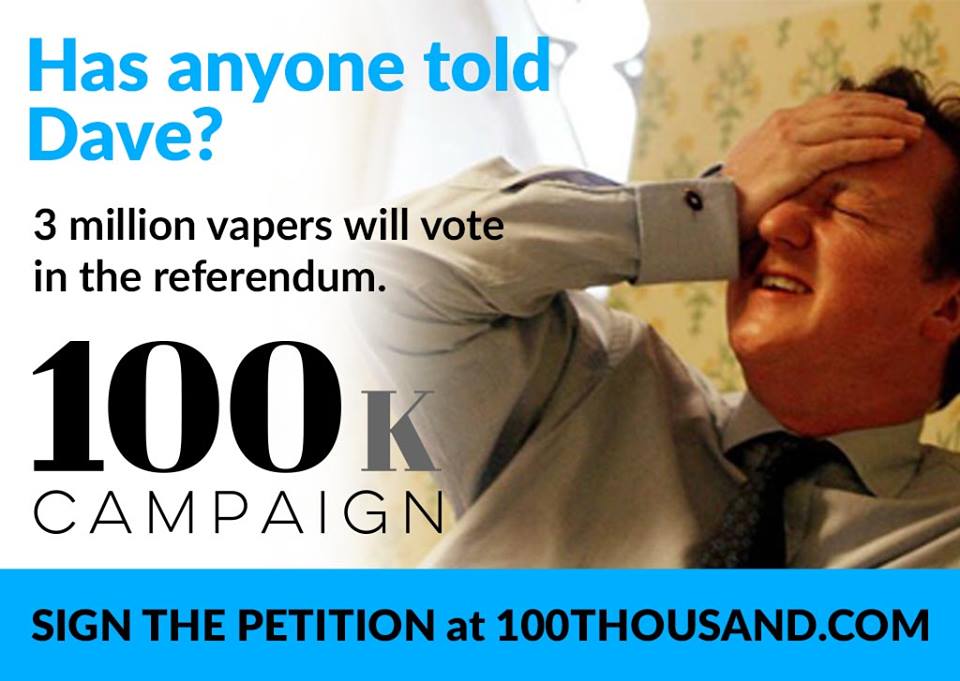 domain-b.com
E-cigarettes are poised to be taxed at a higher rate across Europe, with France and two other nations calling for a minimum excise duty to be set at "the highest common denominator".

European Union diplomats unanimously agreed on a call for the European commission to prepare a legislative proposal by 2017, in a draft document seen by sections of the media that EU finance ministers will sign off at a meeting next Tuesday.
Who use fake online profiles – BBC
Lawyers will be advised to prosecute "trolls" who use fake online profiles to harass others, under guidelines being proposed in England and Wales.

The Crown Prosecution Service says adults should be charged if, for example, they make a profile in the name of a victim with fake information which could damage their reputation.
By lawmakers in Utah committee
Amid sometimes-rancorous debate, a proposal to impose an 86.5 percent tax on e-cigarettes went up in smoke on Thursday.

As both sides accused each other of dirty tricks — and as bus loads of high school students crowded the capitol to support the tax — the House Revenue and Taxation Commission declined to vote directly on passing the proposal…