In the News January 18th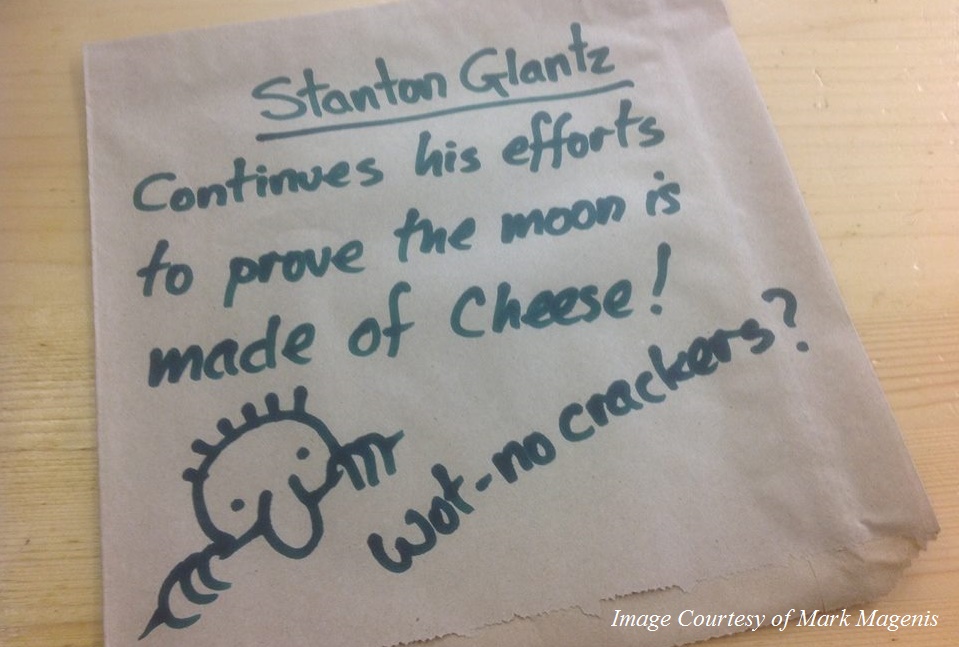 Mondays News at a glance:
Damn those kids! – Sweet or Sour? The Appeal of E-Cigarette Ads – On advertising – a few thoughts – Scientific rigor and the notion of the preconceived stance – E-Cigarettes, Prescriptions and the UK National Health Service – Trends in e-cigarette use in England – Glantz responds to his (other) critics, helping make my point – Sunday Science Lesson: What is "meta-analysis"? (and why was Glantz's inherently junk?) – Study Claiming E-Cigarettes Make Quitting Harder Exposed As 'Unscientific Hatchet Job' – White House Finalizing Strict E-Cig 'Deeming' Rules – E-cig clarification needs clarification – Pro-vaping group sues Pierce County – A hot, hazy mess – Nicotine Science and Policy – Daily Digest – Mon, 18 January 2016
The Exit Door Leads In – Lorien Jollye
So I am sitting here sorta sniggering to myself despite being infuriated by the latest study that shows very little yet professes to show an awful lot which includes wibbling about gateways and so on and blah blah. It is all very boring and predictable and can be found here.

As I sat reading through it this morning, becoming increasingly frustrated at its contents and tortured conclusions, one part really tickled me….
The Appeal of E-Cigarette Ads – Paul Barnes – Facts Do Matter
Once again, another study citing "concerns" reaches the media. This time it is all about flavoured vs non-flavoured e-cigarettes, gateways and smoking all based on exposure to adverts. As David Dorn highlights on his blog post:

So asking kids whether an advert they won't see (by law), for a thing they can't buy (by law), in a place they can't use them (by bye-law) is likely to make them want one is a pointless, fruitless and, frankly bloody idiotic thing to do.

I can't really argue with that sentiment. So where did this study come from…?
Double bill from: Dave Dorn – The Sun Also Rises
I sometimes sit and what real-time telly- you know, the kind that doesn't allow you to skip adverts, or fast forward through them. When I do, I sometimes choose to actually pay a bit of attention to said adverts.

Now, it seems to me that I get bombarded by advertising for winged things that absorb loads of blue liquid. Always, in fact. Do I need or want winged things that absorb blue water? No! Do I want nor need them any more than I did before I saw the adverts? Nope. Not one iota….
---
---
Dave Dorn – The Sun Also Rises
Here's the thing. I am, by training, a scientist. It was my major at Uni, and I try always to approach information logically and with some degree of scientific rigor. My dissertation at the end of my time at the fountain of knowledge (at which students came to drink – but that's another story)  was an investigation e.coli in the bathing waters of the North Sea in the environs of a seaside town we'll call Scarbados, for want of identifying the place explicitly….
and the UK National Health Service – Paul Barnes – Nicotine Science & Policy
The UK's Medicines & Healthcare products Regulatory Agency (MHRA) has released a public assessment report (PAR) on what could be the very first medically approved e-cigarette – e-Voke –which was developed by British American Tobacco. Medicines approval means that the product can be prescribed by medical practitioners, and ensures that the medicinal device meets applicable standards of safety, quality and efficacy. Coupled with the press releases surrounding the landmark report from Public Health England, the media and policy makers are keeping a very close eye on this…
The Scottish government is to continue reviewing the effects of second-hand e-cigarette smoke on health after MSPs rejected a solicitor's bid to have vaping banned in cars.

The Law Society of Scotland as well as pressure group Children in Scotland wanted to see legislation banning smoking in cars extended to include e-cigarettes….
---
At the 2015 National Cancer Research Institute (NCRI) Cancer Conference, Robert West, PhD, from University College London, London, UK, discusses data from monthly national surveys in adults in England on the use of electronic cigarettes (e-cigarettes) and its relationship with smoking uptake and smoking cessation.

---
50,656 signatures – Nathalie Dunand – PGVG
An international support was called against TPD by German vapers to have a chance to see their cause publicly defended in an open session of the German Parliament ("Bundestag"). The petition "Don't implement Art 20 TPD!" exceeded the 50,000 signatures on January 18, 2016 thanks to the efficient support of the international vaping community…
What is "meta-analysis"? (and why was Glantz's inherently junk?) – Carl V. Phillips – Anti-THR Lies
The recent controversy (see previous two posts), about Stanton Glantz's "meta-analysis" that ostensibly showed — counter to actual reality — that e-cigarette users are less likely to quit smoking than other smokers, has left some readers wanting to better understand what this "meta-analysis" thing is, and why (as I noted in the first of the above two links) Glantz's use of it was inherently junk science…
Helping make my point – Carl V. Phillips – Anti-THR Lies
Yesterday, I explained what was fundamentally wrong with Stanton Glantz's new "meta-analysis" paper, beginning with parody and ending with a lament about the approach of his critics who are within public health. Glantz posted a rebuttal to the press release from those critics on his blog, which does a really nice job of helping me make some of my points. I look forward to his attempt to rebut my critique (hahaha — like he would dare), which would undoubtedly help me even more…
Exposed As 'Unscientific Hatchet Job' – Guy Bentley – Daily Caller
A meta-study claiming those who use e-cigarettes are less likely to quit smoking than those who don't has been blasted as an "unscientific hatchet job."

The controversial research published in the Lancet Respiratory Medicine and co-authored by Professor Stanton Glantz reviewed 38 studies from across the globe and came to the conclusion that those who used e-cigarettes were 28 percent less likely to quit regular cigarettes than those who didn't vape at all.
---

---
The White House Office of Management and Budget (OMB) is currently reviewing new federal regulations requiring all e-cigarette products sold after February 15, 2007, to apply for federal Food and Drug Administration (FDA) approval, regardless of whether they are new products or previously created.

The proposed FDA "deeming rule" would also extend the agency's tobacco regulatory authority to consumer products without tobacco, such as e-cigarettes.
Bradley J. Fikes – San Diego Tribune
"Contrary to what was stated or implied in much of the news coverage resulting from this news release, the lab experiments did not find that e-cigarette vapor was as harmful to cells as cigarette smoke."

That's the clarification VA San Diego Healthcare System added to its controversial press release about a study on e-cigarettes. Too bad it probably won't spark any retractions of the wildly inaccurate stories it inspired…
---
[soundcloud url="https://api.soundcloud.com/tracks/242551347″ params="auto_play=false&hide_related=false&show_comments=true&show_user=true&show_reposts=false&visual=true" width="100%" height="450″ iframe="true" /]
---
A pro-vaping nonprofit has sued the Tacoma-Pierce County Board of Health over the agency's new countywide restrictions on electronic cigarettes.

The regulations, which the board approved unanimously in November, took effect Jan. 1 and made e-cigarettes subject to the same restrictions state law places on smoking in public places…
As the health debate rages on, Sunday Star speaks to experts and stakeholders about regulating the e-cig and vape industry.

MALACCA has banned both the sale and use of vape, or e-cigarettes, while states like Johor, Kelantan, Negri Sembilan, Terengganu and Pahang have either banned their sale or are mulling over prohibiting it for Muslims. Others are silent on the issue while waiting for federal regulations.