In the News February 15th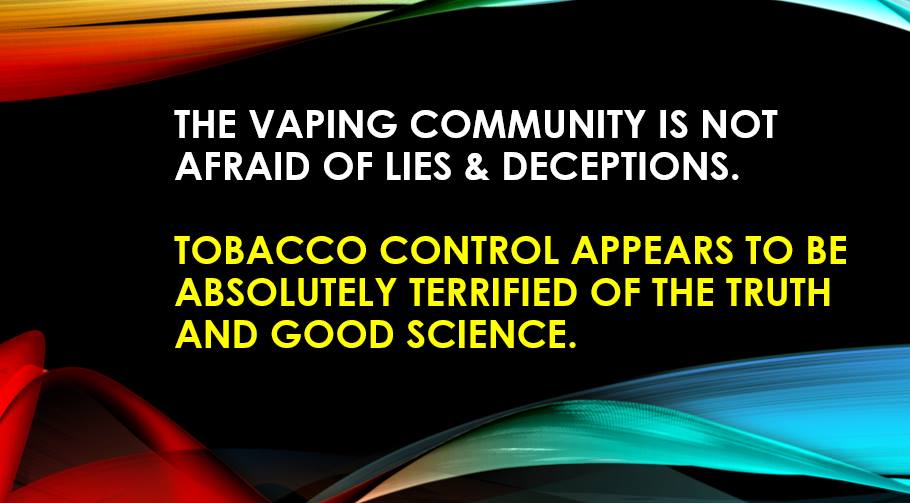 Mondays News at a glance:
Boiling frogs – What would I do about Ecigs if I was the boss? – Sunday Psychopaths – A Spectator At The Spectator -The mask always slips – So much of what is wrong with public health, in one short rejection letter – Chilling Effect – Quebec Vaping Regulations Stifle Free Speech – In the polarising debate about vaping, we've forgotten to ask the right questions – Will the EU inadvertently undermine the fight against cancer? – Anti-E-Cig Lobby Is Like 'Abstinence Only' Movement – Ecigs: Potential health threats build up – Where Was All the Vape Talk at the Debate – Radical proposals part of strategy to win faltering war on smoking – Nicotine Science and Policy Daily Digest – Monday, 15 February 2016
Fergus Mason
It's often claimed that if you put a frog in a pan of water, then slowly heat it up, the frog won't notice the rising temperature and will stay in there until it's boiled alive. I've always had my doubts about this – surely it stays in there because you put the lid on the pan? – but I've never tried it, because I'm not the sort of person who boils frogs. If you're looking for that kind of witless sadist I'd suggest you track down a Labour or Lib Dem MEP.
If I was the boss? – Dave Dorn – The Sun Also Rises
Some interesting stuff about, today. Makes you think a bit. So, how would I handle Ecigs if I was the boss? Here are my steps…

1: Drop the VAT on them as of today. Exempt. Call it a Virtue Exemption, as opposed to a sin tax.

2: De-medicinalise nicotine altogether. No more NRT on prescription. Not necessary – let them sell it like Ecigs – same VAT rate, same restrictions…..
---
---
A double bill from Dick Puddlecote
Tobacco controllers will often tell you that they don't hate smokers, oh no, merely smoking. The problem is that with just about every utterance they exhibit the utter contempt that they have for smokers. Here's a cracker from Australian BMJTobacco Control Journal editor, Marita Hefler….
On Tuesday, I must admit to being privileged to have attended The Spectator's annual health debate entitled Can We Trust Health Advice? I am a bit of a veteran of such things but this was as polished and entertaining as they come….
Argvargen
There was an interesting presentation given by Daniel Wikler, Professor of Ethics and Population Health at the Harvard School of Public Health, at a seminar in Stockholm last week. It was notable for  a number of reasons.

Firstly, among the audience were a number of Sweden's tobacco controllers. I imagine they were choking on their biscuits every time Wikler talked positively about snus in particular and harm reduction in general.
---

---
Clive Bates – The Counterfactual
"One of the most important aspects for us in this developing field of harm reduction has been to listen to people when they tell us what worked for them. At the same time as being appalled at how readily, deviously and arrogantly some commentators and researchers have undermined the public's confidence in vaping, we hear daily from people who desperately wanted to stop smoking that this worked for them, and that's what they want to use. If this revolution is to be maintained and expanded, organisations with power and influence need to stop sabotaging it".
In one short rejection letter – Carl V. Phillips
I finally got around to submitting our study about the failure of peer review in public health. (If someone wants to write a guest science lesson post about how to be more efficient about just getting things done instead of letting them languish, it would be most welcome.) We had decided to submit it first to BMC Public Health (BMCPH), the journal whose reviews and publications we studied…
---
In this episode of RegWatch, Quebec retailers reveal the chilling effect the new regulations are having on their right to speak freely and to share information with customers
---
We've forgotten to ask the right questions – Alex Wodak
A furious debate has been taking place in recent years over electronic cigarettes, and the debate can unfortunately become quite nasty and polarised. Public health practitioners who have fought together for decades are now often opposed.
Adam Afriyie MP
One of the most common New Year resolutions is the promise to quit smoking. It is also one of the most commonly broken promises when the yearning for tobacco proves a little too strong.

All former smokers remember that wonderful feeling when they finally broke free. As a former smoker myself I would advise anyone struggling to keep their New Year's resolution six weeks on to pick up a vaping device in place of the dreaded cancer stick if the willpower begins to wilt.

Guy Bentley – Daily Caller
One of the world's leading tobacco control experts is speaking out against an overzealous public health movement more concerned with fighting big companies than improving people's health.

"We had this fundamental problem that you had people that had taken an absolutist position- this is all about right and wrong, and they were more like the abstinence-only people on sex education, or on drugs or alcohol," says expert David Sweanor….
Jérôme Harlay – PGVG
Findings of the Effects of Exposure to Tobacco Smoke and New Tobacco Products on the cardiovascular system, the respiratory tree and the reproduction and development were presented during a Medical Sciences and Public Health symposium at the 2016 American Association for the Advancement of Science (AAAS) annual meeting in Washington, DC…
Melissa Cronin – Gawker
Saturday night's hellish Republican debate covered nearly everything:mooning, 9/11, and even a quick Spanish lesson. But one important policy issue no one even touched on? Vaping.

Grover Norquist, a politician and president of Americans for Tax Reform, is notthe same Republican Congressman who recently vaped mid-legislative session. But he does want to talk about vaping. As the debate wound down, Norquist fired off a series of tweets demanding justice for vapers.
In the faltering war against cigarettes, the latest battle cries are eye openers: prohibit smoking for anyone born after the year 2000; require a licence to buy cigarettes; nationalize the tobacco industry.

Or just make selling cigarettes illegal.
To Discuss the Politics of Vaping – Paul Blair – Americans for Tax Reform
Last week, Americans for Tax Reform hosted small businesses from around the country for a happy hour to discuss "the politics of vaping." Over 100 members of the Smoke-Free Alternatives Trade Association (SFATA) were in Washington, D.C. meeting with members of Congress in an effort to convince them to curb the implementation of the Food and Drug Administration's regulatory assault and pending "deeming rule" on the sale and availability of electronic cigarettes and vapor products.