In the News December 19th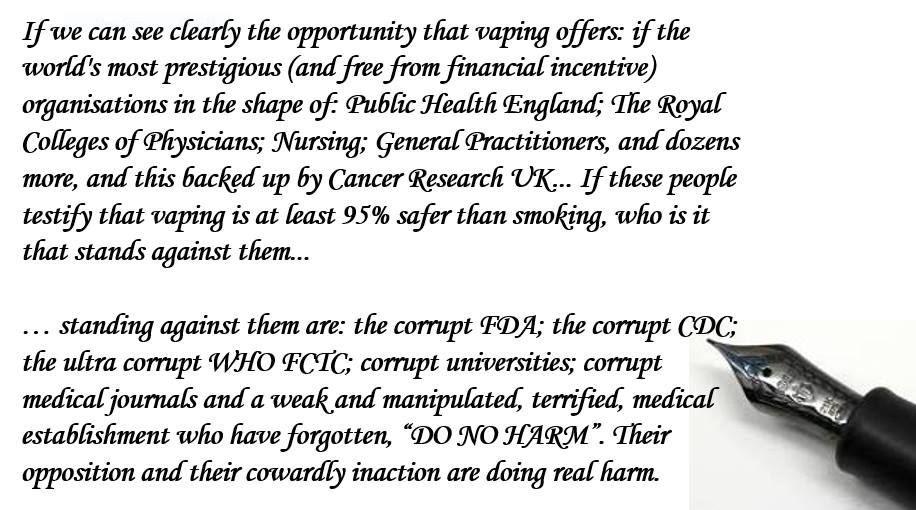 Mondays News at a glance:
The Further Persecution and Criminalisation of Smokers – 2016 Lie of the Year Award – Scotland's Tobacco-free Generation – Evidence for harm reduction in COPD – Chuck Schumer Redux: Demands Recall of E-Cigarettes – Your Child Is A Nicotine Addict – The anti-smokers' e-cig obsession misses a bigger threat – FDA drops black box warning – Tobacco Harm Reduction Update – States to spend less than 2% of tobacco revenue – E-cigarettes removed from banned list  – Nicotine Science and Policy Daily Digest – Monday, 19 December 2016
And Criminalisation of Smokers – Bolton Smokers Club
Smokers are not criminals, provided that they only enjoy tobacco via a wealthy, small group of companies which provide the tobacco. Forget 'tobacco products'. Tobacco 'products' are no longer relevant as an idea since the 'agricultural product' – dried nicotiana leaves – is now itself the same thing as a 'tobacco product'…
Michael Siegel – The Rest of the Story
Today, I am announcing the finalists for the 2016 Lie of the Year Award. This award will be given to the health agency or organization which has lied most egregiously to the public about smoking and/or vaping in 2016. Feel free to cast your ballot in the comment section. Readers' votes will be taken into consideration in making the final determination. The award consists of….
The 3 great PH lies: Smokeless tobacco causes cancer, Nicotine is more addictive than heroin, FDA tobacco regulation protects public health. https://t.co/9AOzMwnqgn

— BD Carter (@dcbd127) December 19, 2016
ASH Scotland
The Scottish Government has declared a vision for Scotland to be "tobacco-free". Some people worry such a shift cannot be delivered by free actions, and will require some form of coercion to drive it along. That's not how I want to do it – and looking at the numbers we can clearly see that's not how it has to be.

The tobacco-free target is defined as reducing the adult smoking rate to 5% by 2034. It does not mean nobody smokes.
---
---

---
Riccardo Polosa
Electronic cigarettes (ECs) are battery-operated devices designed to vaporise nicotine, which may help smokers quitting or reducing their tobacco consumption. There is a lack of data on the health effects of EC use among smokers with COPD and whether regular use results in improvement in subjective and objective COPD outcomes.
Demands Recall of E-Cigarettes, Again…
Nick Gillespie – Reason
The latest outburst from the man who has attacked (in no particular order) Four Loko and Joose, yoga mats, breakfast cereal prices, Bitcoin, 3D-printed guns, drones, payday lenders, laundry detergent that looks good enough to eat, video games, and so much more? Electronic cigarettes, which are helping people quit smoking traditional tobacco products and might potentially save a billion lives
---
---
And It's All Your Fault – Daniel Hall
Following the United States Surgeon General's report last week and the creation of the #NoECigsForKids campaign I feel that this is a good time to take a long hard look at nicotine addiction, both in the United States and around the world. The report goes into great length to underscore the danger of nicotine exposure to the developing brains of young people and unborn children and as such we have compiled a simple to understand system of steps you can take to prevent developmental brain damage.
Marco is joined by Dave Dorn & Matt Gerrish for some festive tomfoolery and what have you !
Misses a bigger threat
Welp, looks like that was a bit premature. Just last week, US Surgeon General Vivek Murthy sounded the sirens on e-cigarette use among teens as a "major public health concern."

Oops: It turns out teen vaping is on the decline. So reports the National Institutes of Health in their annual Monitoring the Future survey: Compared with last year's 16 percent, only 12 percent of high-school seniors had used e-cigs in the last month.
On Pfizer's anti-smoking drug – Natalie Grover
U.S. health regulators on Friday allowed Pfizer Inc to remove a serious warning from the label of its smoking cessation treatment, Chantix, giving a new lease of life to the controversial drug that was approved a decade ago.

The U.S. Food and Drug Administration slapped a "black box" warning – the most severe available – on Chantix in 2009 after receiving thousands of reports linking the drug to mental health issues, including suicidal thoughts, hostility and agitation.
---

---
Of tobacco revenue on cessation and prevention
Truth Initiative
In fiscal year 2017, states will bring in $26.6 billion in payouts from the 1998 tobacco settlement and tobacco taxes, but will spend less than 2 percent of it on programs to curb tobacco use.

Those figures are according to a report released today from the Campaign for Tobacco-Free Kids and a coalition of public health organizations, including Truth Initiative®. The report notes that states will spend $491.6 million on tobacco prevention and cessation in 2017, about one-seventh of the $3.3 billion the U.S. Centers for Disease Control and Prevention recommends states spend.
December 13th, 2016
THR Surveillance, THR Education and Advocacy, THR Research, Cigarette Research, US Surgeon General Vivek Murthy Lies about Vaping, FDA Deeming Regulation/Ban, More FDA, More CDC, HUD, FTC, Anti-THR Lobbying, Taxation, Smoking Ban, Smoking / Vaping Ban, Limiting Tobacco Retailers, Tobacco Industry, Minimum Age, Belgium, Plain Packaging, Tobacco Prohibition, WHO FCTC, Junk Science Propaganda and Lies.
Daria Sokolova – Pahrump Valley Times
Nye County commissioners voted last week to remove the devices, commonly called e-cigarettes, from the list of tobacco products that are prohibited within any building owned, leased and utilized by Nye County.
---
A look back at how things have moved on or otherwise…
Argvargen
It's nearly a year since I wrote this piece about under-18 vaping in Sweden, highlighting the responsible behaviour of both a vape shop and a parent. I also linked to what I still consider to be the most pragmatic and understanding article written on this subject.

The reason I wanted to return to it is two-fold: firstly, CAN (the national body responsible for providing statistics on drug, alcohol and tobacco use in Sweden) have released their annual report; and also because I was intrigued by the SR (the state national radio) report on their findings, and how these stats will likely be interpreted by the enemies of vaping in particular, and harm-reduction in general….
Will not be bound by e-cigarette advertising restrictions
Pharmaceutical Journal
Pharmacists running smoking cessation services in England, Wales and Northern Ireland will still be able to promote the option of e-cigarettes under new European advertising rules coming into force in 2016.

Promotion of the products will be interpreted as a public health message under the European Union (EU) directive and will fall outside the advertising clampdown that applies from May 2016, according to the Department of Health (DH)…
Gives E-Cigarettes Ringing Endorsement – Guy Bentley
The Prime Minister of the United Kingdom voiced support for e-cigarettes Wednesday, saying they're a "legitimate" path for people to quit smoking.

"Certainly as somebody who has been through this battle a number of times, eventually relatively successfully, lots of people find different ways of doing it and certainly for some people e-cigarettes are successful," Prime Minister David Cameron said in the House of Commons Wednesday….
---
Visit Nicotine Science & Policy for more News from around the World

---